- lifestyle -
Why Justin Bieber Is Weird
Just in time for his roast.
02 . 24 . 15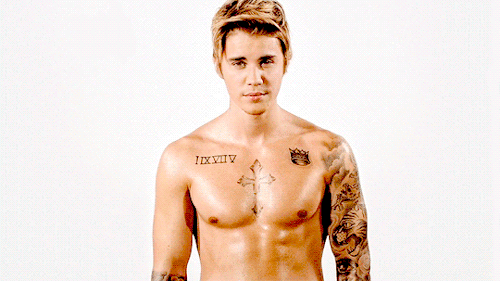 Justin Bieber is weird. He does strange things. He unsuccessfully transitioned from good to bad. However, his weirdness may just start becoming cool. Less '50 Shades Of Grey' the movie weird more Thom Browne weird.
Our society does love a good bad boy. Those fellas  that came out of the womb with a cigarette in their mouth and a Saint Laurent leather jacket on – James Dean, Johnny Depp just to name a few. But why wasn't Justin Bieber ever welcomed into this baby boy club? It is because we can't get the image of the innocent 12-year-old boy out of our heads? Why did it lack the titillation of Rihanna's transition? Perhaps the answer was in that previous question.
Bieber has been showing a matured bad boy look as of late. His really nice new, not too much product, hairstyle is a perfect, flow-appropriate blend of windswept, but not trying too hard. At New York Fashion Week he wore a Balmain red leather jacket with defined shoulders that brought to mind Michael Jackson's iconic Thriller video and a black and white leather biker jacket from Saint Laurent.
Justin Bieber has been acting like an asshole, though. Didn't he egg a neighbor's house and pee in a bucket onstage or something?
But he got it back. He had to sit second row at Kanye West's recent Adidas show during New York Fashion Week. See karma is VERY real.
But perhaps this is about to change. The singer and Calvin Klein Underwear campaign star is about to face all his past demons during his Comedy Central Roast on March 1st, which is really the closest thing to a baptism he would ever experience. He will be cleansed with the water of honesty as comedians equipped with a cornucopia of material to cull from call him a lesbian or Anne Hathaway and discuss him abandoning his monkey in Germany. A truly good PR move? Yes. But also he wants to be able to laugh at his weirdness.
The 20-year-old's upcoming roast may be just the thing to make Bieber seem earnest, and real to the public again. It may make us feel like we know him. We will laugh and reminisce together. And in the mean time, what him get pelted with eggs in slow motion.
See the singer's tattooed chest endure the yolky sting below.
– YOU MAY ALSO LIKE –
12 LESSONS ALL MEN COULD LEARN FROM JUSTIN BIEBER
I BE ON MY SUIT AND HAT AT NEW YORK FASHION WEEK