- lifestyle -
White Men (I Mean Men In White Blazers) Invade The 2015 Oscars
#OscarsSoWhite took on a double meaning during the 2015 Oscars.
02 . 22 . 15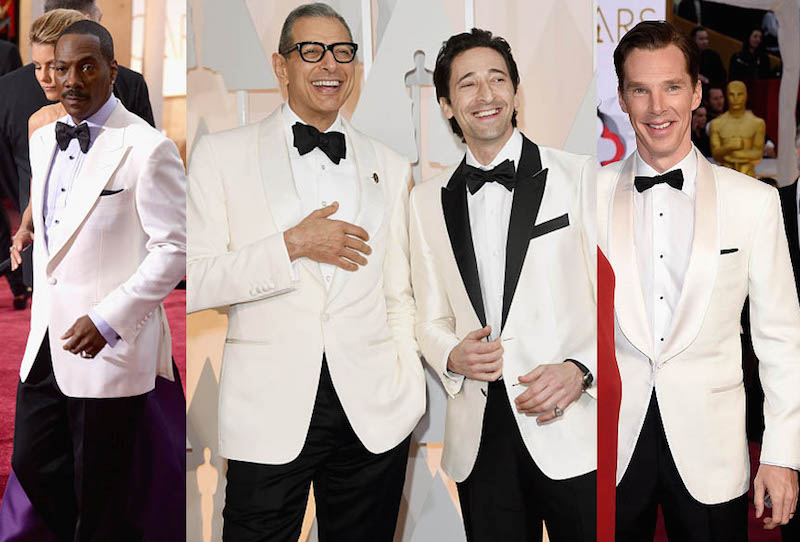 #OscarsSoWhite took on a double meaning during the 2015 Oscars.
Actors from Eddie Murphy and Benedict Cumberbatch showed up wearing crisp white blazers looking cooler then cucumbers sitting outside on the streets of NYC.
Aren't white blazers great? The Oscars is always a great reminder of this to give your go-to black topper a break, and opt for a wild-card white blazer. It's not a daily affair that Hollywood's male stars make a bold statement on the red carpet – black tuxedos still rain supreme, but on Oscar night, actors aren't about to blend, (even if no one went for the NYFW dresses I  selected for them.)
It's quite ironic that white was the dominant  trend at the 2015 Oscars considering the scrutiny over why some demographics are so poorly represented and this year's protests forged over all-white nominees.
The Martin Luther King Jr. biopic, "Selma," earned only a nod for Best Picture, but the film's director, Ava DuVernay, and the film's star, British actor David Oyelowo, both expected to be nominated for Oscar gold, were shut out.
Hopefully this whiteout will help call attention to the show's lack of diversity, demanding a more diverse pool of Academy Award voters.
The 2015 Oscars will be the least diverse ceremony since 1998, meaning it's the first time in two decades that not at least one black, Hispanic, Latino, Asian or Iranian actor has been nominated in any of the four acting categories. Also, not a single female director, cinematographer or screenwriter is nominated.
It's impossible to ignore.
– YOU MAY ALSO LIKE –
23 FALL 2015 NYFW LOOKS TO BORROW FROM THE GIRLS
I BE ON MY SUIT AND HAT AT NEW YORK FASHION WEEK