- lifestyle -
X-Rated Fashion
Considering the sexualisation of the fashion industry, Madonna's nipples and David Gandy's penis.
04 . 23 . 15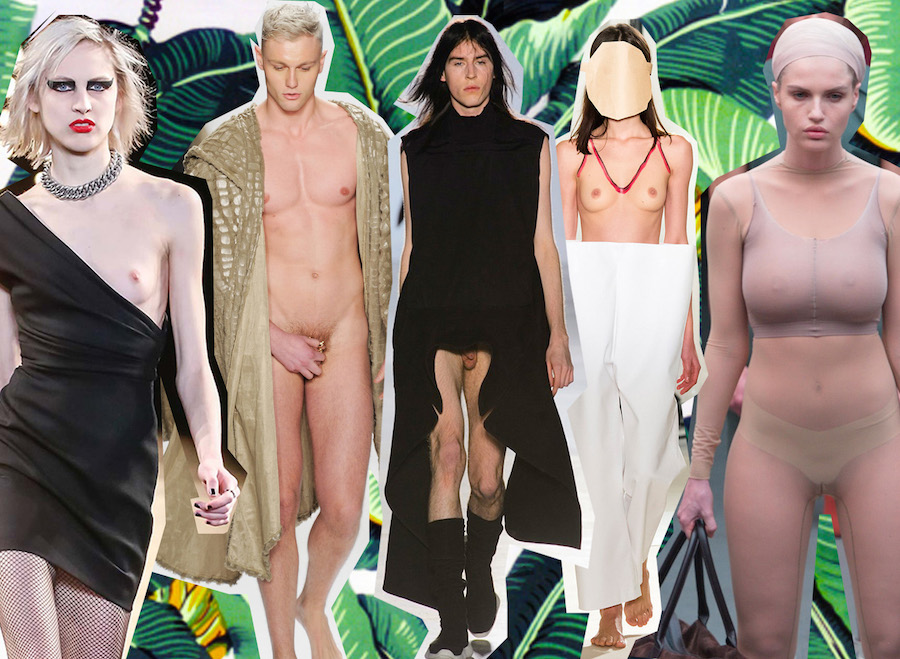 X-Rated Fashion, art or distraction?
"You know that Gandy? I've seen his pecker," brags the woman next to me on the bus. My ears prick up. She's wearing a pair of Uggs and a zebra print hoodie – I fathom fashion isn't her personal priority. So had she chanced an encounter with the male supermodel? I realised she had simply seen the nude shot by Mariano Vivanco in the David Gandy by Dolce & Gabbana book.
Sex. Everybody's at it. Fashion thrives on it. And the boundary of what's an acceptable degree of nudity is always being pushed. Have we moved too far? Who's to blame? Possible candidates include the boutique biannual magazines with their lashings of nudity. Or Calvin Klein in the 1980s with his super-sultry black-and-white advertisements. Or Tom Ford with all those provocative 1990s' ads for Gucci.
In an industry that favours the young, do we have a collective responsibility to avoid an over-sexualisation of the fashion world? Questions, so many questions. I'm not sure I have the answers.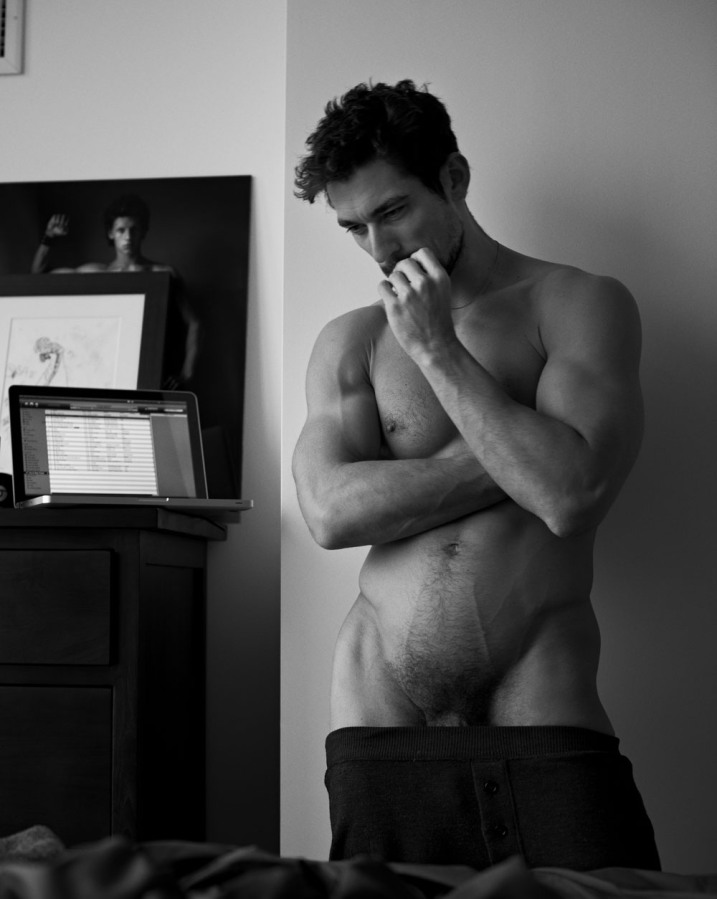 As a society we are clearly becoming desensitised to sex. One hundred years ago a bare ankle would shock. Now women have to try much harder.  Context needs to be considered when skin is on show. A model's pose or expression can tip the balance from chic to cheap. Modern styling and fashion photography often treads a thin line, playing with juxtapositions, deliberately working close to the edge.
It's a subjective topic but body language leaves no doubt. Posing can be suggestive, regardless of what a model is wearing. Photographer Terry Richardson has been the subject of sexual misconduct scandals after coercing models to engage in sexual acts and poses during shoots. These NSFW photos make for uncomfortable viewing, especially since the participants appear young. The public spoke out – after being shamed on social media the shots have been confined to corners of pornographic Tumblr sites. Perspiring models, pouty lips and eye-fucking the lens all point towards the inappropriate, but it's not always that easy to determine.
"It's not porn, it's fashion," says my flatmate, "but her nipples are distracting." She's talking about Madonna's titivating editorial for Interview magazine, shot by Mert and Mercus. The thin line is being trodden here most definitely, but what defines this as art rather than porn? Two things are clear: 1) A lot of ice cubes were used on set; and 2) This photography duo wouldn't associate themselves with porn. It's just not in their remit.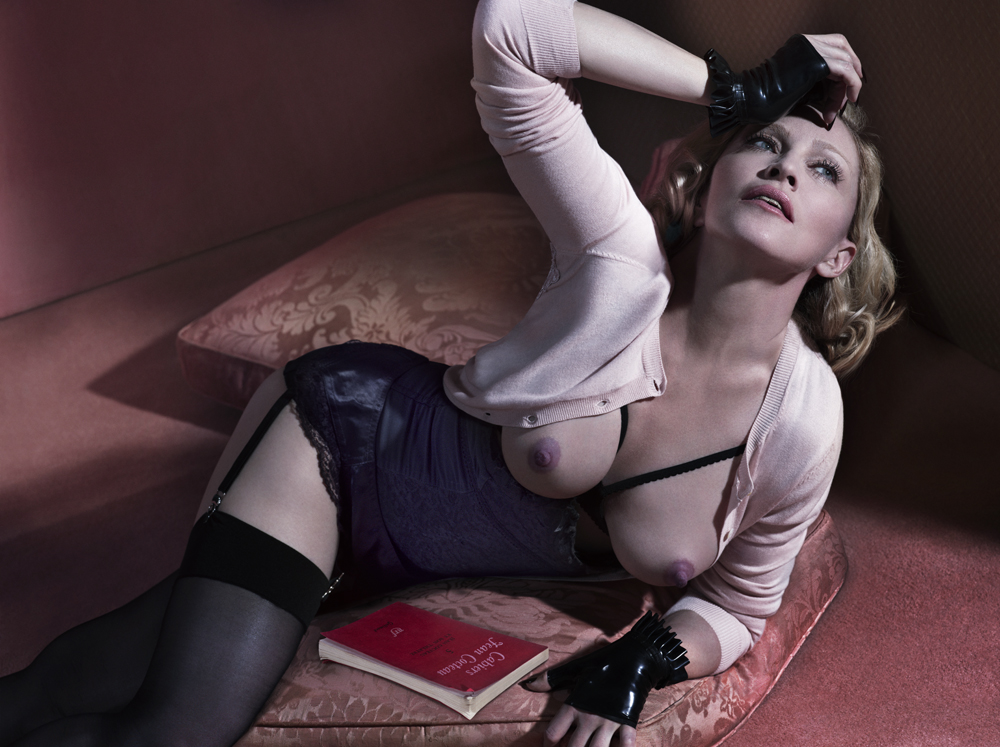 The visuals are undeniably beautiful. My take: the shots may be provocative, but they aren't top-shelf. It's all about the setting. You wouldn't see a Mert and Mercus shoot in Loaded. This isn't a photo of a topless woman on a bed, it's much more. The lighting. The fashion. The story. The consideration. Fashion takes a concept and glamorises it, aided by camera trickery and big budgets. By keeping its affiliations high-end, the final result is tasteful and desirable. This is how fashion gets away with more.
Reputation is everything. When Kim 'Ray J BJ' Kardashian graced the cover of Paper Magazine she wasn't fooling anyone. With her attempt to break the internet she couldn't break free from her sex tape past. Everyone was asking if her derriere was photoshopped but nobody wondered who made that black dress. Any publicity is good publicity, but using Kim K's ass to promote a non-mainstream magazine won't result in a high-fashion image. My thoughts: if a model took her place, the cover would have been better received by the fashion community, albeit unknown to the public.
In 1991 we saw more of Demi Moore on the cover of US Vanity Fair. The photo, taken by Annie Leibowitz, featured the first nude pregnant covergirl. A controversial move by the title, it tackled the uncomfortable perception of naked pregnant women. Deemed inappropriate by some, the magazine was sold in shops behind white screens with only her eyes on show. It's not all bad – the American Society of Magazine Editors regarded it as the second best cover in history. This cover was similar to Kim's because both involved fashion titles relying on nudity for the cover, but Demi's motherly image was a world away from Kim's sexed up persona  – her cover was a statement of natural beauty and pride. This wasn't fashion but it wasn't porn either.
If it's flacid, it's fine. The general consensus is that penises are acceptable if they aren't erect. Arguments in favour of #freethewilly are strong and fall into two camps. In a world seeking equality of the sexes, it seems unjust that women can strip and it's tasteful but men who flash face backlash – a double standard shouldn't exist. Secondly, renaissance art has penises in abundance, yet nobody calls Leonardo Da Vinci a pervert. I believe it comes down to sensuality. An erect penis is provocative and overtly sexual, whereas a little guy is minding its own business.
It takes nerve to venture into unchartered territory and X-rated fashion. The Christopher Columbus of male nudity in men's fashion is undoubtedly Rick Owens. For his AW15 'SPHINX' show, models took to the runway in oversized garments with short hemlines or peepholes that left little to the imagination. Penises were on display but it was still about the clothes. "I liked that you hardly noticed it. It wasn't nudity for the sake of nudity. I honestly didn't see until somebody pointed out the dick flaps and the undie holes," said style blogger Susie Bubble.
Every rule has an exception. Last season at New York Fashion Week a model walked the runway with nothing but his hands covering his member. This cocksure display was down to American label MTCostello – a collaboration between two-time Project Runway contestant Michael Costello and his sister Stephanie. The duo received harsh criticisms for this publicity stunt, and rightfully so. The collection featured only womenswear, all bar the one naked man. It's a sad world we live in when all you need is a token hot guy to be the talk of the town.
Nudity won't ever go out of mode in our industry. It's not pornographic, but sometimes it's not really art. It's just fashion. Not even x-rated fashion.
Words by: Christopher Maximilian Maul
– YOU MAY ALSO LIKE –
GAY COUPLE SIGNS TO MODELING AGENCY AND JADEN SMITH IN A DRESS (PLUS MORE DRUNK NEWS)
TRYING THE PHARRELL LOOK: A PINK COAT