- style -
Fall Grooming Essentials
Because my skin looks like bologna that was left out in the summer sun too long.
09 . 23 . 14
So fall grooming, let's discuss since today is the first official day of fall and I need some rejuvenation.
I recently realized I'm not 18 anymore and as such, do not have the same sin swagger as my darling naive teenage years. You remember, the days you could stay up all night partying and go out the following afternoon for pizza looking more restored then your mother who slept over eight hours. Those were the days man.
While I have eschewed the prospect of skin maintenance all season, I can't deny the current status of my skin – can you still call it skin if it doesn't resemble that elastic fleshy body covering and looks more like a brutally used, vintage Hermes bag?
Summer is officially over, fashion month has come and gone and now I'm left with skin that looks like a chicken leg near expiration. Really it's not cute. From sun damage, to excessive fashion week drinking, my skin need a little pick me up for the fall season. I twenty-six years old and still desperately clinging to getting IDed anywhere I can. This is certainly not something I should be engulfed with on a random Tuesday evening.
A fall grooming look I am amped to try this season is a slicked back 'do and clean-shaven face. For me summer is a season to really let your hair down, maybe allow flowers to blossom in your beard and crop your tops, because the sun is out, summer Friday's are a thing, everyones happy and you probably have a margarita in hand.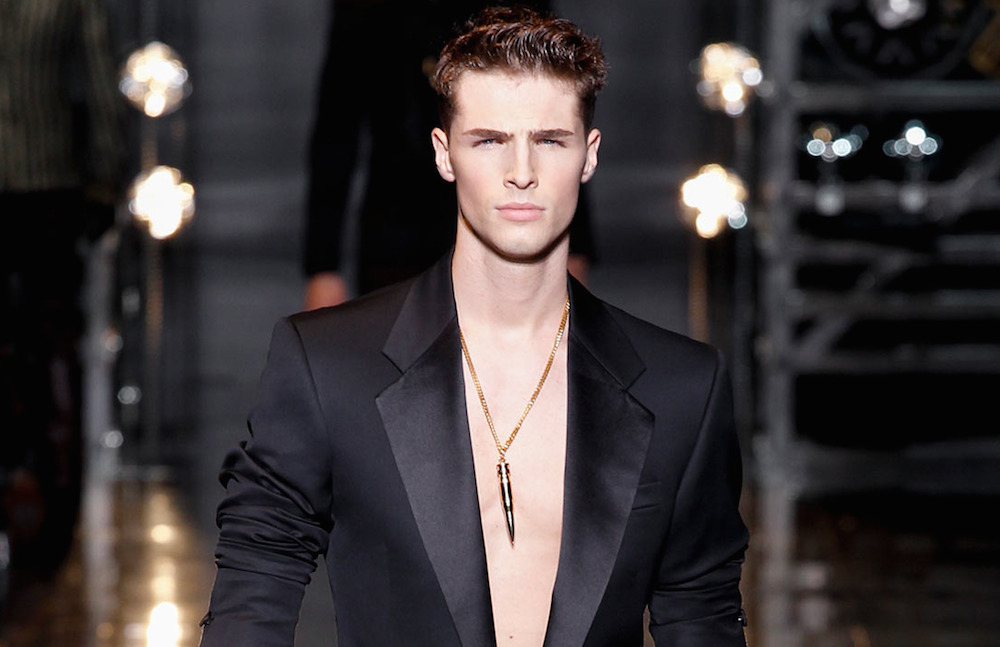 (Versace Fall 2014)
But as we transition into fall, I enjoy sprucing up a bit. Losing scruff in style, the same way James Dean and The Duke did not only leaves you with a smoother finish, but with a hint more confidence then that vociferous electric razor. Give Van Der Hagen's sleek shave set a go. It's dapper display will allow you to start your day feeling all kinds of fancy. Then give yourself a true refresher with Baxter of California's Herbal Mint Toner.
Sometimes us men have to dip into women's beauty products for some powerful anti-aging benefits. It just its what it is. Enter Boscia's Tsubaki Beauty Oil that has been used in Japanese beauty rituals for centuries. First of all it comes in a killer pink bottle. My loyal readers are well aware how this detail, in and of itself. excites me to extreme levels. Second, it actually does a great deal of wonderful things to your face – firms, brightens, and hydrates. After the quick collagen fix, apply the brands Restorative day or night moisturizer to seal the deal.
To get that well groomed, slick back 'do that stays all day and says: "I'm not going anywhere so fuck off wind and subway friction", try Eufora Hero's grooming cream and top it off with the labels texture putty for an extra layer of sheen.
Top off the look with Fendi's new Fan di FENDI cologne, because it just smells delicious.