- style -
Is Kanye West's Style Actually "Good"?
On an off day Kanye got away with this look.
03 . 07 . 16
On an off day Kanye got away with this look: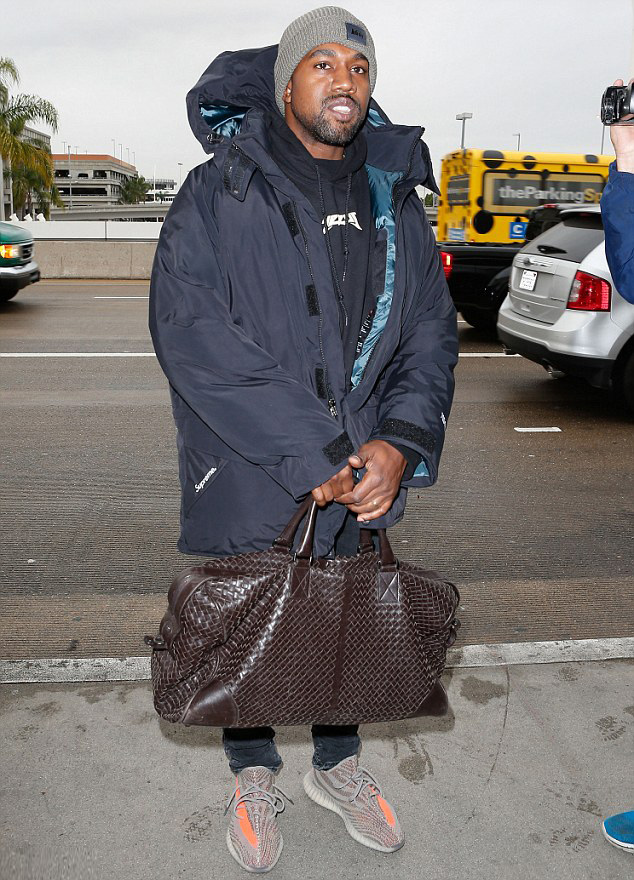 Messy, but not terrible right? Let's discuss.
At first my eyes are distracted by the pair of new Yeezy Boosts he's rocking. The brown and tan shoes feature a bright orange stripe running along the upper, giving it a distinct look from its more neutral predecessors. I'm into them and may get a pair.
After analyzing the kicks, my eyes go toward the large brown bennta bag, then move toward that big and baggy navy puffer followed by placing the matching sweatshirt and finally lands on a grey knit cap.
Far worse fashion offenses have occurred.
I'm not here to judge. We all make vaguely questionable decisions, maybe Kanye a bit more then most of us. But what I'm curious about is how many people, both in the blogosphere and real world are hooked on his style.  We're so fascinated, so engrossed, so extraordinary charmed, that we can't stop talking about it. Or maybe not. But what are we even talking about? What are we hooked on? The clothes, the person or the spectacle?
Overall I like Kanye West. I think he's a unique human, his music is bold, he's a true fashion fan and keeps life generally interesting. But I'm avoiding the topic of his style, the message he sends out based purely on his fashion choices. Perhaps this is the problem. Perhaps we can't wrap our heads around his satire because there is just too much buzzing around him to solely focus on his style.
It's almost like trying to review one of his runway shows. In particular, his latest Yeezy Season 3 show at Madison Square Garden presented during the thick of New York Fashion Week. Was that fashion? I still can't tell you what the clothes actually look like. All I know Kim K was blonde and sat next to Anna Wintour. I actually started to wonder if NYFW was over after seeing that spectacle.
At the end of the day, Kanye is a celebrity, not a street style star.  He constantly maintains an I don't-care-what-you-think attitude, for better or worse. And by doing so teaches us all a bit about staying true to your own signature image.
And whether we want to admit it or not, we are all keeping up with Kanye, one way or another.
YOU MAY ALSO LIKE 
GENTLEMEN THAT LUNCH: TY HUNTER