- style -
London Collections: Men Spring/ Summer 2016, Day 1
AND YOU'RE GONNA LIKE IT!
06 . 12 . 15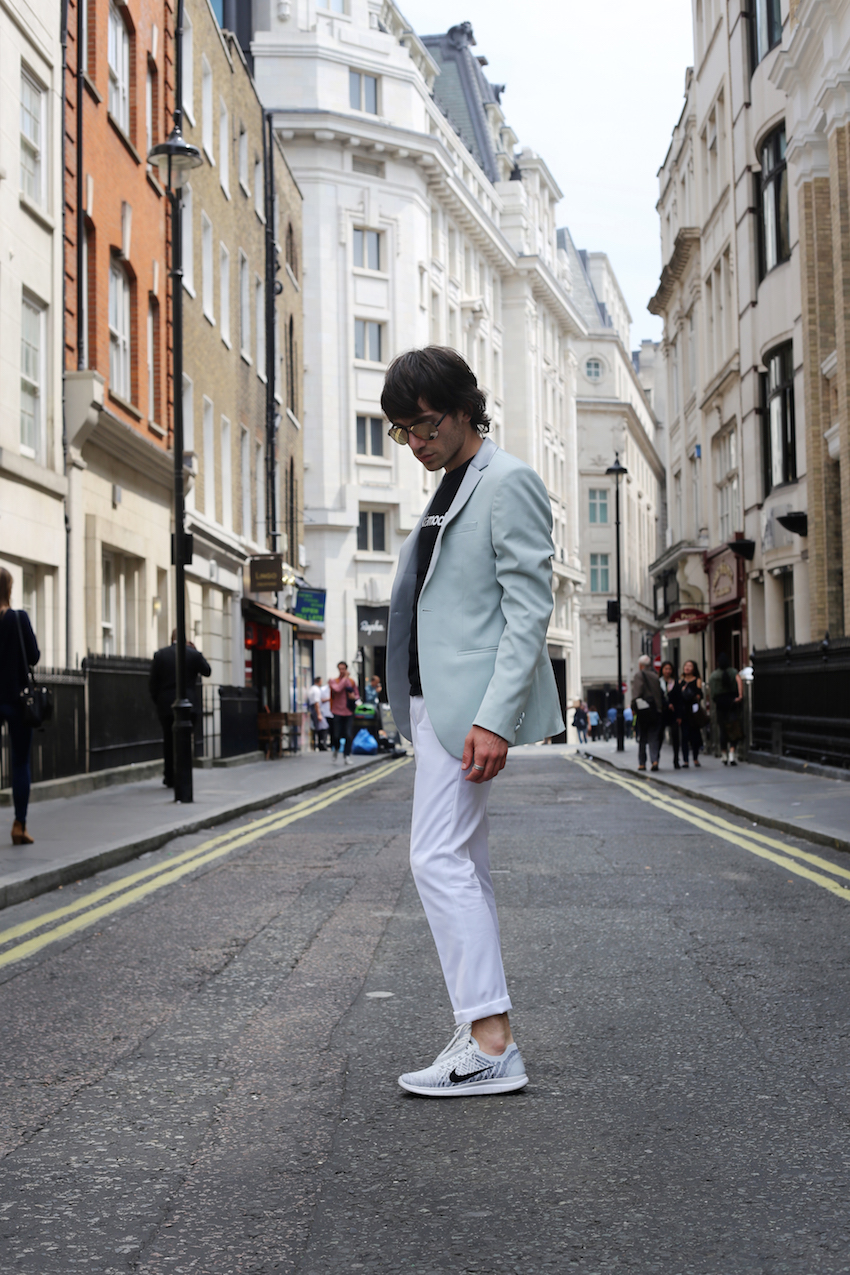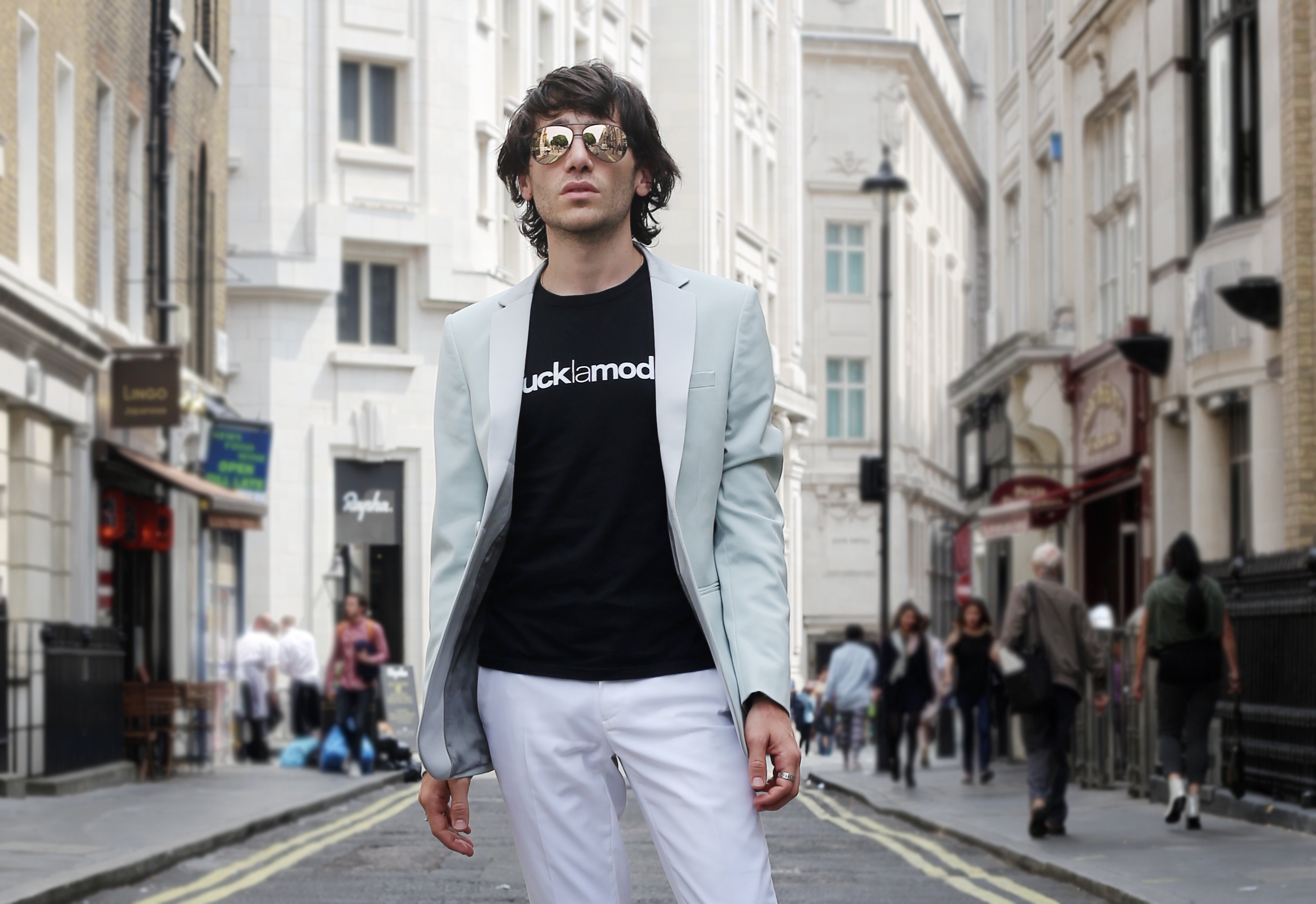 (Look: Topman, Shoes: Nike/ Sunglasses: David Yurman)
Here are some of my highlights and unexpected surprises from day 1 of LCMSS16.
Ready or not, Men's fashion month off today at the London Collections: Men Spring/ Summer 2016 shows.
I started the day in The Dorchester with a darling breakfast at The Grill, sipping coffee and eating croissant in a room drenched in the grandeur of 1930s charm. I mean Elizabeth Taylor did stay here with just about every man she was ever married to.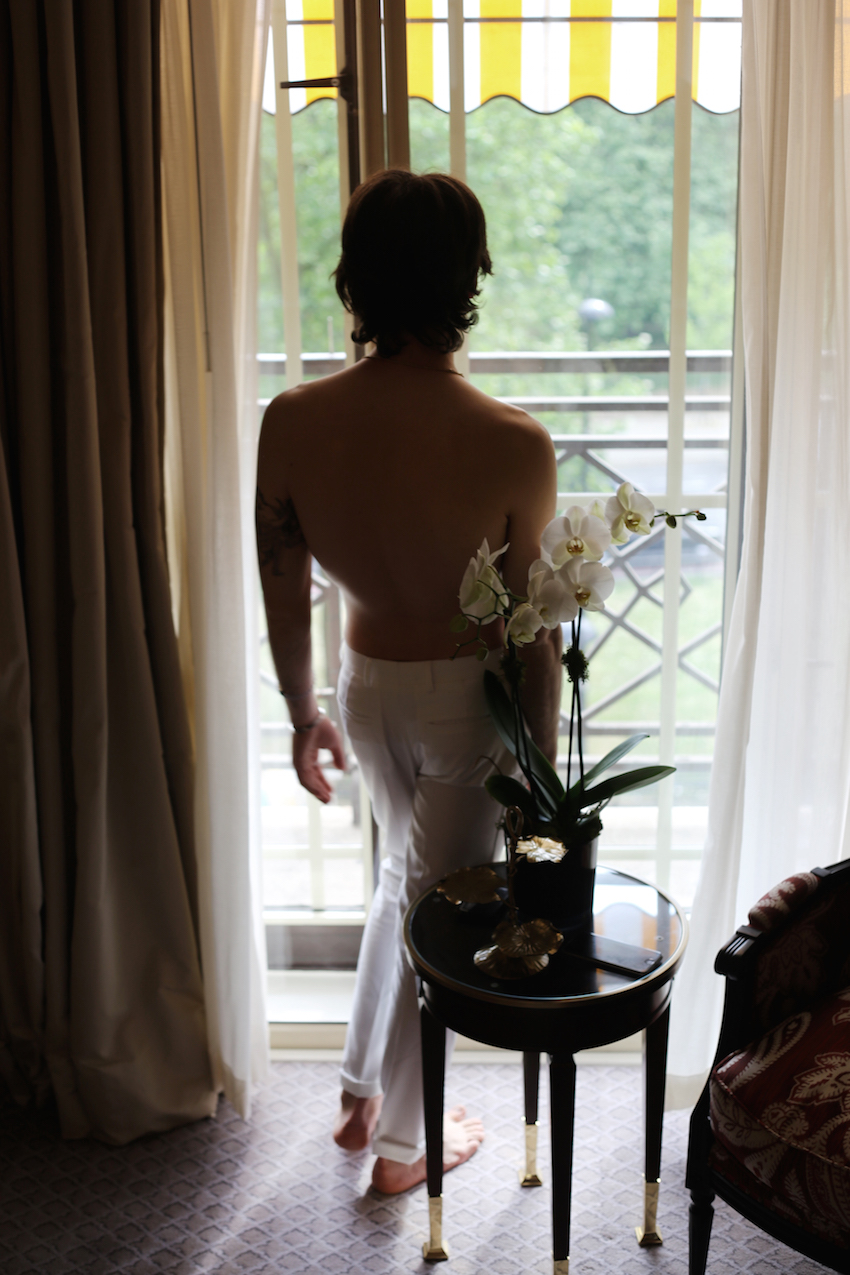 After eating more carbs then I care to remember, I headed to the Topman Design show. Britain's cutting edge creatives always will establish next summers hottest trends. The British label didn't waste any time getting things started with a punch. The show was a heady mix of daring structures, innovative techniques and makeshift denim jackets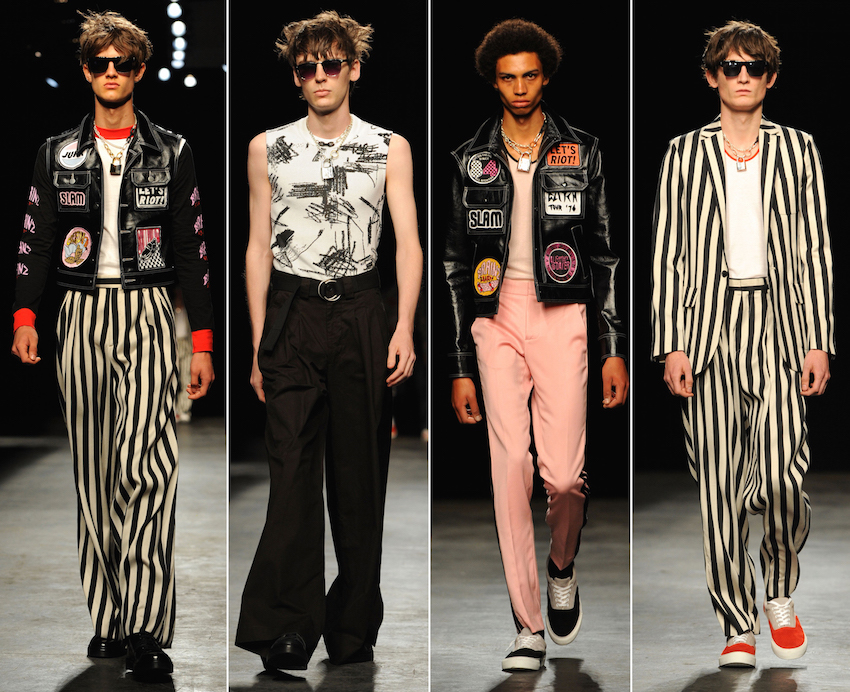 The mysterious Deign built on the seventies tinted grunge from LAST SEASON as boot-cut denim and bell-bottoms were now fully transformed into super wide chinos. Retro tracksuits remained a strong standout for the British label. It was a kind of costumey '60s feel. Perhaps that's one trend I guessed right!
MAN Turned 10 today and turned out models covered in grey and blue paint to celebrate the occasion.
Mid day I stopped in the Soho House for a glass of wine and caught up with an old friend from London who was proudly wearing an exact replica (almost) of the Topman Design black-and-white striped suit that just walked the runway.  After having to defend my hair growing process for thirty minutes, I moved on.
The star of the day, Craig Green took his fantastical madness rooted in traditional masculine workwear to LCMSS16. Since graduating from the ranks of MAN to put on his first solo show for SS15 he wowed with his AW15 collection, won major at the British Fashion Awards and been shortlisted for the LVMH prize.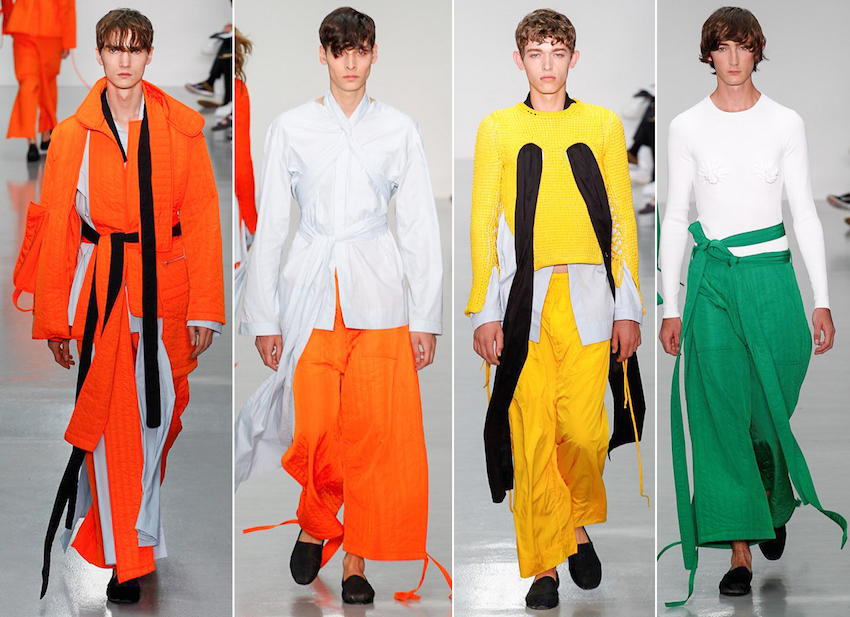 His Spring/ Summer 2016 show saw sheets of cotton, attached to poles bound to the forearms of his models and obscuring them entirely, bar a hole punched in the torso.
He was playing games of concealing and revealing both the shape of the body, and its actual flesh. A game Kim Kardashian knows absolutely nothing about. There were jarring fabric puckering around the nipple area on fine-gauge knits, or sweaters scissored open at the chest to allow fabric to pass through.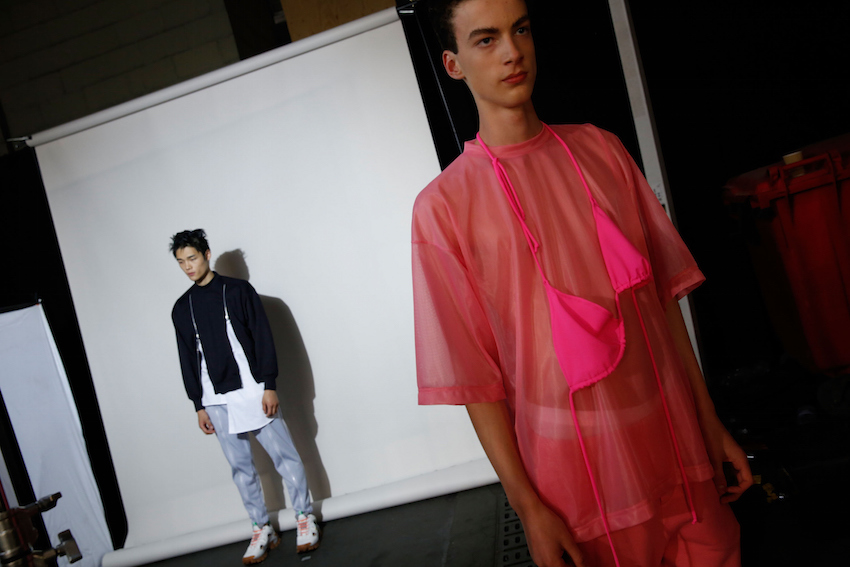 Christopher Shannon put his boys in bikini tops.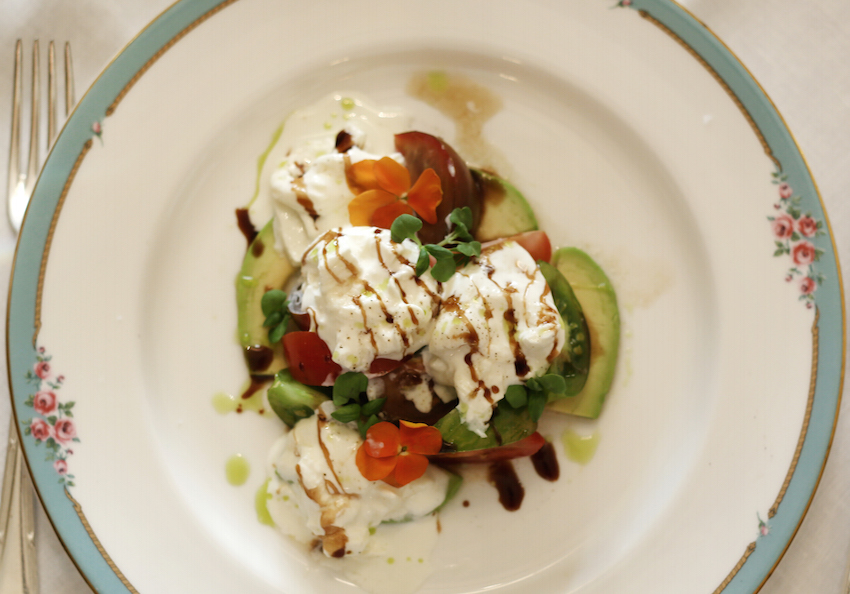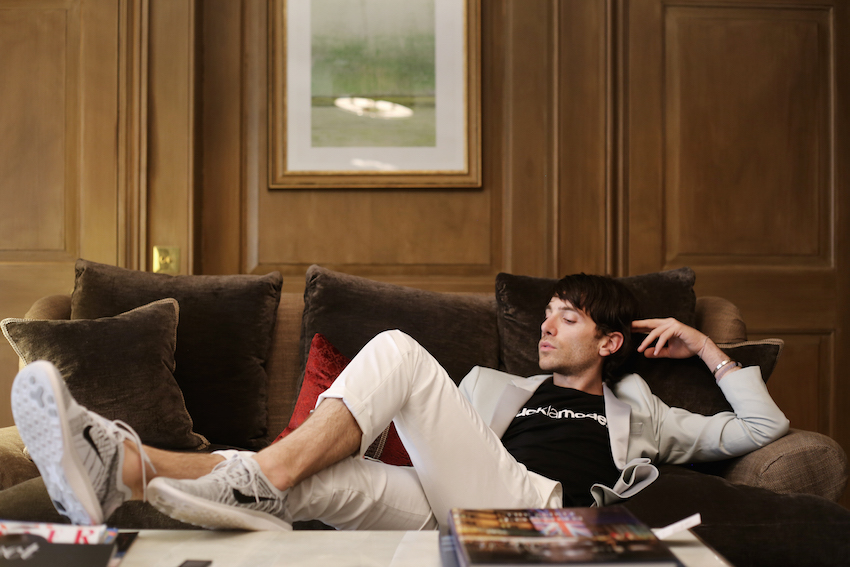 After the shows I headed back to The Dorchester and ordered some room service because there's nothing I love more the vegging out in a hotel. Also I'm still jet legged and this hotel has a fabulous bathtub. Can you say rubber duckie?
–  YOU MAY ALSO LIKE –
BACKSTAGE AT TOPMAN, CHRISTOPHER SHANNON AND MAN: LCMSS16
4 THINGS EVERYONE WILL TALK ABOUT AT THE LONDON COLLECTIONS: MEN