- style -
Monday Morning: Need A Coffee Break? Watch Karl Lagerfeld's Chanel 'Reincarnation' Film
It's amazing how much better the world seems when Cara Delevingne and Pharrell Williams are in charge.
11 . 24 . 14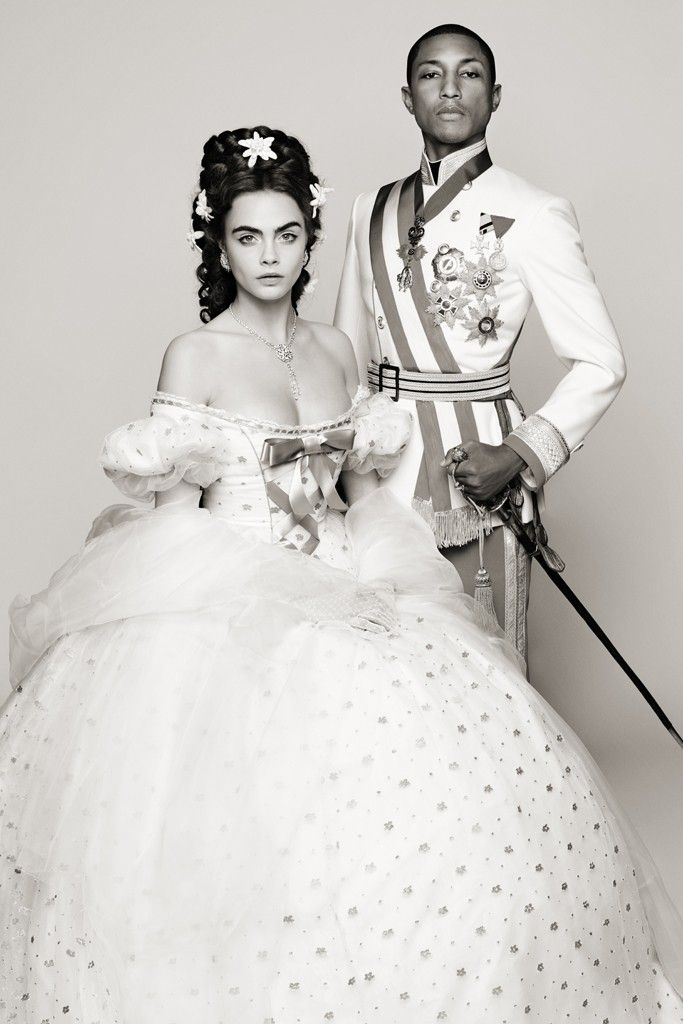 It's Monday, I'm tired and already am longing for a nap, so lets take a minute and disappear into Karl Lagerfeld's Chanel 'Reincarnation' film. When you haven't been in relationship for a while, and feel good about it, it's amazing how quickly it is to want one after watching Cara Delevingne and Pharrell Williams dancing in a grand ballroom.
Karl Lagerfeld hand-selected Cara and Pharrell to star in his latest short film (Premiering December 1 at the Métiers d'art collection in Salzburg).
The short is soundtracked by a new Viennese-inspired track sung by the duo, called "CC the World," as Pharrell plays a dapper hotel elevator operator, who inspired the iconic Chanel jacket.
The film unravels through a dream sequence. Let's break it down. Gabrielle Chanel (Geraldine Chaplin) is awestruck by the jacket of her hotel elevator operator (Pharrell) while on vacation in Austria in 1954 and has a vivid flashback of the charming Emperor Franz Joseph I (also played by Pharrell) and his lovely wife Empress Elisabeth "Sisi" of Austria (Cara Delevingne) dancing in a grand ballroom.
The story also features Lagerfeld favorites models Baptiste Giabiconi and Heidi Mount, as well as six-year-old Hudson Kroenig. Pharrell will also collaborate with Lagerfeld for one of the label's upcoming advertising campaigns.
So let's detach from this grey Monday for seven minutes, watch a clip of Karl Lagerfeld's Chanel 'Reincarnation' film and daydream about our own Chanel drenched royal affair.