- style -
My Sorta Light-Wash Denim
Light-wash denim is the poo. So take a big whiff.
06 . 24 . 15
It seems hard to believe, but evidence is mounting that the unifying power of denim is nowhere near dying. Not only did designers show a plethora of the light-weight fabric on the runways during the Milan Men's Fashion Week Spring 2016, but also offered up an illusion of denim – fabric that tries to mimic the look of denim as if to say "I want to be as cool as you." Basically, denim is the poo. So take a big whiff.
My time in Milan was brief but packed because apparently fashion folk over there cram in as many events and press days into the working week, that very little time is left for pasta, pizza and exploring the Expo – although I managed to fit all of that in. While trotting around the city denim once again proved itself to be my best friend.
Denim is athletic, academic, and cooler then Ice-tea, both the rapper and the drink. Denim is like that really cool guy who would always make everyone laugh at school, even during a pop quiz in Earth Science.
Before the shows started I stopped by the 5 best fashion shops in Milan. One look I picked up was a light wash denim shirt by CMMN SWDN. There is something sexy about raw denim. Light wash denim seems to speak to the amazingness of an idea not yet fully formed. It represents all the possibilities. Like looking at a smiling infant. Yes I just compared light-wash denim to a baby. I'm tired and have been going on too much wine and very little sleep in Milan.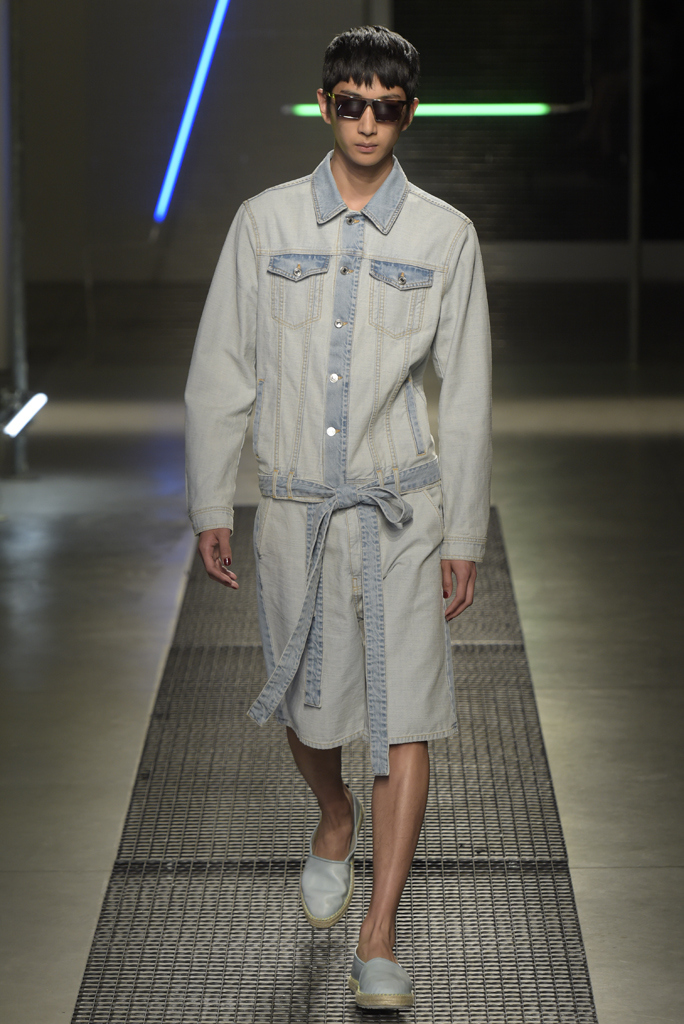 The top remind me of an incredible elongated denim jacket from MSGM  Spring/ Summer 2016 offering, which turned out to be one of my top five favorites of the week. The collection was light and natural and vaguely Japanese-looking. Sleeveless eco-suede and light-wash denim jackets belted on the hip, and long gauzy shirt jackets were youthful and athletic-tinged.
It's a kind of dada/punk, 80s/ 90s look. Call it nonsense, if you prefer. Restlessly jumping across references with no real plan is totally natural when it comes to MSGM and light-wash denim. It just feels right.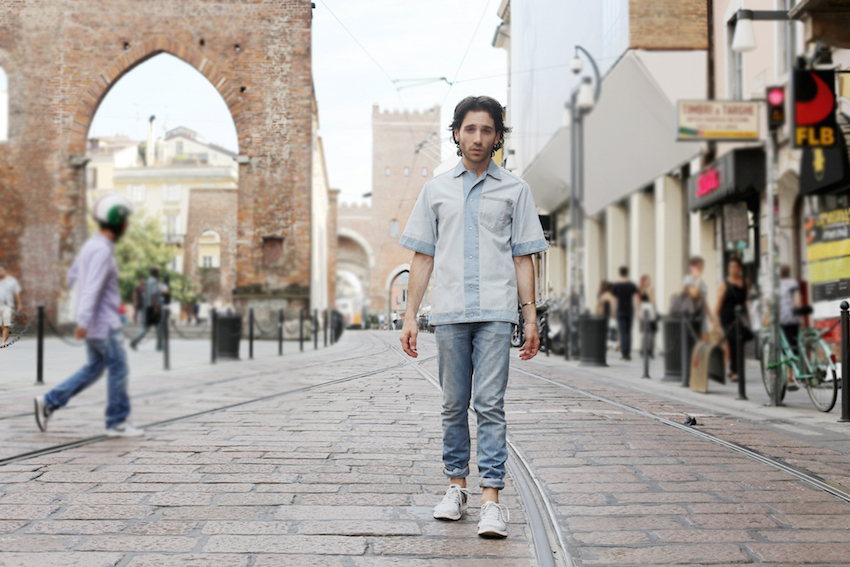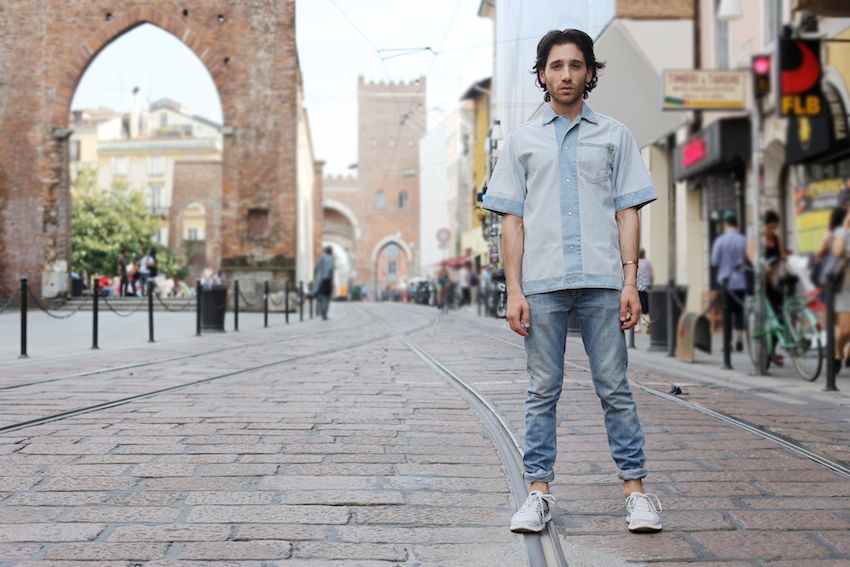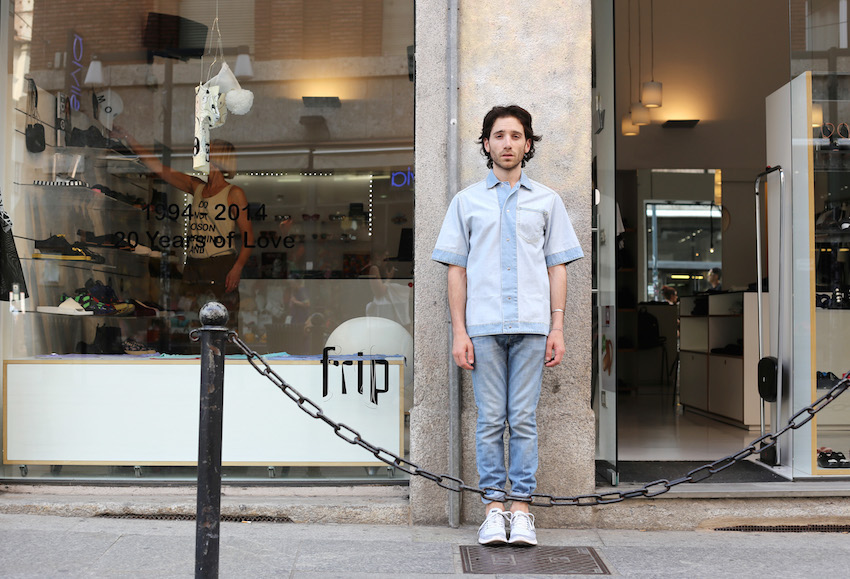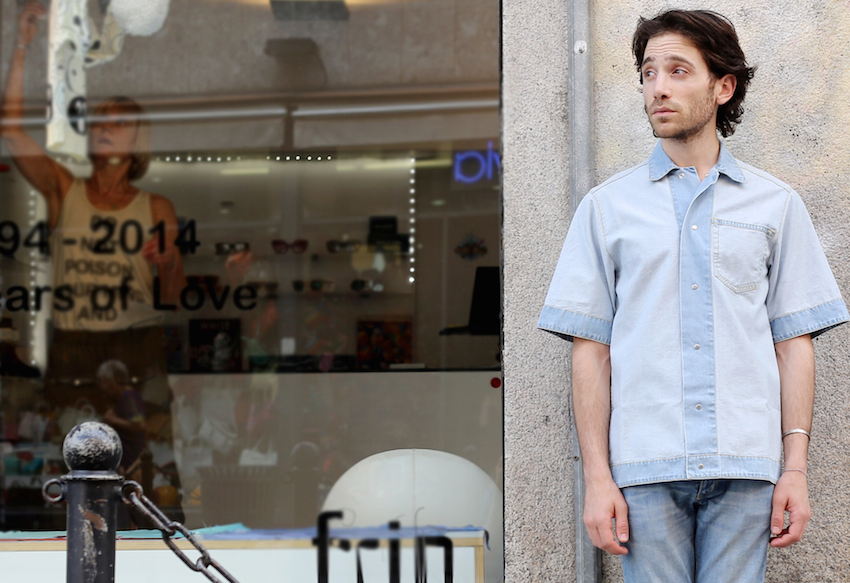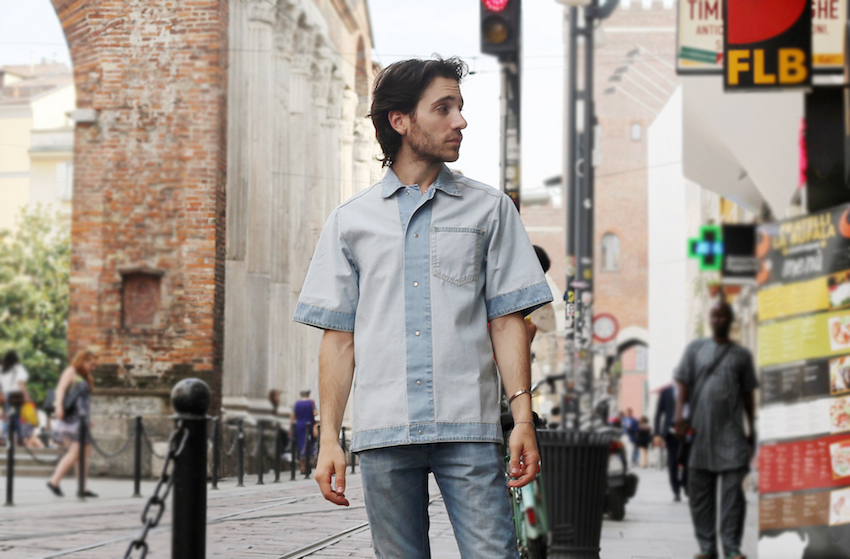 (Top: CMMN SWDN/ Pants: A.P.C/ Shoes: Nike)
– YOU MAY ALSO LIKE –
TRENDS ON TRENDS: MILAN MEN'S FASHION WEEK SPRING/ SUMMER 2016
CONVERSATIONS ABOUT SOFT LAYERS: MILAN MEN'S FASHION WEEK SS16
THE 5 BEST SHOPS IN MILAN RIGHT NOW