- style -
Trends on Trends: London Men's Fashion Week Spring/ Summer 2015
Check out what's on tap for next summer as evidenced by the London Men's shows.
06 . 19 . 14
London Men's Fashion Week was chock full of butch and bling. Britain's cutting edge creatives established next summers hottest trends in it's typical youthful and fantasy inducing style. There is something so delightfully playful about the London men shows, and not just because this season I spotted Ursula and crop tops on the runway.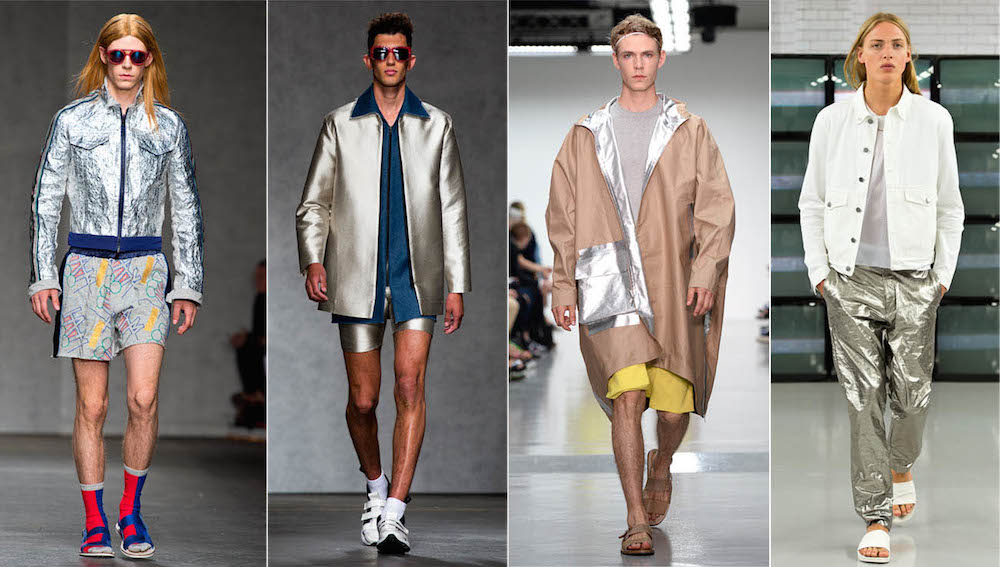 Starting with silver in model order we've got James Long, Xander Zhou, Richard Nicoll and Common. I'm particularly a fan of Common's baggy silver pants. These space-age looking trousers showed face back at the Fall/ Winter 2014 shows with models at Calvin Klein rocking luxe metallic loose numbers.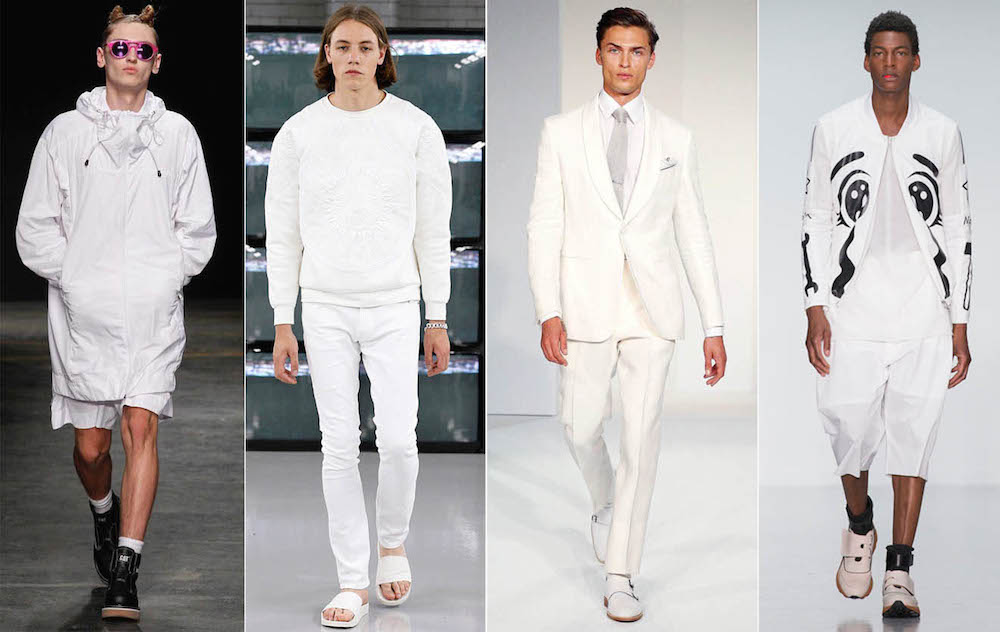 A summer look that never goes out of style, all white, continued to prove its staying power for the 2015 season with Christopher Shannon, Commonm, Gieves & Hawkes and Sankuanz.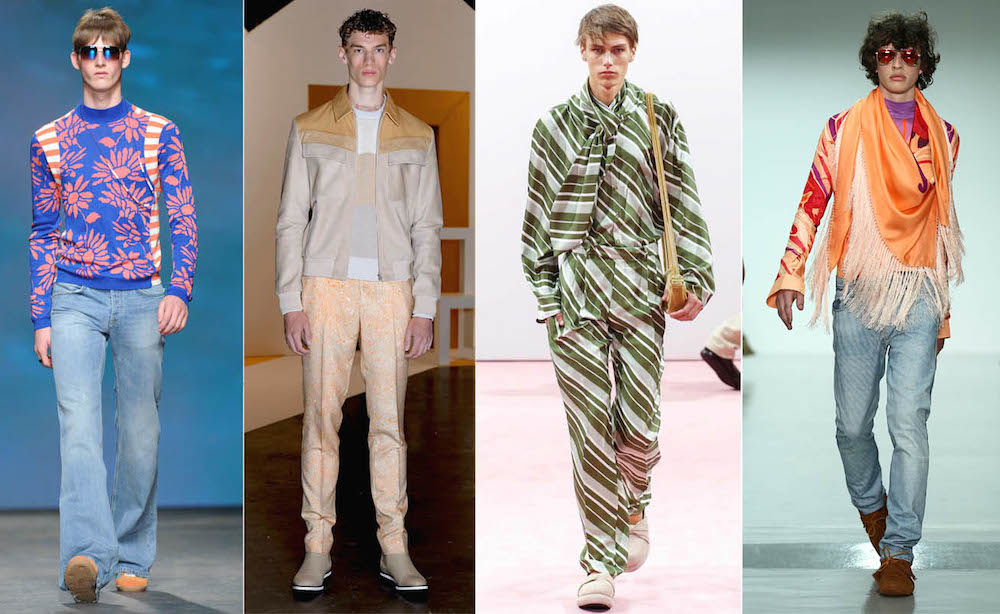 A fresh take on 70s style poured forth from Topman Design, Jonathan Saunders, J.W. Anderson, and Katie Eary. The use of boot-cut denim and Mod ease loosely hearkened back to Jimi Hendrix and Liam Gallagher inspiration while the psychedelic pops of turquoise, yellow and red kept the '70s flare loosely tied to the animated likes of Scooby Doo. I'm starting to get into wacky psychedelic style. Think of it, what if you take a bold pink and orange floral printed top and instead of pairing it with black trousers, went for pale blue bellbottom jeans, doesn't it make you think: I could be that guy? That guy being a really cool blend of Shaggy and Hendrix.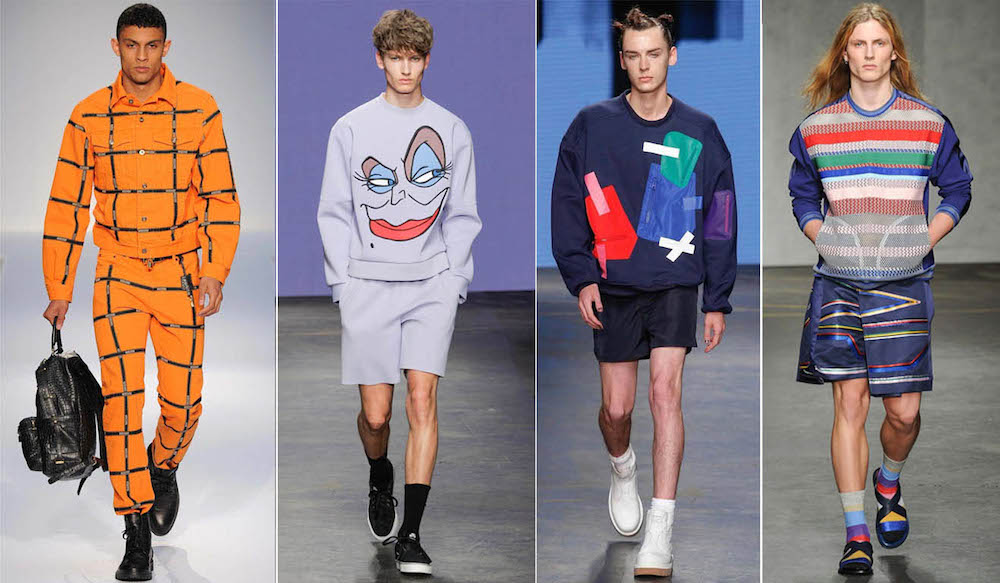 Now fast-forward twenty years and we end up at another trending decade. The no brainer attitude of the 90s made a presence on the London runways with Jeremy Scott's punchy collection for Moschino, James Long's flashy sweats, Christopher Shannon's youthful skatewear line up and Bobby Abley's The Little Mermaid themed collection. Highlight? Moschino's Hawaiian print overalls made me actually want to try this trend and a sweatshirt plastered with Ursula's face by Bobby Abley.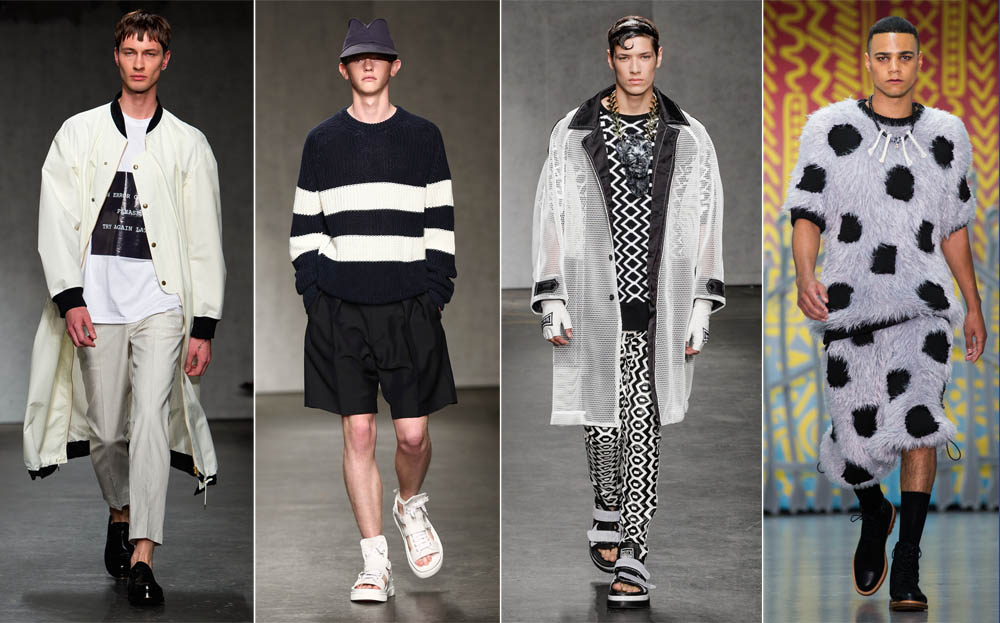 While I love to rock bright colors over the summer, there's something so wonderful about a bold black-and-white print. Perhaps it steams from my innate need to organize everything? This look seems to help keep things sleek in our sometimes chaotic and spastic world. The trend made a presence in all shapes, sizes, fabrics and layers in London by designers Xander Zhou, E. Tuatz, KTZ and Sibling.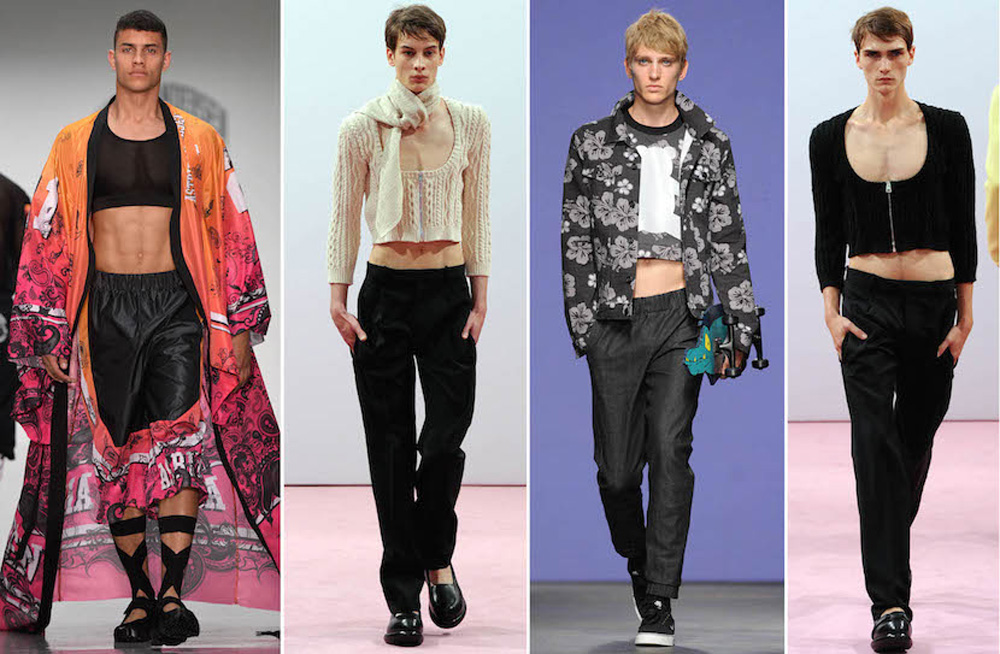 Ending with a trend that really peaked my interest, the reemergence of crops tops, in model order we've got KTW, J.W. Anderson,  Bobby Abley and another look by J.W. Anderson.
Now on to Milan.