- style -
Trends on Trends: Milan Men's Fashion Week Spring/ Summer 2015
Check out what's on tap for next summer as sketched on the Milanese runways.
06 . 26 . 14
The thing about Milan Men's Fashion Week is that it ends so quickly and leaves me slightly irritated every time. Don't get me wrong, it is my personal favorite of the fashion weeks. The irritation simply comes from my sheer impatience for trying these new looks. I've always had a problem with waiting. I think it's a New Yorker thing. But every year, the same thing happens, the last show walks the runway, the lights fade and there I am, frustrated and extraordinarily inspired. While the looks won't hit stores for quite some time, there's no stopping us from trying the leading trends that emerged.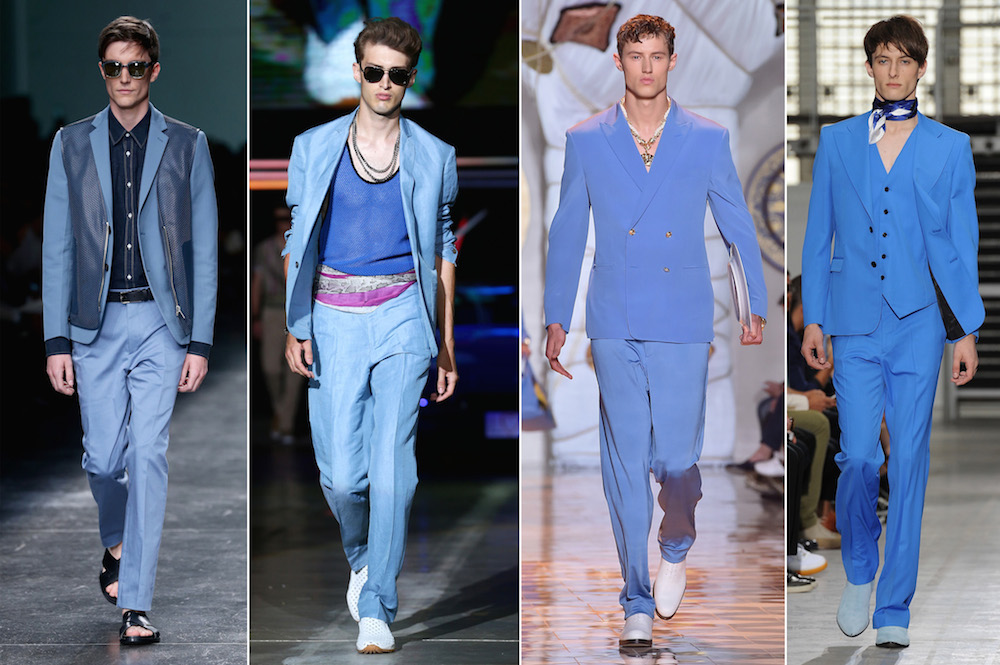 Fear not the monochromatic look. It's fresh, bright and totally optimistic. It's a sure fire way to create a kind of nonchalant elegance. The look was unquestionably a major trend at Milan Spring/ Summer 2015. From blue to pink to nude, Italian designers loved the matchy-matchy vibe. Maya blue drenched runways at Fendi, Roberto Cavalli, Versace and Costume National Homme. Roberto Cavalli's light azure suits wear accented with a silk scarf belt and worn with mesh tanks. Fendi turned out one of my favorite examples complete with navy leather details on the blazer.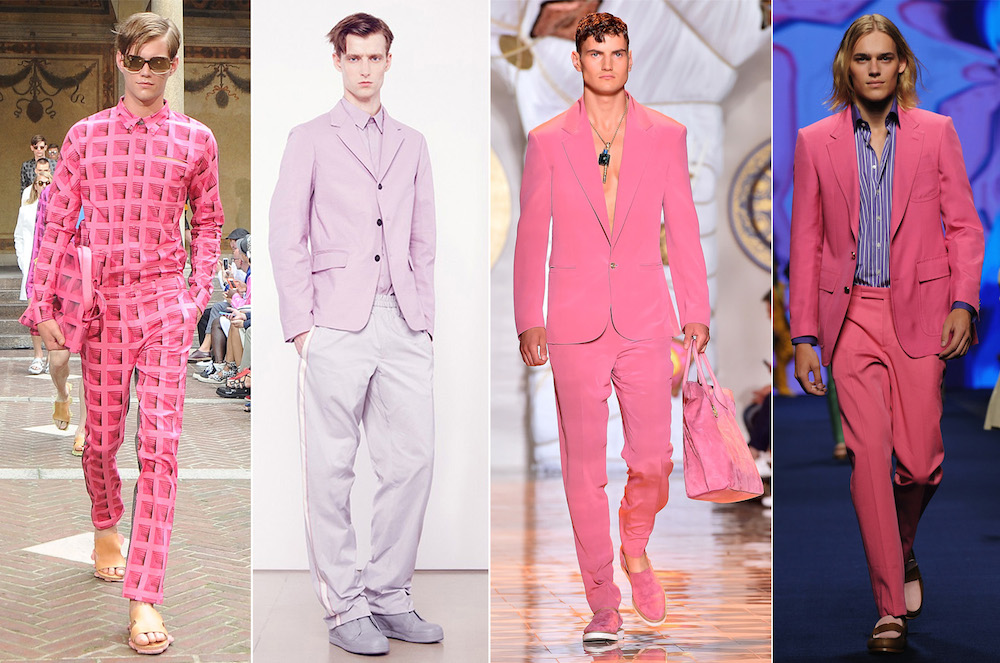 Cameo pink, dare I say, made a cameo at the Julian Zigerli, Jil Sander, Versace and Etro shows. Versace and Etro created sleek tailored bright pink numbers, as Jil Sander softened the look using a delicate rosy hue. Among designer Julian Zigerli's floral peekaboo side slit blazers, walked cheeky cube pattern pink outfits.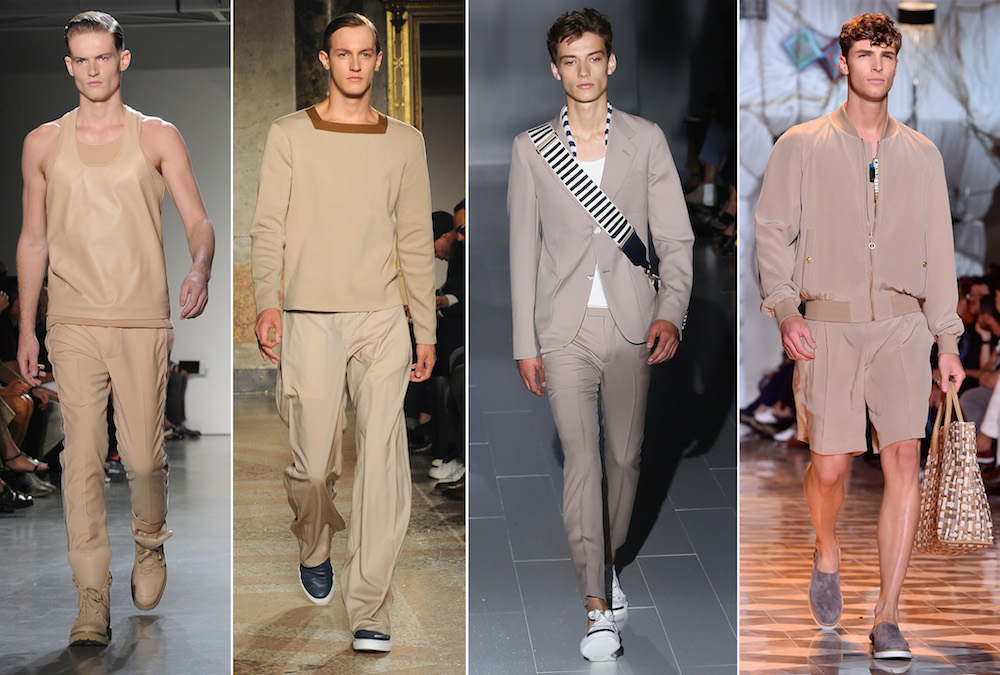 Nudes also got matchy-matchy in Milan. Italo Zucchelli, men's creative director for Calvin Klein Collection led the charge with this color creating a collection inspired by skin. Sharply tailored suits, gauzy muscle tees, boxy shorts and super high, high top sneakers were all saturated in the fleshy hue. Other nude creations were shown at Ports 1961, Gucci and Versace.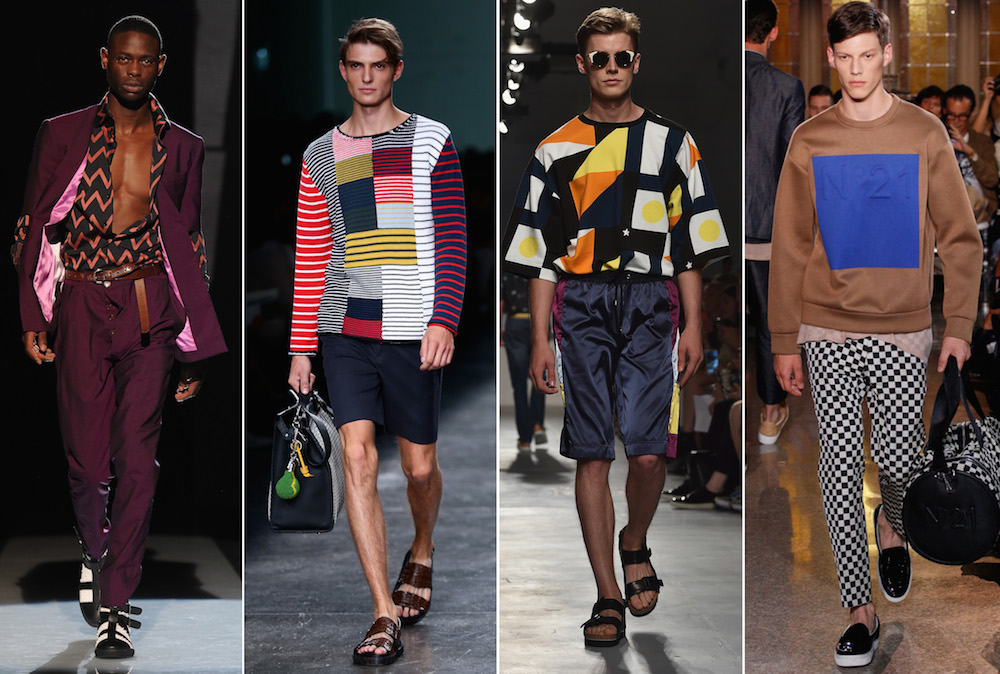 Solid-colored looks aside, designers also played with colored graphic elements. In model order we got Vivienne Westwood, Fendi, MSGM and N°21. Massimo Giorgetti's MSGM lineup featured some of my favorite strident prints that bordered abstraction.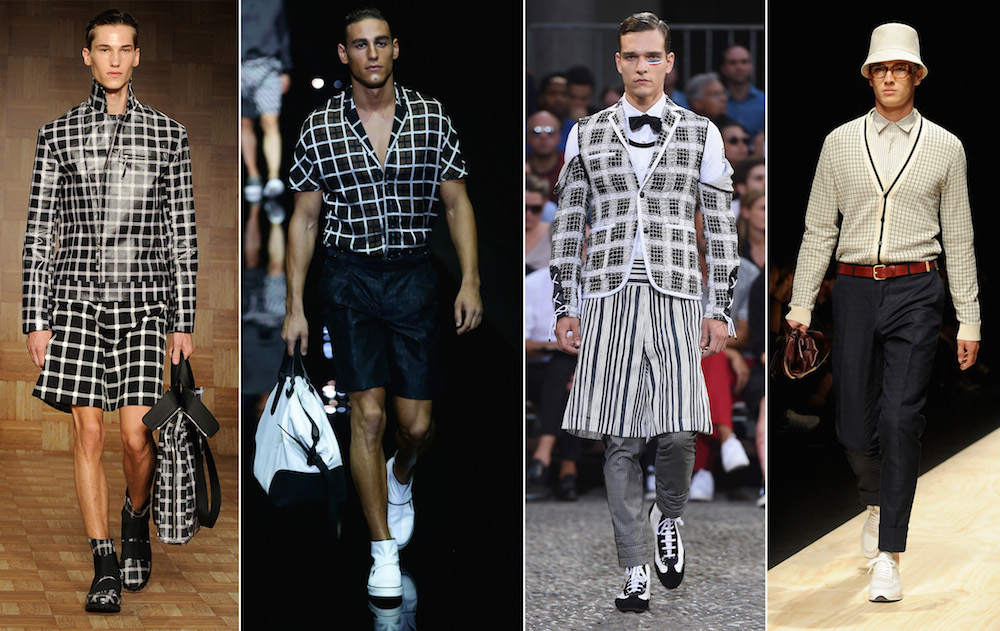 A rather minimal and fresh print hit the runway this season. Black and white grids and checkerboards are on their way in. Armani Prive, Moncler Gamme Bleu and Canali showed how it's done.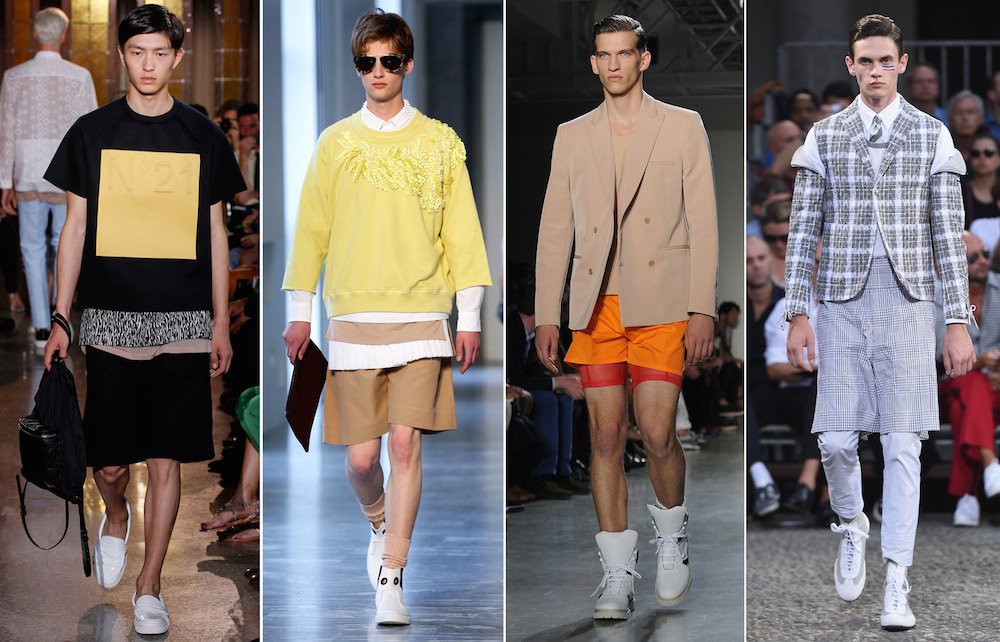 Savvy layering took a strong stance on the Milanese runways for Spring/ Summer 2015, giving way to a youthful look. Stacking threads was an integral part of the N°21, Andrea Pompilio, Calvin Klein and Moncler Gamme Ble shows.
Well that's it. That's all I got for now. So, if you're like me, and have trouble waiting to try on the latest pieces from Milan Fashion Week, for now, experiment with these five trends.