- style -
Trends on Trends: Milan Men's Fashion Week Spring/ Summer 2016
They're heeeeeeere.
06 . 23 . 15
Thirsty this morning? I hope so, because Milan Men's Fashion Week Spring/ Summer 2016 served up a bevy of gender bending and deliciously eccentric looks. This season designers targeted those deeply complicated, complex and evasive creatures also known as young people, brought up on Tumblr rather then TV. Here's whats on tap for next spring summer.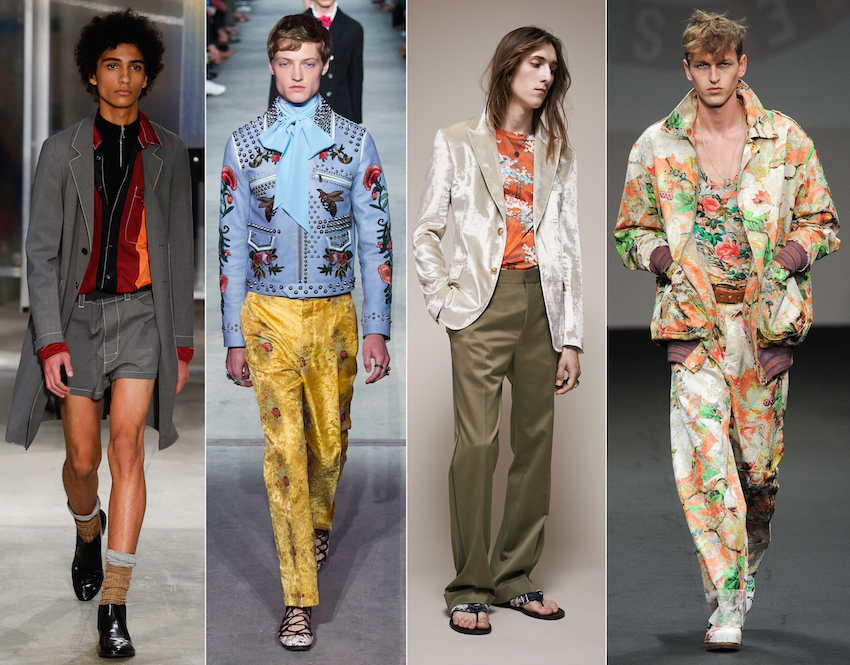 Aristocratic androgyny.
Designers took a "genderless" approach to lavish looks this season proving once and for all that Normcore is but a distant memory. An androgynous glitzy globe-trotting eclecticism hit the runway at Prada, Gucci, Marc Jacobs and Vivienne Westwood. It a kind of aristocratic perspective of a 70s look. Marc Jacobs created orgasmic hammered cream velvet slacks while Gucci stitched together a pale blue leather jacket embellished with crystals and worn over a pussy bow shirt. If Oscar Wilde was still around and part of a motorcycle gang this would be his jam.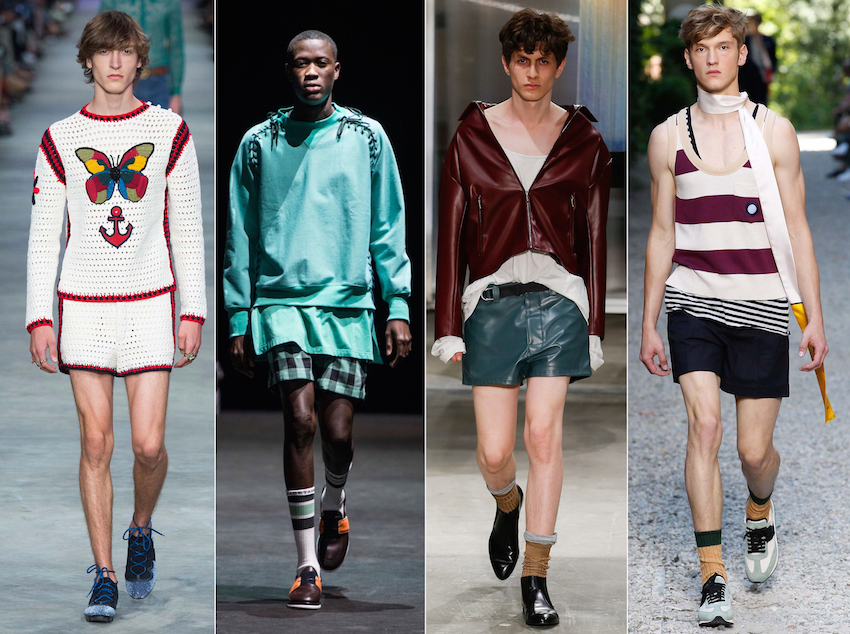 Bruce Jenner running shorts (circa 1975), part 2
A continuation from London. In model order we have Gucci, Facetasm, Prada and Andrea Pompilio. Start hitting the leg press now.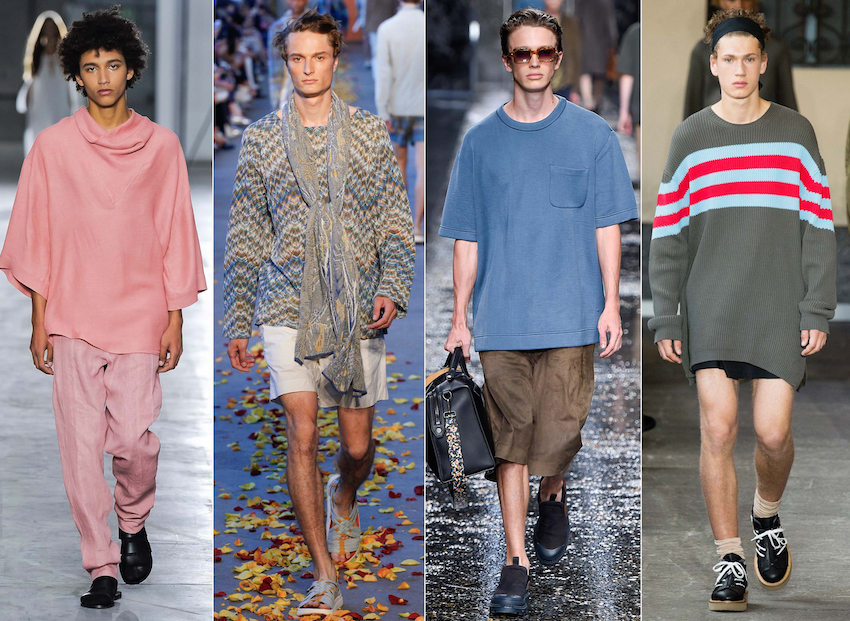 It's elevated sportswear stitched together with lightweight fabric that feels masculine in its acceptance femininity. An easy, breezy beautiful look perfect for midnight lounging at the oasis. It's cooler then a cucumber and being served at Damir Doma, Missoni, Fendi and N.21.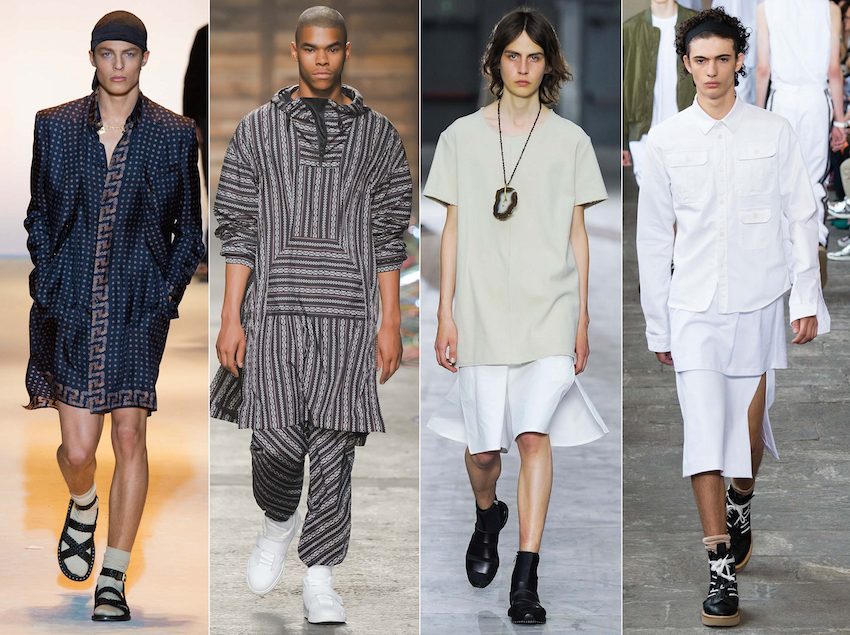 Skirts.
Real men love to strike bold poses. Since pants constrict that there's only one solution – skirts. Gender-bending provocateurs walked the runway at Versace, Marcelo Burlon County of Milan, Damir Doma and No.21. Each designer tuned out soft flowing elongated shirts that can double as a dress. I mean if Jaden Smith can pull it of, so can you. Seeing a skirt on a man is less shocking then it used to be. Perhaps this is one box we finally broke out of.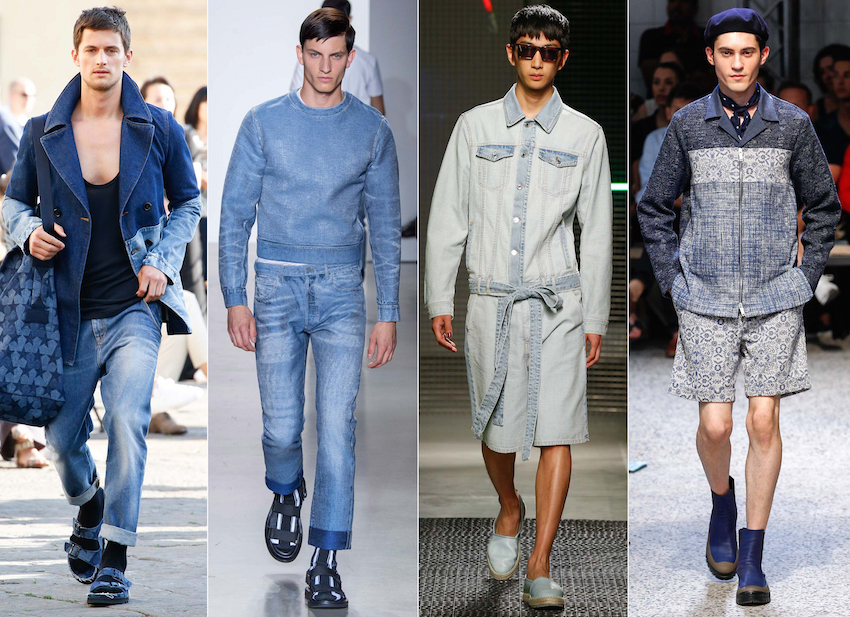 Denim is dead.
Except it isn't, denim was an illusion. Ports 1961, Calvin Klein Collection, MSGM and Antoinio Marras reimaged this trend proving denims staying power for the Spring/ Summer 2016 season.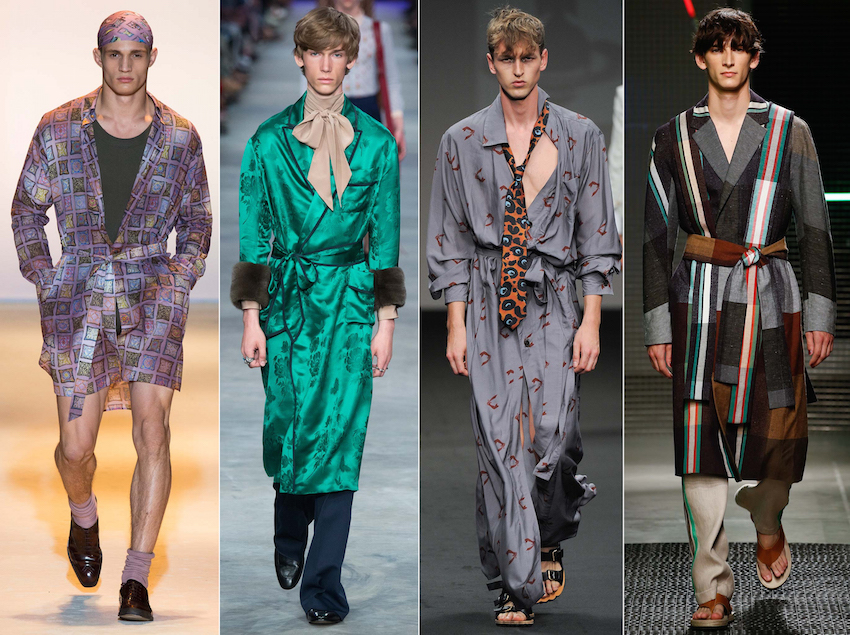 All about Hugh/ that eccentric old-ladyish look.
Is it that well-known playboy look or something out of your grandmother's closet? That was the question that arose at Versace, Gucci, Vivienne Westwood and Etro during Milan Men's Fashion Week Spring/ Summer 2016. Gucci showed a lavish green silk robe with the fur cuffs that was more old-ladyish then playboy, where Versace and Westwood sexed up the look by showing chest and leg. Perhaps it's not about whether this look was one or the other, but more about that sexy cougar like grandma who is always on the prowl.
– YOU MAY ALSO LIKE –
CONVERSATIONS ABOUT SOFT LAYERS: MILAN MEN'S FASHION WEEK SS16
THE 5 BEST SHOPS IN MILAN RIGHT NOW
WHEN BURGER KING MET CASANOVA (AND A NEW MALE SEXUALITY)