- style -
Trends on Trends: Pairs Men's Fashion Week Fall 2015
Check out what's on tap for next fall as sketched on the Parisian runways.
01 . 26 . 15
The Men's shows have come to a close and the Paris men's collections ended their hefty five-day run. Young designers showed their growth on the runway while seasoned vets matured their brands, and whether young or old or new to the game, a conversation was had by all about the idea of trends.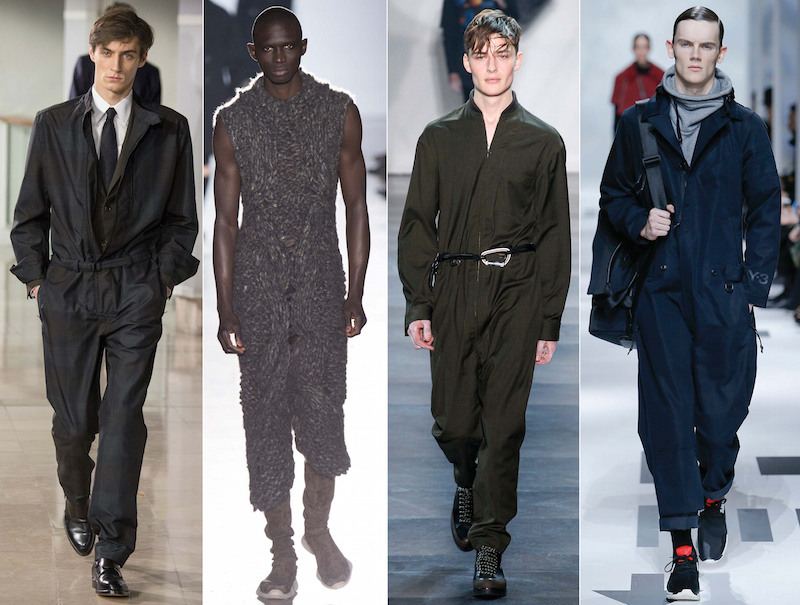 Seeing straight dudes in jumpsuits is just about one of the happiest sites next to discovering a Golden Girls marathon on Logo. A jumpsuit is a tough look for a man to pull off if he's not hard at work on a construction site or are David Bowie or Kanye West. However, when done correctly it is one sexy and sleek look. The jumpsuit has shown face during the London, Milan and now Paris men's shows for fall 2015. In model order we have: Hermes, Rick Owens, 3.1 Phillip Lim and Y-3.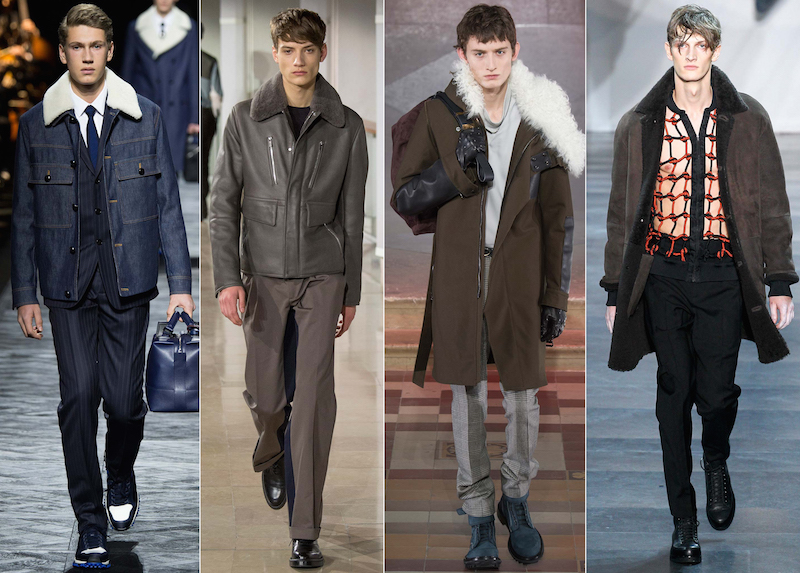 The familiar luxe shearling trend also carried over from the LONDON and Milan shows spun out at Dior Homme, Hermes, Lanvin and 3.1 Phillip Lim.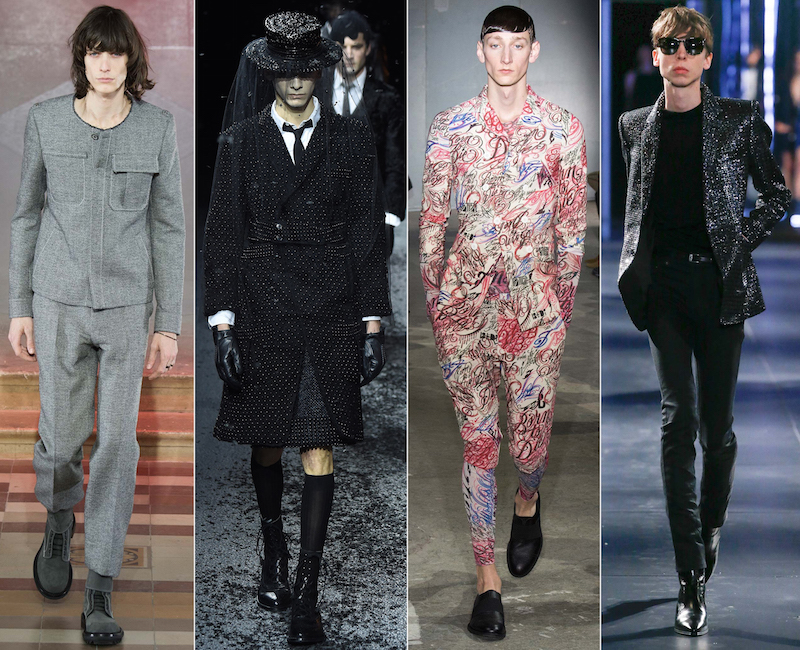 As I often say: labeling fashion with gender is practically as irrelevant as trying to assign any collection made after the year 2000 with a single concrete time period; everything is fluid. Everyone is borrowing from everyone else. So the reemergence of androgynous looks on the fall 2015 London and Milan runways was a welcoming site. The Parisian designers had a gender bender with suiting.  From left to right we have: Lanvin, Thom Browne, Comme des Garcon and Saint Laurent.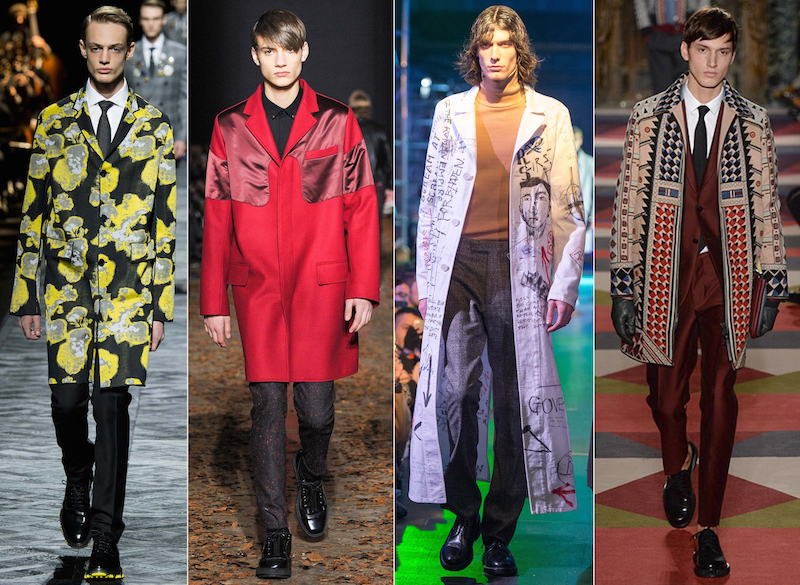 Punched up top coats walked the catwalk at Dior Homme, Kris Van Assche, Raf Simons and Valentino.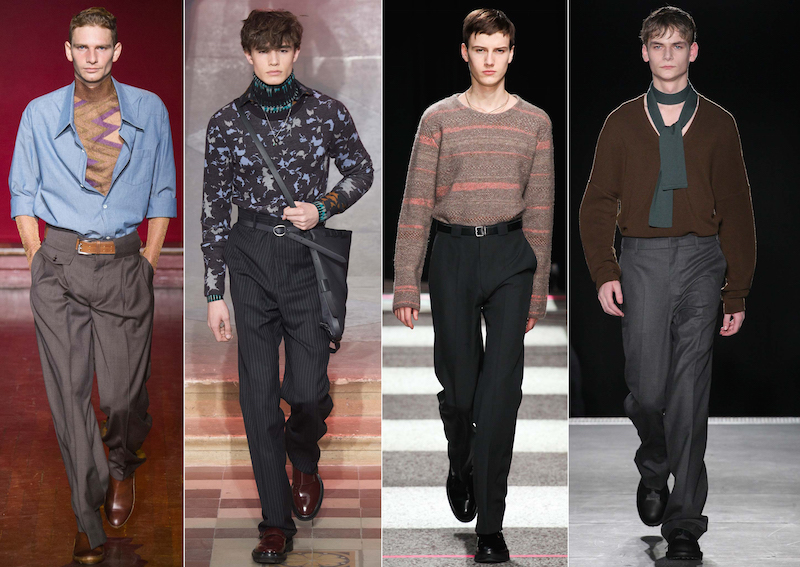 Trousers are creeping up men's waists for fall. 1920s baggy high waisted trousers were spun out at Maison Margiela, Lanvin, Paul Smith and Wooyoungmi.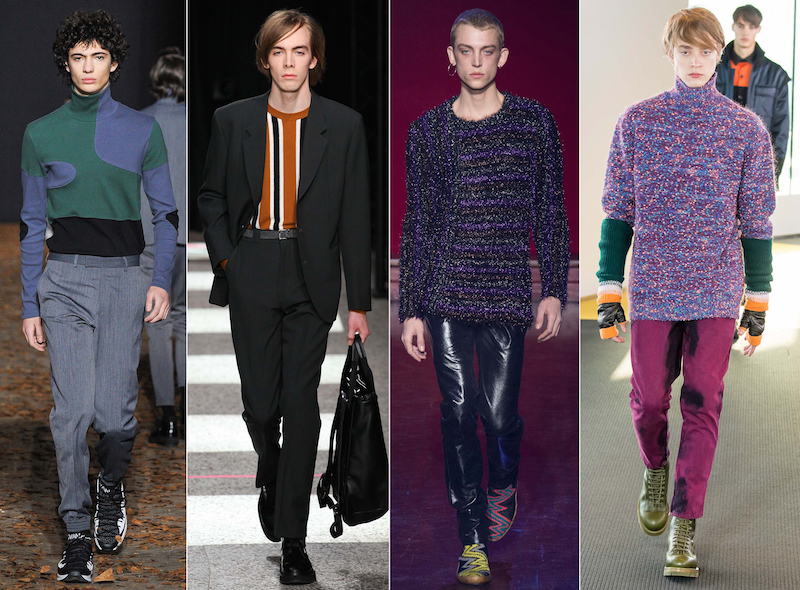 After watching almost every men's show from London to Pairs, one thing is for certain, a Seventies ease is back baby. Parisian designers took a focus on the groovy decades knitwear churning out sweaters with tinsel like shine and bold graphic prints. Here in model order with have: Dior Homme, Paul Smith, Martin Margiela and Kenzo.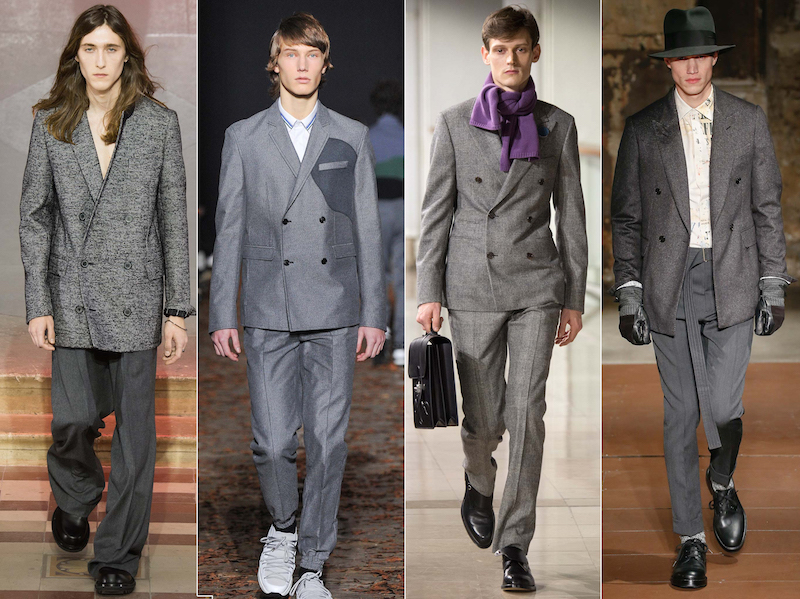 If you find the seams on your clothes to be under a lot of stress lately this is one trend for you. Loose fitted grey double-breasted suits are here to make you a bit more comfortable at work. A trend most definitely fueled by the rise of streetwear aesthetics on the runway. Here we have: Lanvin, Kris Van Assche, Hermes and Cerruti 1881 Paris.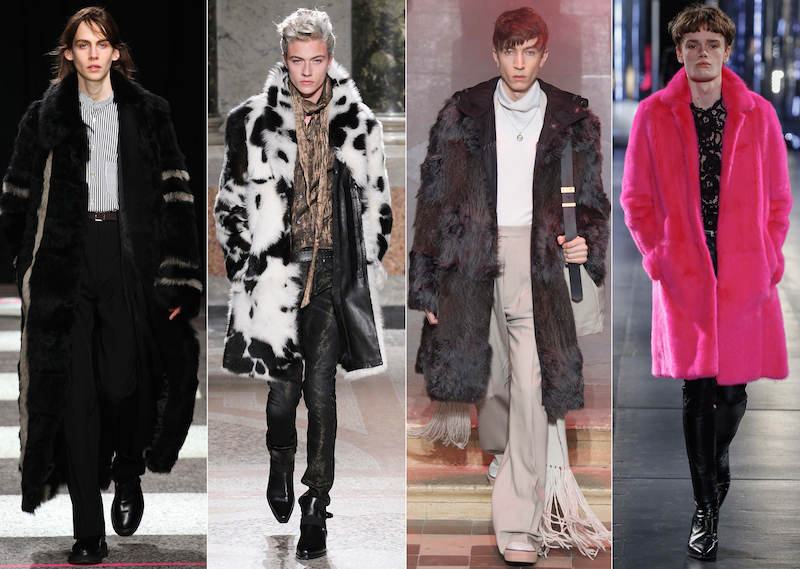 Apologies to PETA, but luxe and decadent fur are dragging on the floors of men's fashion runways this season. Min Milan we spotted uber-masculine gangster looking fur, while in Paris designers took it to the next level creating intimidating numbers at Paul Smith, Roberto Cavalli, Lanvin and Saint Laurent.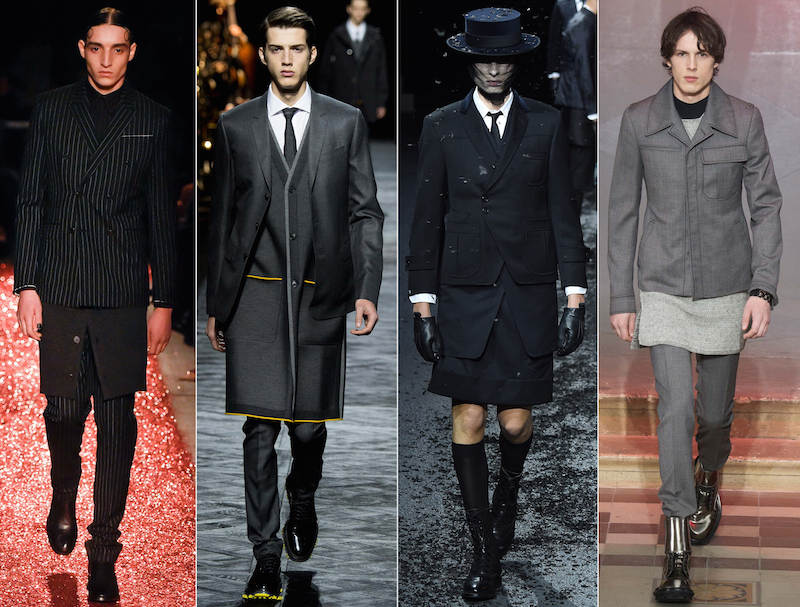 We all know about fall layering and the joy it brings to our everyday outfits: leaving buttons undone and shirts untucked and trading coats for hefty cardigans. But the Pairs men's shows revealed some new tricks to the art of layering.
That's it for now. Next up New York Fashion Week.