- travel -
Hotel Like Jagger: Mediterraneo Hotel In Rome
Time for a Roman holiday. Com'on Audrey!
09 . 29 . 16
Ah hotel living: your room is cleaned for you daily. There's a cocktail just a phone call away. And, sometimes the design is so fabulous, it inspires crazy dreams of redecoration upon returning home. We here at Oyster Colored Velvet love to flesh out those unapologetically wonderful hotels from around the world. So dip into OCV's mini bar, grab a drink and check out how to Hotel Like Jagger. 
In need of a Roman holiday? If the answer to that question is always YES, (which it really should be!) then this is for you.
If you are in the market for a charming and luxe hotel that in Rome that offers up Instagram worthy view from every angle and is located within walking distance of the Colosseum, Opera House, Forum, Trevi Fountain and Spanish Steps, look no further.
Mediterraneo Hotel In Rome was built in 1936, boasts a host of original features blending "museum worthy" Art Deco design and furnishings, including a stylish marble staircase, with historic references such as maps, prints and marble busts of Roman emperors. The showpiece, however, is a plush green and red velvet lounge crowned by a wooden fireplace adorned with a bird and falling man motif, and topped off with an geometric coffer ceiling. The reception area relies on white and red marbles, textural patterned rugs and marble busts of Roman emperors to bring warmth to the space.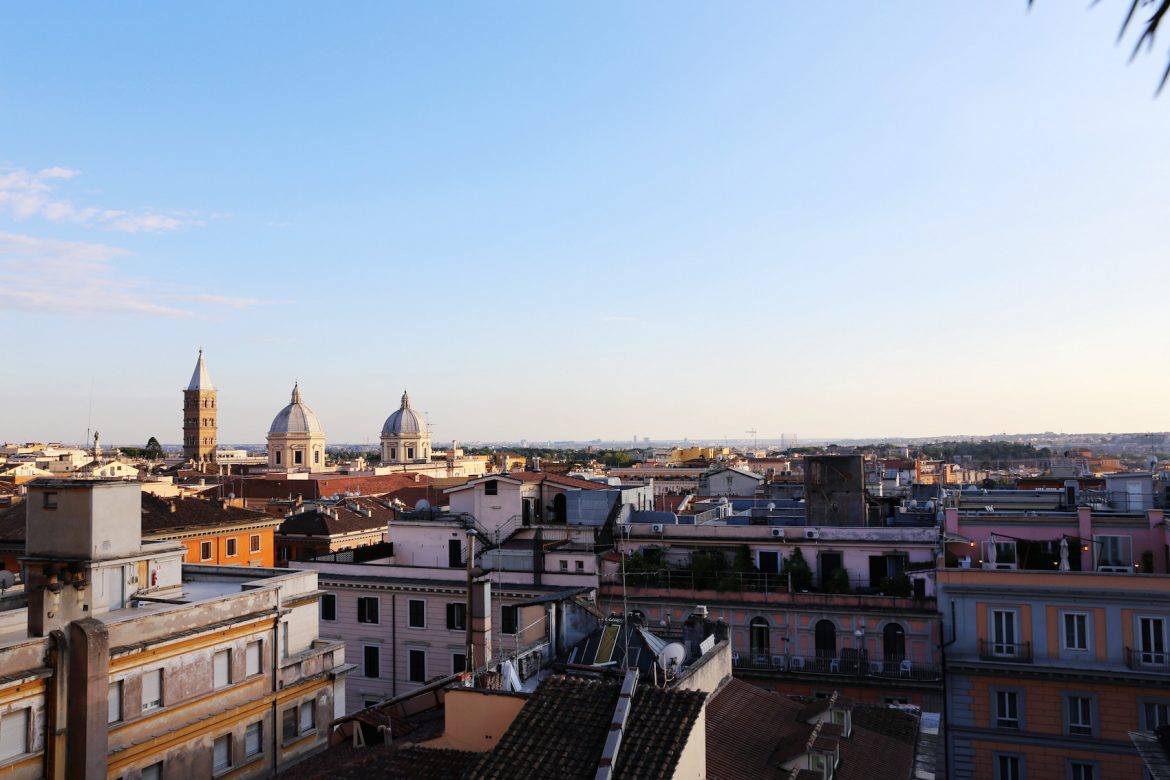 Set on Esquiline Hill, the highest of Rome's Seven Hills, the ten-story hotel is among the highest buildings in Rome's center and affords sweeping views of the city from its rooftop bar and terrace suites. The rooftop dining room meanwhile, is elegantly understated with considered lighting and clean lines in a low-key palette with hints of blue, grey and dusty pink. The view is the main focus here ad oh what a view it is. The food of course, is undoubtedly Italian and delicious.
This hotel is a great and affordable way to experience Italian luxury at its finest.