- travel -
Hotel Like Jagger: Monte-Carlo Beach Hotel In Monaco
A 1920s legend in the South of France.
10 . 13 . 16
Ah hotel living: your room is cleaned for you daily. There's a cocktail just a phone call away. And, sometimes the design is so fabulous, it inspires crazy dreams of redecoration upon returning home. We here at Oyster Colored Velvet love to flesh out those unapologetically wonderful hotels from around the world. So dip into OCV's mini bar, grab a drink and check out how to Hotel Like Jagger. 
Now up is a boutique five-star hotel that has been on the society scene since the 1920s. Located on the Cap Martin coastline, the Monte-Carlo Beach Hotel takes full advantage of its alluring coastline, agreeable weather, and glistening views of the Mediterranean Sea.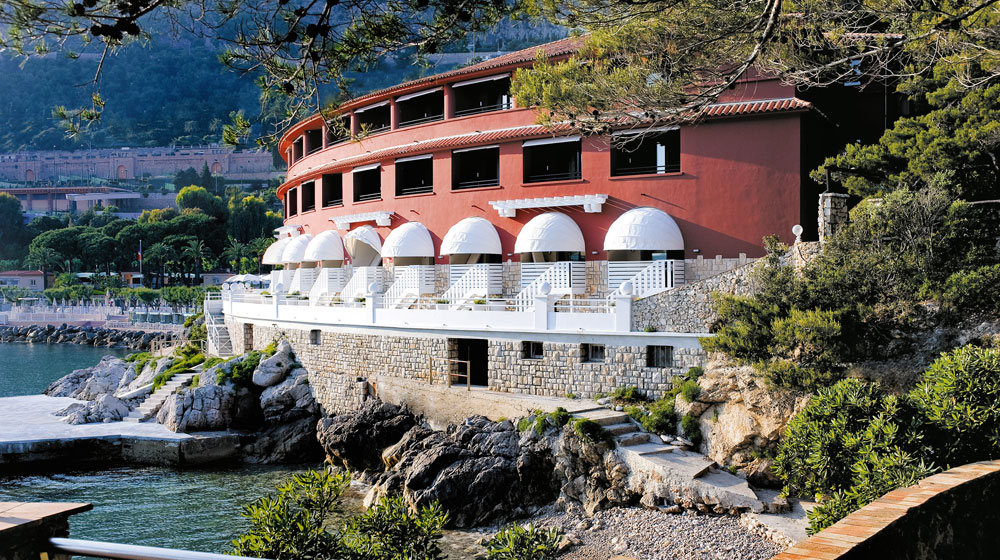 Designed in the 1920s by the iconic architect Roger Seassal, this terracotta-colored hotel received a vibrant facelift recently by chic Parisian interior designer India Mahdavi.
The sleek minimal aesthetic has subtly altered the material and the colors of the furnishings to add a dash of modern flare and richness to an otherwise neutral palette. With its obliquely located reception desk, the lobby area feels more like a private club than a hotel.
As for the rooms, frescoes inspired by Matisse and Cocteau embellish the walls, while soft furnishings are decked with stripes and figures of eight and bathrooms are walled in white marble.
Enjoy some of the the Riviera's finest sea views at mythical summertime restaurant and lounge, La Vigie, Watch the sunset and enjoy a glass of champagne or gorge upon the fresh catch of the day.
The hotel is open and waiting for you to visit from March to October.