- style -
The Little Mermaid Hits London Fashion Week
You know it's going to be a good day when you spot Ursula the Sea Witch on the runway.
06 . 18 . 14
I always had a thing for Ursula – that dramatic blue eyeshadow, puffy red pout and perfectly wafted Miranda Priestly-like 'do, she's just got a way about her. Believe it our not, when I was 13-years-old I dressed up as Ursula for Halloween. Yes, I wore foam tentacles, a black tube top, and a giant Ursula mask that was clearly meant for an adult. Sometimes I think the younger me was way cooler then my modern self.  So you could imagine my excitement when I spotted Ursala on the London Men's Fashion Week runway.
Everyone seems to obsessed with the The Little Mermaid lately. Ever since Sofia Coppola took the helm of the upcoming live action adaptation, mermaid craze has been spreading fast and furiously. I know I caught a mean case. Yesterday I interviewed the first confirmed star from the film, Andrej Pejic who will be playing "Sister #4." Now Disney's The Little Mermaid cartoon gets its own fashion line, courtesy of British designer Bobby Abley.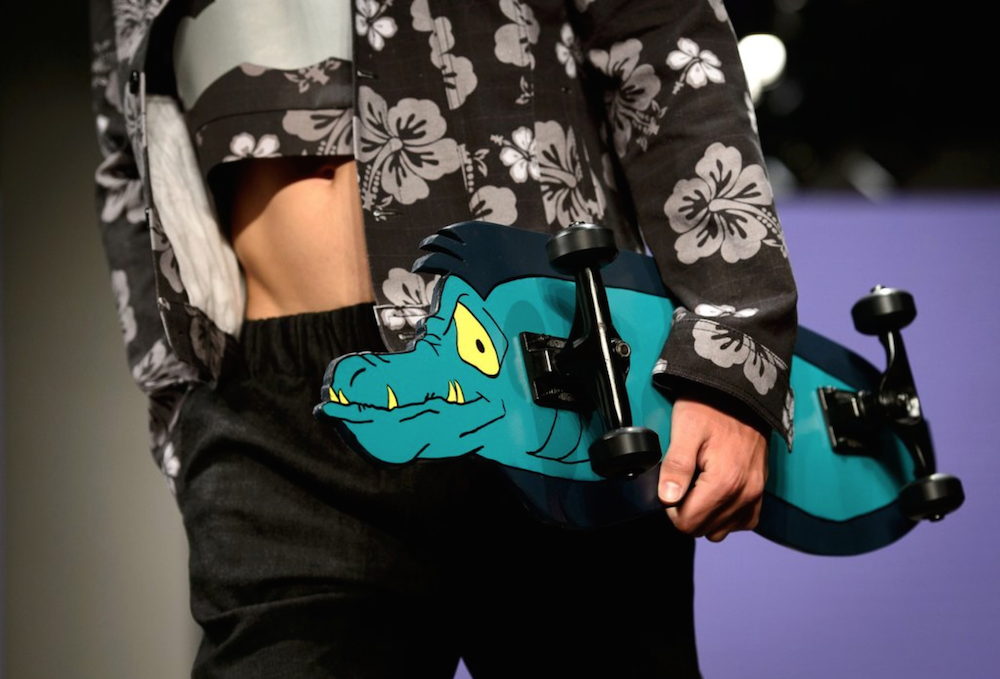 The young designer brought together the minimalist flare of 90s-inspired skatewear and Arial's purple seashell bikini top and the faces of Sebastian and Ursula. Slouchy shorts, sweatshirts and tanks are all plastered with the cartoon characters. One item of particular interest features an outline of Ariel bursting out of the water, across the chest of a glittering Lurex top. Flotsam and Jetsam even make an appearance on a tee and special Danny Hyland-designed skateboards. What cool skater guy wouldn't want to kickflip on that? While the collection is a bit derivative of designers such as Jeremy Scott, this collection showed clever vision and Abley's genuine identity.