- style -
Versace's Sexed Up Cowboys Hit Milan Fashion Week
We're the Village People right? Are contemporary bikers the new John Wayne?
01 . 19 . 14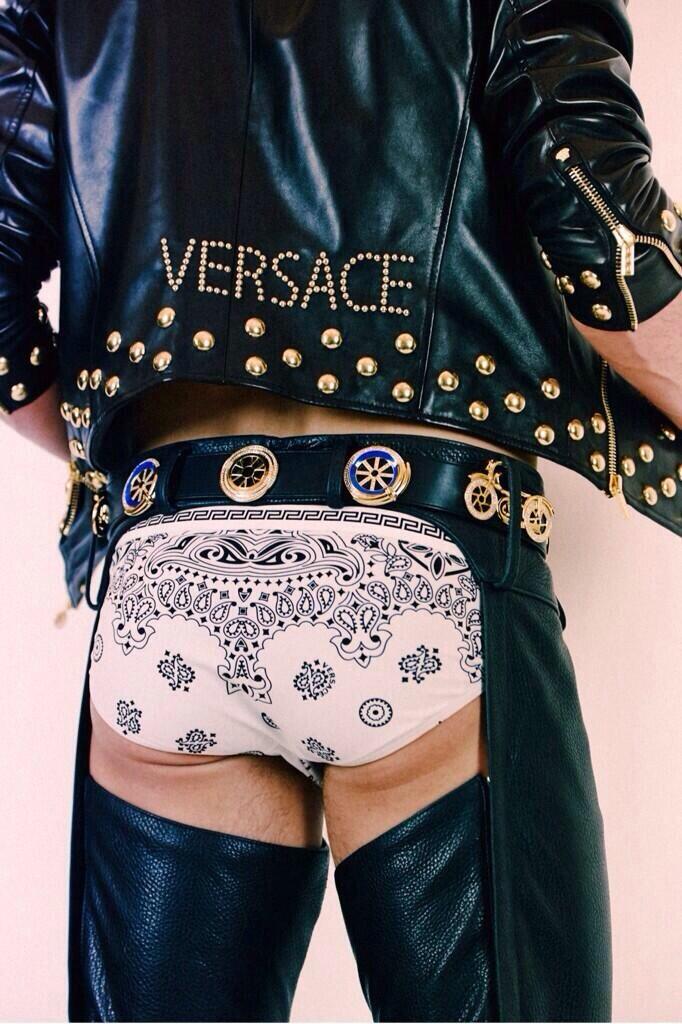 We're the Village People right? Are contemporary bikers the new John Wayne?
Both are certainly undeniable attention-grabbers, whether they try to be or not. Both are surprisingly sexual; exude a fearless confidence and step outside of the boundaries of fashion, whether it's with a big hat or too much leather. (Although, is there such a thing? I'm actual currently quite into leather boots paired with leather pants.)
Either way, modern bikers and cowboys use fashion as a weapon. Leather, spurs, denim and studs are their guns.
Speaking of The Duke and bikers, have you seen the new Versace fall winter 2014 menswear collection? You must be living in a different planet if you haven't. Tongues were wagging and Instagram was burning up at this one. As "Vroom vroom" a motorcycle revving up blared, Donatella Versace unleashed leather pants, motorcycle helmets covered in the house's trademark Medusa motifs and rhinestone codpieces onto the runway. Versace did add an unexpected twit to the naught cowboy collection in the form of hip-hop chains and silk shirts.
If John Wayne and a biker ever somehow did spawn a love child, this is what I imagine him to be wearing, dreamy and romantic threads like his dad John, but still keeping an edgy and rebellious flare like his motorcycle-driving father.
Although there are many items in this collection I would never wear, gold studded codpieces just aren't my thing, and I'm just not ready to ditch the bottoms of my trousers, there are a handful of sumptuous pieces. Mostly in the form of outerwear, an emerald green overcoat and fur motorcycle jackets are fall must haves. There was also a camel jacket that was so luscious I would take it to bed.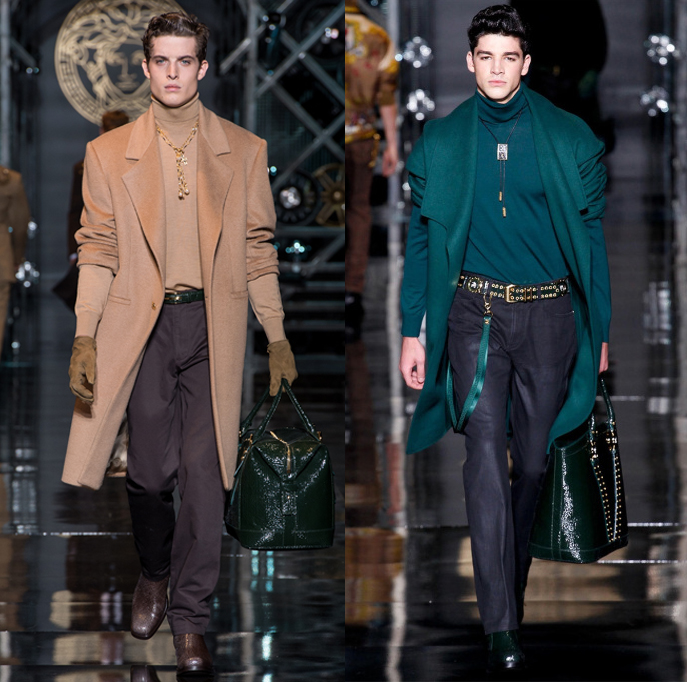 My favorite take away from the show was the blending of cultural references. Perhaps mixing social references is one of the only ways, in today's world, to create new ones.