- music -
Joey Bada$$ Talks B4.Da.$$, Snoop Dogg and Keeping It Real on Twitter
On meeting Joey it quickly becomes obvious that this fiercely passionate young rapper is as authentic as his nostalgic approach to rap.
07 . 07 . 14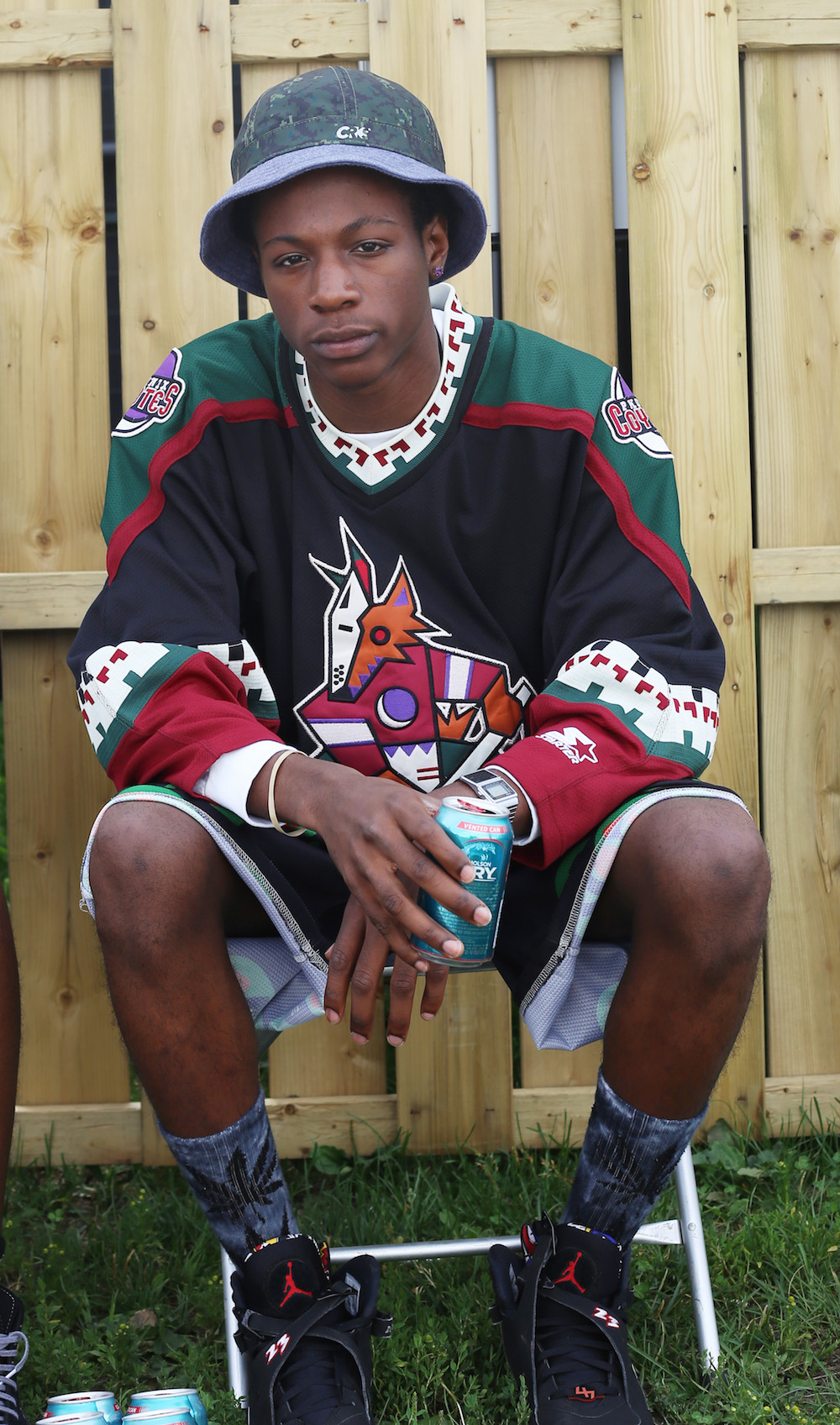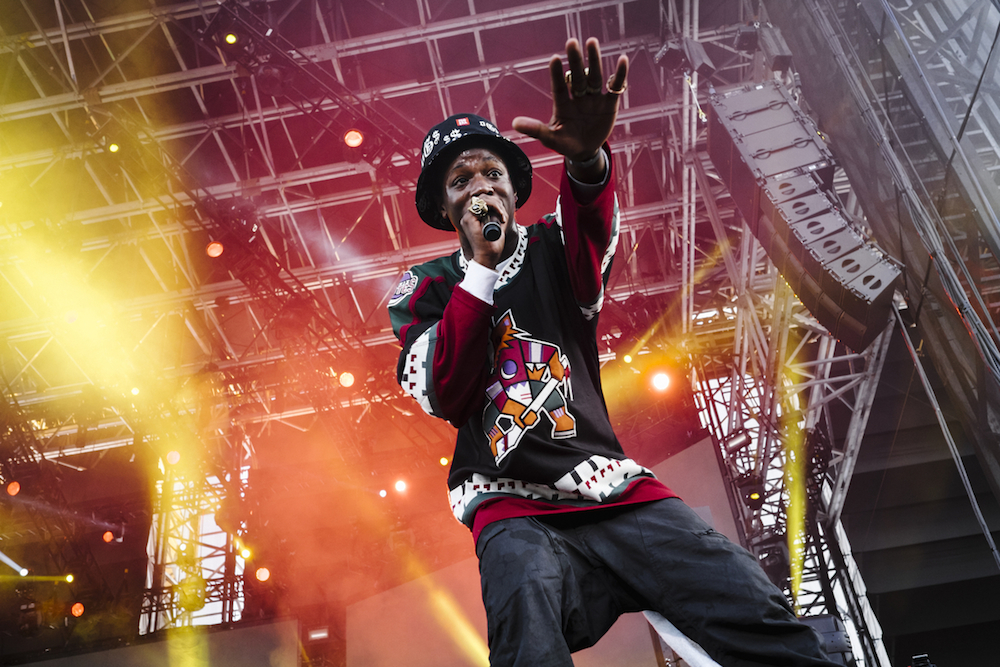 At home backstage with a friend and a couple of beers, Joey Bada$$ prepares for his performance at Le Festival d'été de Québec on Saturday, July 5.
Since 2012 with his debut mixtape, 1999 the Brooklyn teen has been making major waves in the hip-hop scene with a kind of good-humored ease. Not only is he super talented, one of Spotify's top 25 artists under 25, has incredible social conscience, ragged invention when it come to style, he can also rock a bucket hats like it ain't no thing. The guy is cool. Sensitive, grandiose and sincere is how I would describe Joey's swagger.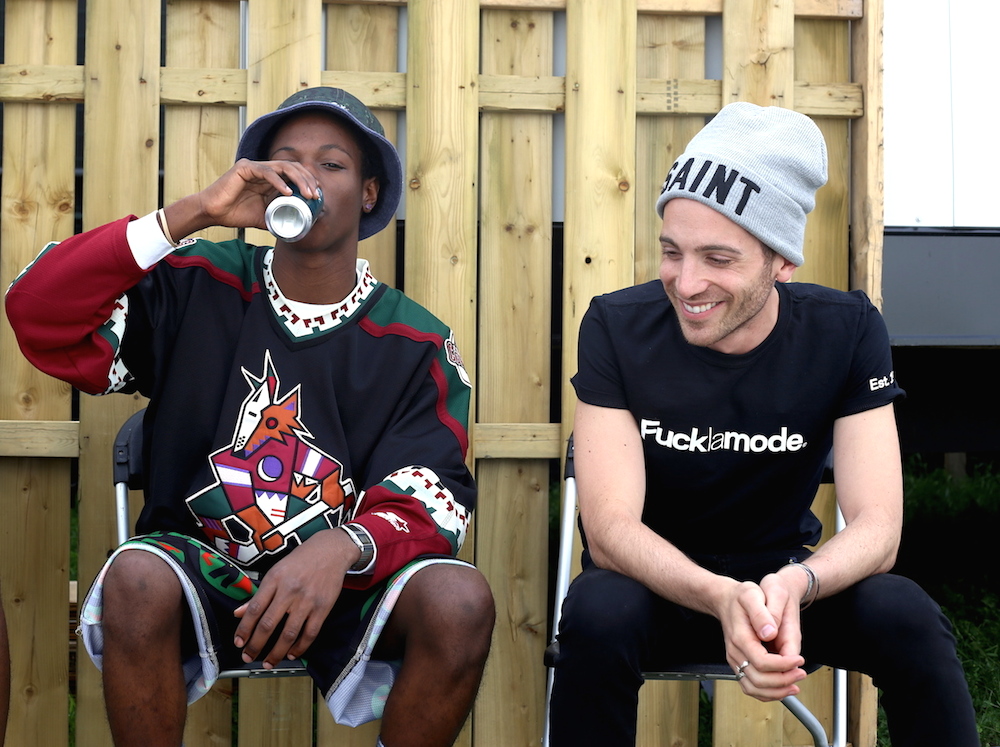 Joey is working hard toward the release of his album debut: B4.Da.$$. "It's coming really soon," he told me. "I don't want to set a date and be like yea it's coming here then disappoint my fans and not have it ready." I joined him for a beer and some killer conversation backstage to find out more about the new album, his style and some of his dream collaborators.  Check out the exclusive interview below.
What have you done since arriving in town?
We got in late last night, like 12 in the morning. I didn't go out. I'm not the socializing type. This morning I hit the gym. It feels great to be here. Lady Gaga performed last night in front of 90,000 people here. I hear 50,000 people are coming out tonight. I mean, it's crazy.
Is that the biggest crowd you every performed in front of?
Nah. I've done some big festivals before but this definitely right up there.
Who are some of you music heros?
Tupac would be number one for sure. Daft Punk number two. Also Jay.
A ton of people, myself included cant wait for B4.Da.$$ to drop. What can we expect from the album?
You can definitely expect to get to know me better, know my story. The album really dives into my character and shows my fans who I am, where I came from. There's an in-depth character to all sides of Joey Bada$$ that I'm looking at with this album. Ever since I came out with my 1999 project, then I hit them with my second project "Summer Nights",  people started to notice the contrast in my music. 99 was my happier, younger side, and "Summer Nights" showed my darker side. B4.Da.$$. explores the contrast of them and basically let's you know why I am the way I am. It's important to switch it up. You can't always come out with the same shit. I like to recreate myself with every project that I make. You know what I'm saying.? I try to remain different and versatile.
What's your favorite thing to wear right now?
Probably the bucket hat and a hockey jersey.
You have an awesome presence on social media. How do you keep it real on Twitter?
I try not to tweet a lot I guess. Haha. If I just go on a fucking rampage it's going to get too real.
Do you have a favorite fashion designer?
For me I'm just into cool shit, I'm not into it because of the name.
If you could pick any artist to collaborate right now, who would it be?
Snoop Dogg and Daft Punk. That would be crazy. Snoop's performing here tonight. It's the first time I'm going to meet him.