- travel -
Hotel Like Jagger: Cosmopolitan Suites in Santorini, Greece
Sometimes you just need to escape to a cliffside dream world by the sea.
08 . 02 . 21
Ah hotel living: your room is cleaned for you daily. There's a cocktail just a phone call away. And, sometimes the design is so fabulous you purposely lose you room key in hopes that will somehow prolong your stay so that the crazy dreams of redecoration upon returning home continue. We here at Oyster Colored Velvet love to flesh out those unapologetically wonderful hotels from around the world. So dip into OCV's mini bar and check out how to Hotel Like Jagger. 
Sometimes you just need to escape to a cliffside dream world by the sea. Cosmopolitan Suites in Santorini, Greece offers up an one just fantasy.
Overlooking the sapphire Aegean Sea and in the heart of charming Fira, the hotel is really something special. Consisting of only ten rooms and suits, the villa never feels full. The design embraces the Cycladic tradition in a symphony of white and blue tones. Gorgeously designed in calming contemporary style, this enchanting hotel offers a romantic and relaxing atmosphere that will leave you feeling inspired and refreshed.
Just steps away is Fira, a traditional Cycladic settlement with the infamous white-washed houses inspired by the Cycladic architecture and miraculously built on the edge of the Caldera. You can view the city from the hotel's impressive poolside terrace.
The hotel's beauty extends far beyond the physical walls. The staff at the property go to great lengths to make their guests feel like they are home, if home was in fact a dazzling cliffside hotel overlooking glistening white architecture and the sparkling sea. They are always ready to assist you in any way they can. From serving you a delicious breakfast in the comfort and privacy of your room, to bringing you an afternoon glass of local wine by the infinity pool, the service is impeccable. Everyone from the waiters to the managers help to create a custom experience that is a treat for the senses.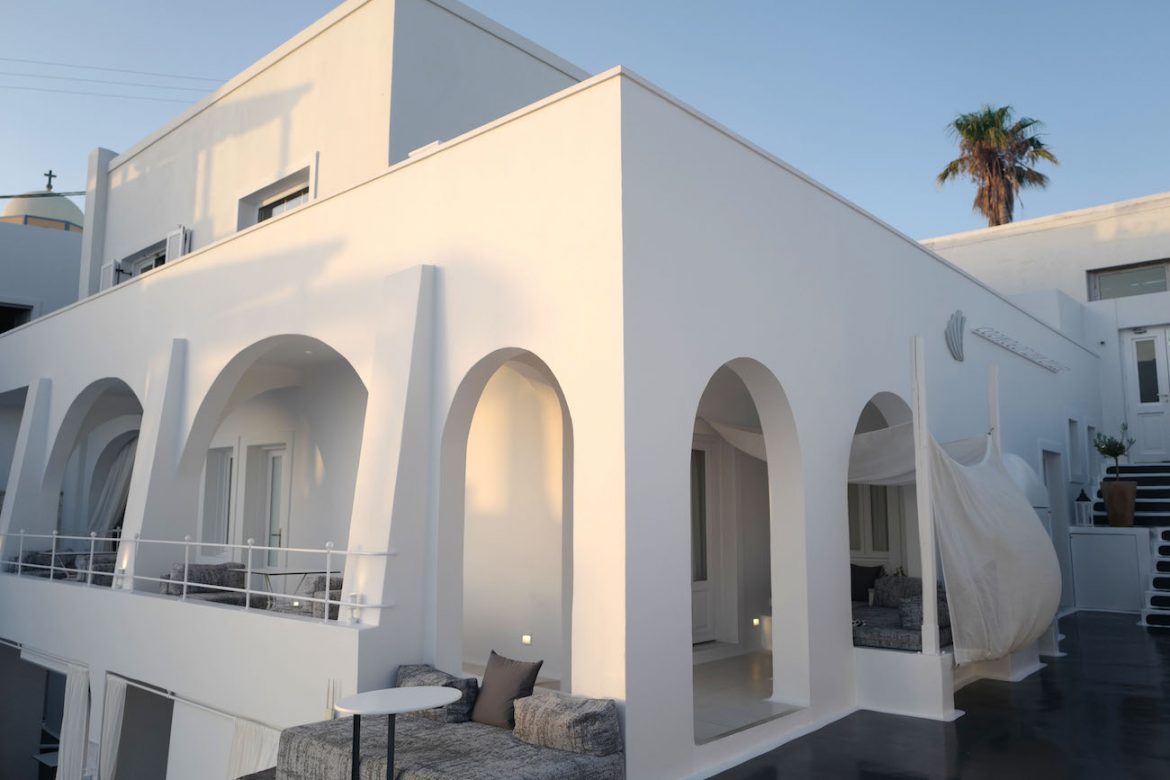 The partners of the property are also wonderful. One such partner, Experience of Santorini, helps to arrange custom tours for guests. The company is run by a delightful man named George who grew up in Santorini and knows all of the island's magical spots. Visit one of Santorini's many vineyards or the island's famous Black Beach, where you can relax in a cabana at Seaside, a gorgeous restaurant and club located on the black rocky shore. The private car service can also take you to experience a home cooked meal at a small shop run by Maria Matsandou where you can eat organically grown food like tasty tomato croquets, fava bean puree and feta cheese.
Cosmopolitan Suites is one of the unique properties linked with SLH, Small Luxury Hotels of the World. SLH is an exceptional community of independently minded travelers and independently spirited hotels in the world. They have over 500 hotels in more than 90 countries, each one committed to being anti-chain and anti-same. Their properties are like gems peppered all over the globe. Another hotel affiliated with SLH is located just a short walk from Cosmopolitan Suits and has a wonderful restaurant for dinner. Located inside the Aressana Hotel is Ifestioni Restaurant where traditional Greek cuisine is infused with exciting and bold flavors with creative touches.
Be sure to be back at Cosmopolitan Suits before nightfall to take in the heavily view at sunset by the pool. Watch as the golden sun transformed to a sapphire orb, as the golden and violet hues reflect off the sea. You are guaranteed to have a front row seat to the dramatic sunset at this property, all while enjoying a glass of local wine or a hand-crafted cocktail.
Cosmopolitan Suites is a member of Small Luxury Hotels of the World To book visit click here.