- lifestyle -
What the 2015 Met Gala Taught Me About Hosting A Pajama Party
No pajama party is complete without Beyonce in a sheer Givenchy gown and a late-night lion dance parade.
05 . 06 . 15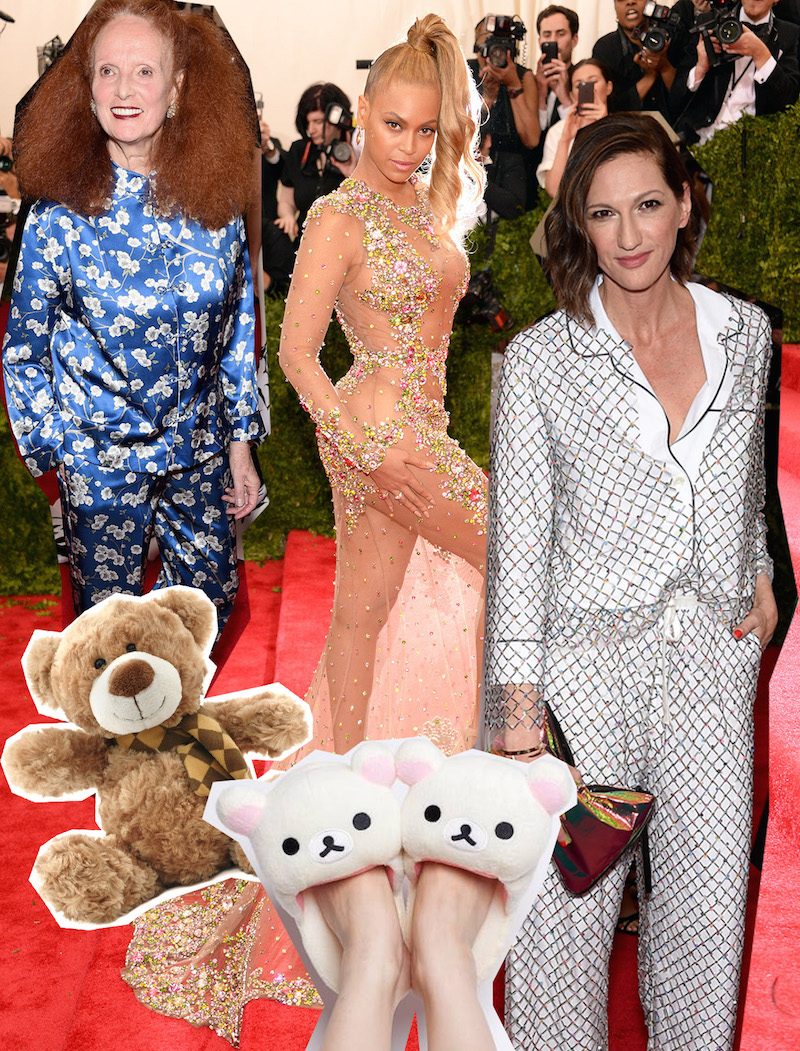 What I need for my next pajama party other then fuzzy panda slippers:
#1: Invite a lot of really, really famous people who will wear stunning couture around you, therefore elevating your relaxed look into a heavenly realm.
#2: Get inspired by the evening décor for your look. No wallpaper is safe. Think HGTV chic.
And lastly, #3: Get your living room carpeted in red, no backdrop necessary.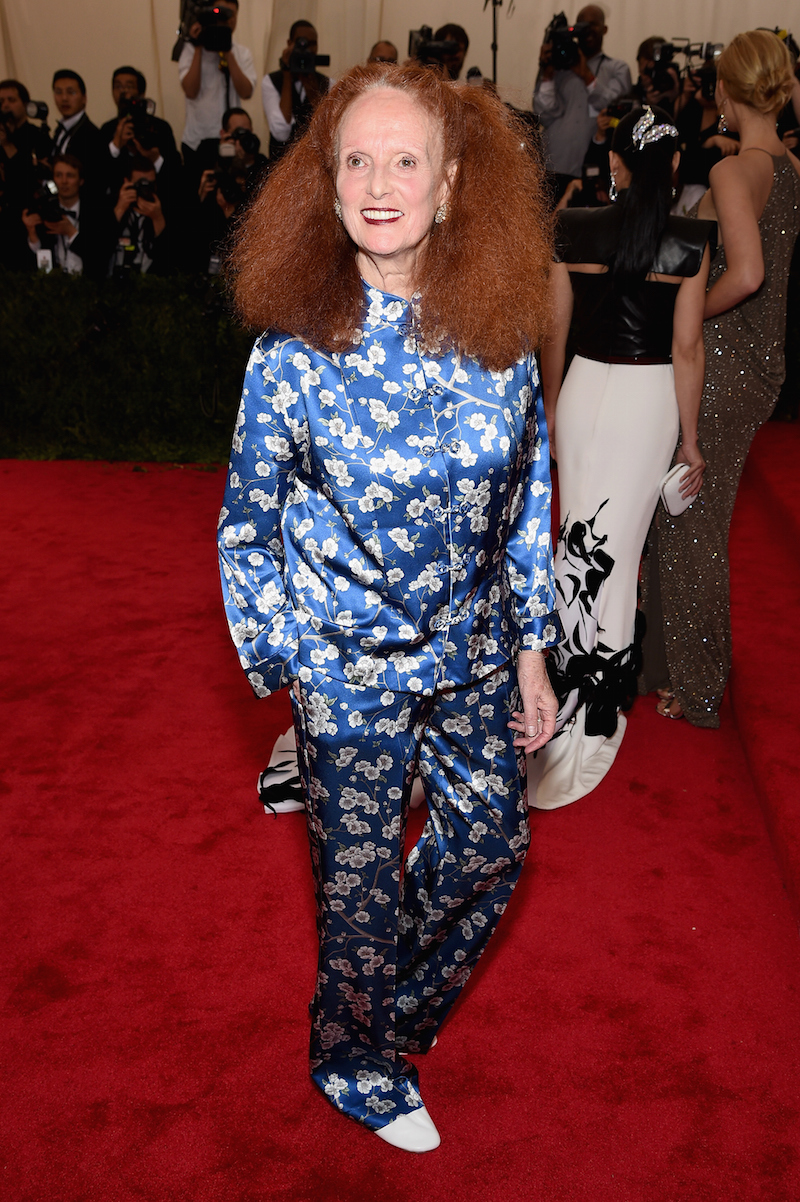 Of course, this carpet is historically one of the most compelling elements of any number of franchised ceremonies. It beats the Oscars, the Golden Globes Kids', The Sag Awards and even the Teen Choice Awards. 
Who needs to see figure-hugging, super-sheer gown when you can stair at dreamy pajamas on the red carpet? Dreamy indeed. 
I knew there would be a plethora of silky robes and printed kimono-style pajama looks, but I had no idea they would be this good.
Starting the evening Vogue's Grace Coddington ascended the Met Gala's steps on Monday night in a custom-designed Mandarin Evening pajama set by Michael Kors. (The set is available online for $1,190 at Michaelkors.com today.)
The two-piece set, featuring pink, cream and orange blossoms, was actually created exclusively for volunteers from Vogue for the occasion, the limited-edition pieces are inspired by the gala theme and spring exhibition, "China: Through the Looking Glass."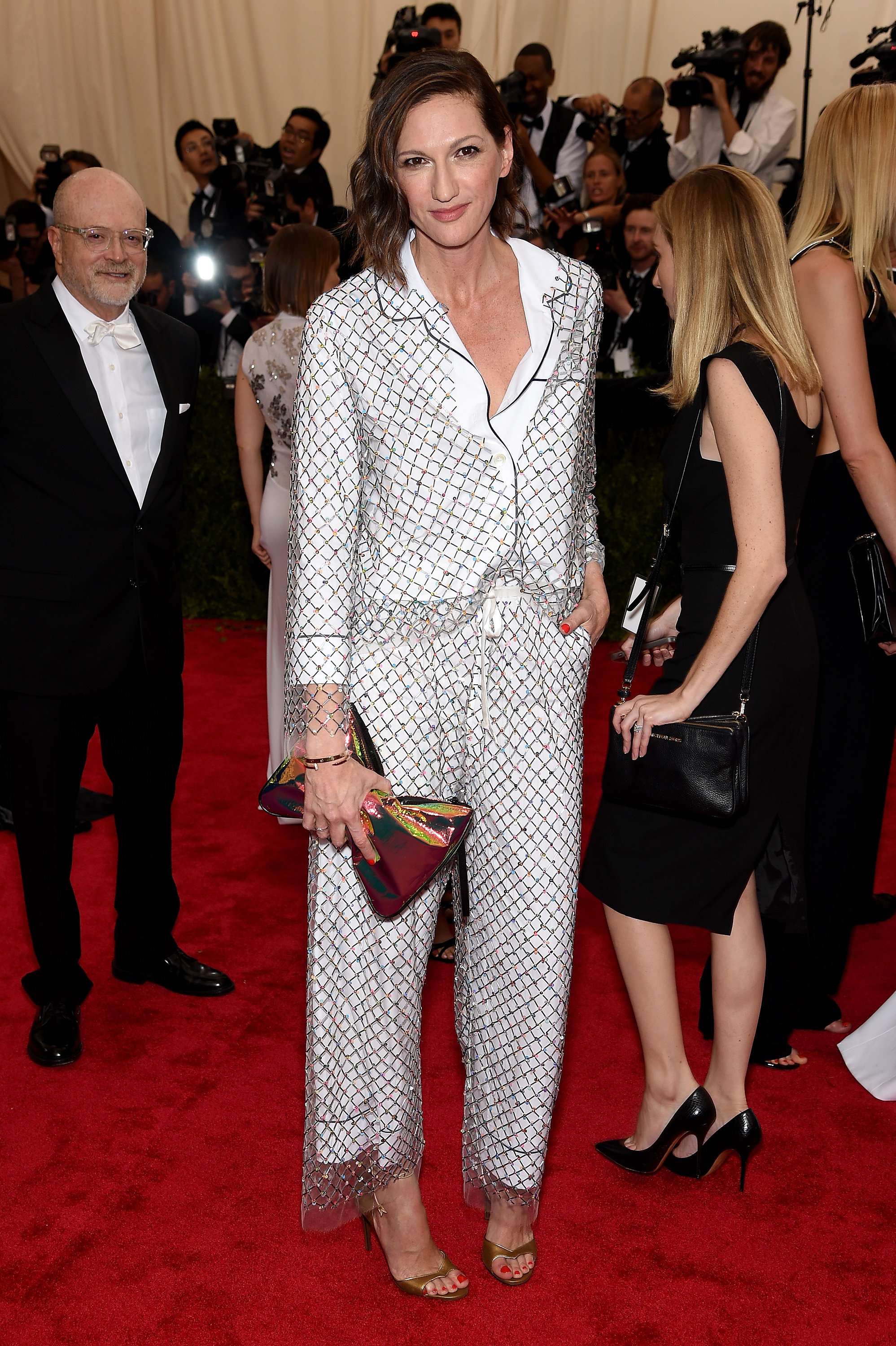 Joing in on the PJs fun, Jenna Lyons hit the loungewear look even harder than usual at this evening's red carpet in roomy cut menswear-style pajamas. Lyons opted for a pair of sleek white  top and bottoms that she paired under sheer sequence encrusted netting.
I'm all for sleepwear at the Met Gala. The Ball somehow feels more human seeing ladies and gents in their sleepy time attire. Fashion is allowed to be fashion here. It is Fashion with a capital F. So Fuck it, rock your pajamas. There's nothing sleepy about this look.
–  YOU MAY ALSO LIKE –
PLAYING STYLIST (AND RUPAUL) WITH THE MET GALA 2015 ATTENDEES
HOW TO: DRESS FOR FALSE SPRING
 TRYING THE PHARRELL LOOK: A PINK COAT