- lifestyle -
Design Resolutions for 2020
Making design resolutions for 2020 with the help of Bed Bath & Beyond.
03 . 02 . 20
This post is in partnership with Bed Bath & Beyond
Since I didn't really make a New Year's resolution this year other than to wear more floral tops, I decided to make two design resolutions for 2020 with the help of Bed Bath & Beyond. So, with spring just around the corner, a symbolic time of rebirth, I decided to make my two design resolutions for 2020 to be: one, to keep cool and two, to declutter the chaos. And what better place to start with this than the bedroom?
To help me with my design resolutions I turned to one of my personal favorite places to find unique products for stylish home design - Bed Bath & Beyond. The in-store and online shopping experience makes Bed Bath & Beyond  an amazing one stop shop for super sleek and elegant furniture and décor.  BBB has it all and makes it super easy to create a new space. So here is how Bed Bath & Beyond helped me to keep cool and declutter the chaos in the chicest way possible.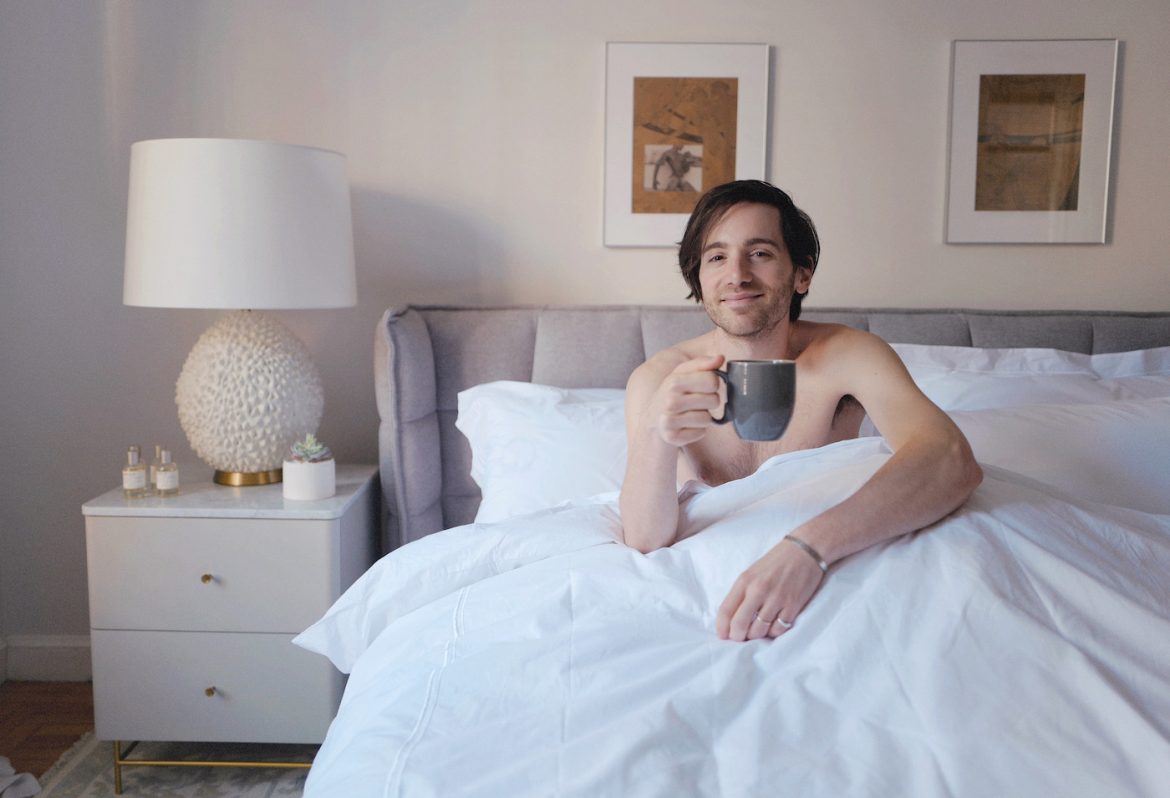 First, lets talk about keeping cool.
Confession time, I am a sleep sweater. BBB would title my sleep persona as The Furnace, the sleep type who is always hot, for whom light pajamas and AC just don't cut it. I know it is not the cutest quality but it is something that many of us suffer from. Couple that with an 80 pound Labrador that loves to cuddle and things are really boiling in the bedroom. Bed Bath & Beyond offers a number of ways to help control this super annoying burden. First you must get the right breathable sheets. I opted for Cariloha Resort Viscose Made From Bamboo King Sheet Set in White. Another must is an all-season comforter and the lush Emily Madison Allegra Year-Round Down Comforter is a perfect choice. For the duvet cover I selected the gorgeous Frette At Home Piave King Duvet Cover in White. To allow your body to breathe under the covers it is crucial that both comforter and cover be  100% cotton. I also got matching two Frette At Home Piave King Pillow Sham in White.
Pillows are another key factor to keep your body temperature down. With four Back Sleeper Down Pillows in White from The Pillow Bar I have no trouble getting into a dream state. These babies are like sleeping on pillows from your favorite 5-star hotel. You can also monogram them with super cute sayings. Mine say "Wake Up Happy". To really take keeping cool to the next level the Therapedic Cool Cotton King Mattress Protector with DreamSmart Technology in White and Therapedic Tru-Cool 3-Inch King Serene Foam Performance Mattress Topper are a must. They are designed with a proprietary technology that creates increased airflow, which leads to a cooler, deeper sleep. The mattress protector uses DreamSmart Technology that protects my mattress while keeping me perfectly chilled and the foam mattress topper is like sleeping on a cloud. Now I welcome a good cuddle session.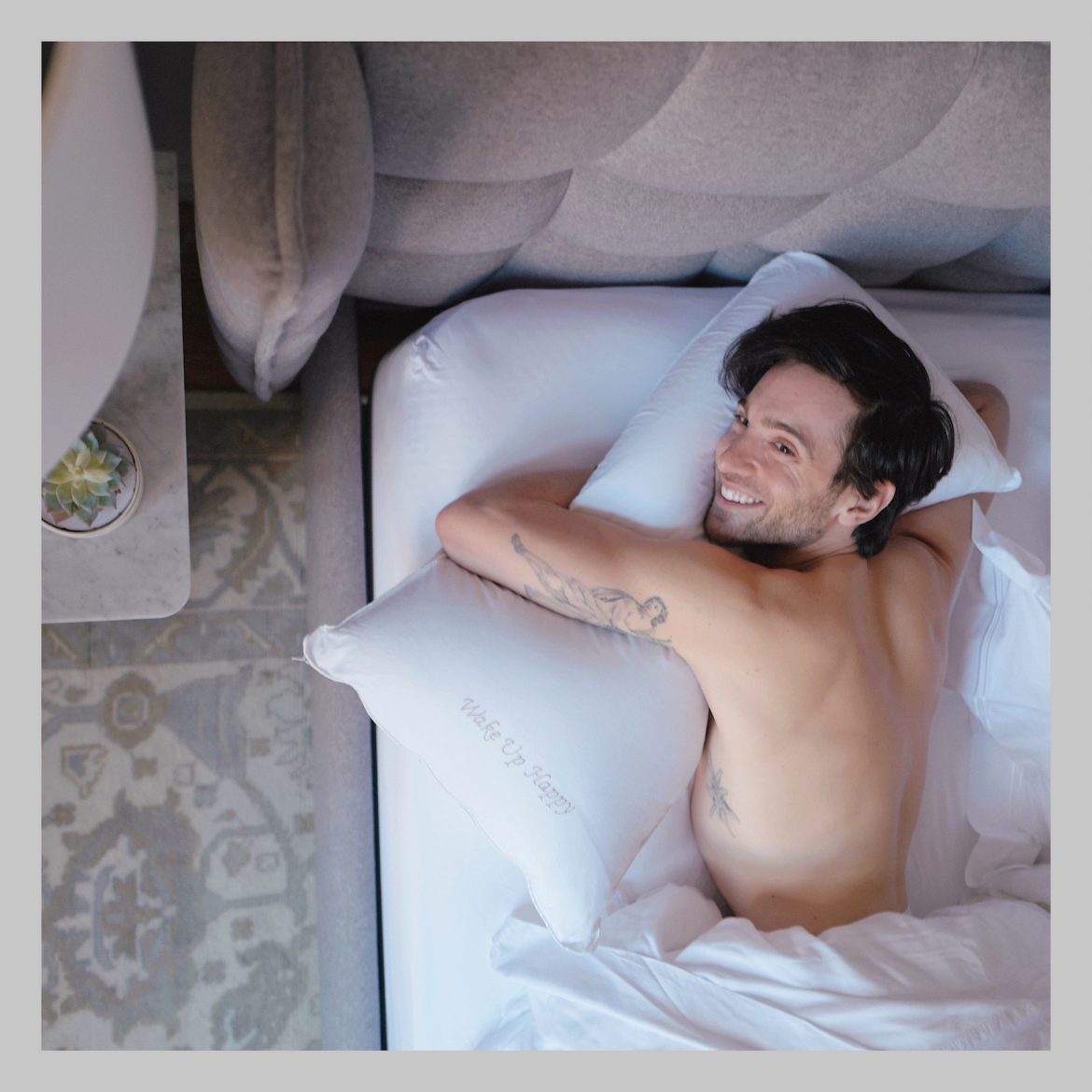 Now let's talk about my second design resolution, decluttering the chaos in the most fashionable of ways.
I always love making design updates to my home. Bed Bath & Beyond makes refreshing my space easy and fun. I think interior design is fluid and it's just as important to change a space as it is to change your fashion style. For my bedroom makeover I wanted to create a super serene escape from the world that would rock me to sleep with its calm design. So I started with the bed frame. I selected Moe's Home Collection Ostalo King Upholstered Platform Bed in Light Grey. It is sleek, modern and perfectly serene. For the rug I went with the tan and oatmeal-colored Umbria 8' x 10' Hand Knotted Area Rug. Of course you need a rug pad. I ordered the American Slide-Stop Non-Slip Rug Pad. Then I wanted to keep the neutral color palate going so I opted for the white Safavieh Channing Marble Top Nightstands to accent the bed frame. I love the way the natural marble top adds a hint of subtle shimmer to the look. For the lamps I wanted to keep this whitewash look so I picked two ED Ellen DeGeneres Anhdao Table Lamp in Brass. They are modern and add such a lovely softness to the tables. For seating I opted for Safavieh Rhys Acrylic Dining Chairs since what's more unchaotic than furniture you can't see? I also am just a huge fan of the leucite furniture trend right now and these chairs do it right.
Finally for the chandelier I went with the Elk Lighting Starburst 16-Light Chandelier in Polished Chrome. Honestly, I had no other design reason for selecting this other than I just loved the look. Also because it reminded me of a dandelion how they symbolize making a wish. Now I can make a wish every morning before getting out of bed.