- lifestyle -
Zoolander and Hansel Walk-Off at Valentino Show During Paris Fashion Week
'Zoolander 2' can't come soon enough.
03 . 10 . 15
If there's one thing I ask myself every single day without fail, it's what ever happened to Derek Zoolander and Hansel's modeling careers?
The perks of seeing these two models include, but are not limited to:
– Delicious envy of the use of the selfie stick.
– Instantaneous sex appeal.
– The titillating feeling of living in sin.
– Excellent distraction technique.
– The power to cause momentary, euphoric blindness in the same way that someone who is twirling their iphone ferociously by a sunny window can.
– Blue steel.
Derek Zoolander (Ben Stiller) and Hansel (Owen Wilson) made a triumphant return to Paris Fashion Week, exclusively walking for Valentino.
A silence fell over the audience as the two appeared on the runway. Derek rocked a Night Butterflies brocade suit with a hand-embroidered overcoat and black creeper shoes, while Hansel modeled a Silk Continent print pajama suit with a double cashmere overcoat and open sneakers.
This stunt officially announced the sequel to their beloved 2001 comedy, Zoolander. According to a tweet from Paramount Pictures, the film will see release on February 12th, 2016.
While specific plot details are hush, hush, Zoolander 2 will likely find Derek and Hansel trying to return to the modeling world after a long absence. In a 2010 interview with MTV, Stiller said, "In the fashion world, if you go away for a year, it's changed — it just happens so quickly. I think the idea in the beginning of the movie is that it's 10 years later, and Derek and Hansel are literally forgotten. Nobody remembers who they are, so they have to reinvent themselves."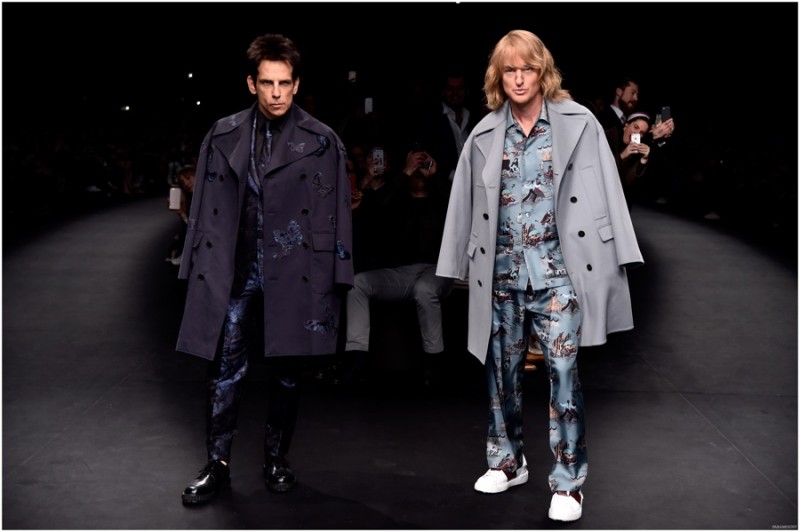 – YOU MAY ALSO LIKE – 
VIVIENNE WESTWOOD SHOWS A NEW KIND OF UNISEX DRESSING IN PAIRS
 THE BIRTH OF THE ROMASEXUAL: A NEW MALE PIN-UP