- style -
@BadGalRiRi Taught Me How To Dress Like A Man
Happy Birthday Rihanna.
02 . 20 . 15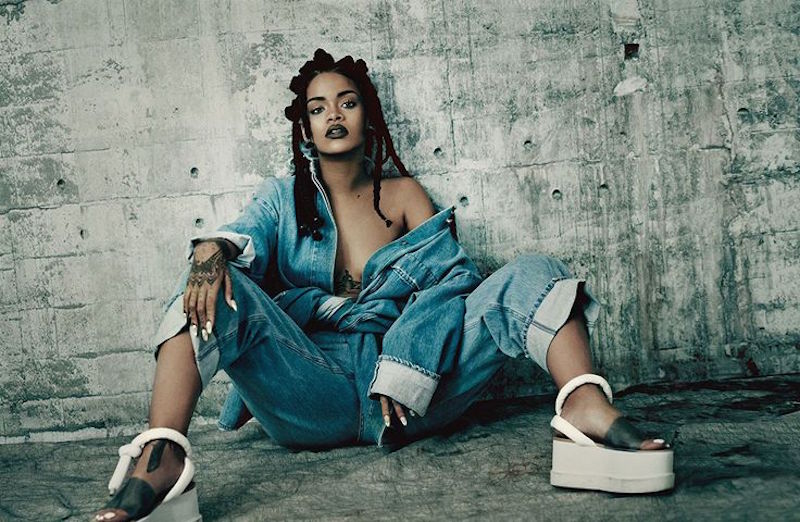 Rih Rih turns 27 today — and I just realized we were born the same year, although, have some minor differences – but anyway I just want to say:
Happy Birthday Queen Rih.
Rihanna's style is infectiousness. It is a full-on attitude that can make you feel mommy-ish and totally uncool while standing next to her. But at the same time tingling with inspiration.
Rihanna's sartorial choices are a constant source of insight. No matter your gender, sexual orientation or species there is something to learn from this Barbadian beauty queen. Her kick ass style is raw, audacious and genderless (even when she's wearing a completely sheer swvaski crystal gown.) It's about dominance and self-acceptance.
There's something powerful about her complex, tattooed, futuristic look. As a gay man I feel a sense of strength when viewing Rihanna's fashion choices. She is self-possessed woman who deftly brandishes her sexuality – something I unsuccessfully try to accomplish.
As a boy, Rihanna has taught me many things about style.
Easy is effortless.
Saint Laurent black suede booties can be worn with leather ties wrapped around your ankles.
Hair is life's greatest experiment.
Denim suits are cool.
It is possible to successfully pull off Old Hollywood Erotica as proven by her CFDA Adam Selman look as she accepted The Style Icon Award.
I never wanted to wear more pink layers than after seeing her Grammy dress.
Just saying the name Rihanna makes me feel like I can pull off that oversized Armani Denim parka  (In the shopping tab below, for those adventurous folks.)
And most importantly, how to post an Instagram pic with such fierceness, your followers break the screens on their phone when liking.