- travel -
Hotel Like Jagger: Kulm Hotel St. Moritz
A true "winter wonderland."
03 . 18 . 19
The world is filled with hotels that are beautiful and breathtaking. But hotels that are gorgeous while also steeped in rich history are far less abundant. The Kulm Hotel in St. Moritz is one of the gems that is both spectacular and has a history out of a fairytale.
Once upon a time, St. Moritz used to be solely a summer playground. However the founder of the Kulm Hotel Johannes Badrutt saw the potential of this glittering snow-blanketed treasure and decided to spread the word. Badrutt suggested to his English friends that came to the city every summer to come back in December, and if they did not enjoy their stay, he would reimburse the travel expenses. The Englishmen returned – and stayed until Easter. Badrutt won his bet, and winter tourism was launched.
This is the kind if genius and foresight you can find blossoming throughout the Kulm Hotel. Perhaps best witnessed in the lobby of the property where ornately adorned and richly patterned carpets and wallpaper blend in a mesmerizing display right out of a Wes Andersen film. Massive windows over look snowcapped mountains across of a giant stone fireplace situated under 18th century swords.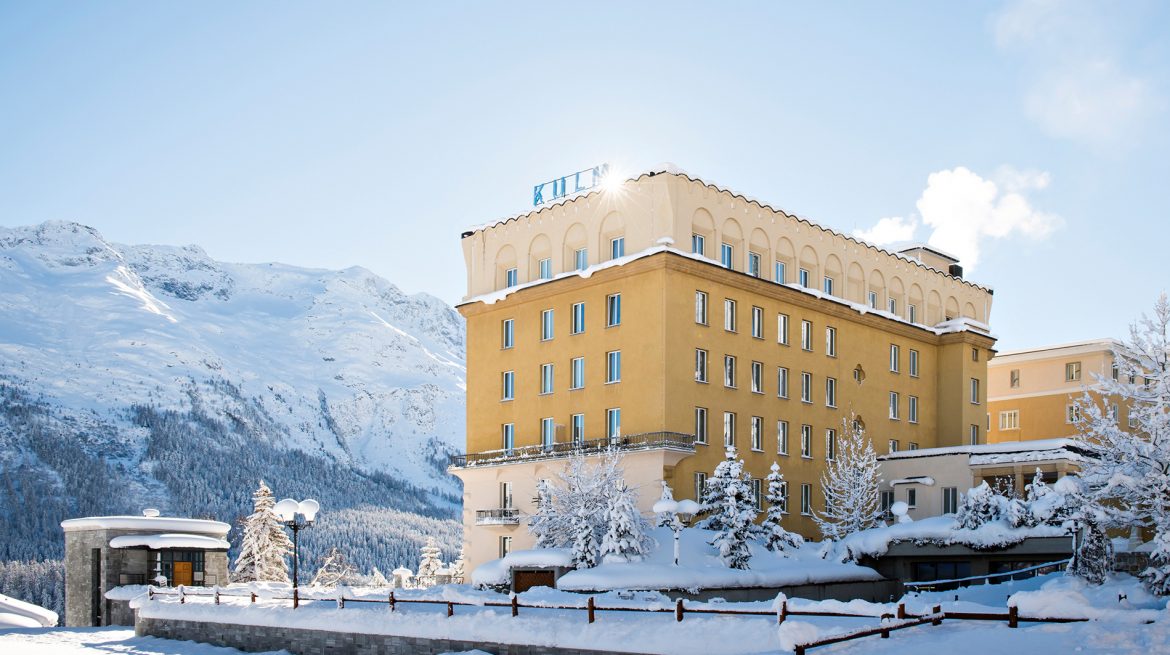 Guestrooms are on a similar wave, with select rooms (many with private balconies) of the hotel recently designed by Pierre-Yves Rochon. Each room features regional Swiss stone pinewood—which lends a multi-sensory impact, including an alluring fragrance. There are two colorways, either beige or sky blue, and both deliver contemporary elegance. There's no better place to escape the city's chilling winter nights.
The impeccable design and modern luxury continues in the 21,000-square-foot spa that offers the most calming setting for total relaxation. Here you can slip into an outdoor hot tub that overlooks all of St Moritz or enjoy a number of exclusive saunas and therapy pools.
Seven sensational restaurants and bars offer mouthwatering morsels any time of day. Two of my favorites are the Kulm Country Club: a pavilion with a restaurant and bar that was the official event base for the Winter Olympics in both 1928 and '48 and Sunny Bar. Peruvian Chef Claudia Canessa perfectly blends traditional Inka recipes with Spanish influences and Asian touches at Sunny bar. The result is something so unique that I still dream about her delicious and artisanal plates.
Traveling to the property via train from Zurich is a magical experience. Around three hours long, the train offers jaw dropping panoramic views as a voice announces the importance of bridges and tunnels while forging up the mountains.
Everything about the Kulm Hotel is magic. This is also the hotel Charlie Chaplin called home when he learned how to ski.