- lifestyle -
Deflecting The Female Gaze: Androgyny Dominates The Fall 2015 Men's Shows
Artfully calibrated ambiguity allows clothes to travel across time and space differently. Think Interstellar. It defies conclusions.
01 . 27 . 15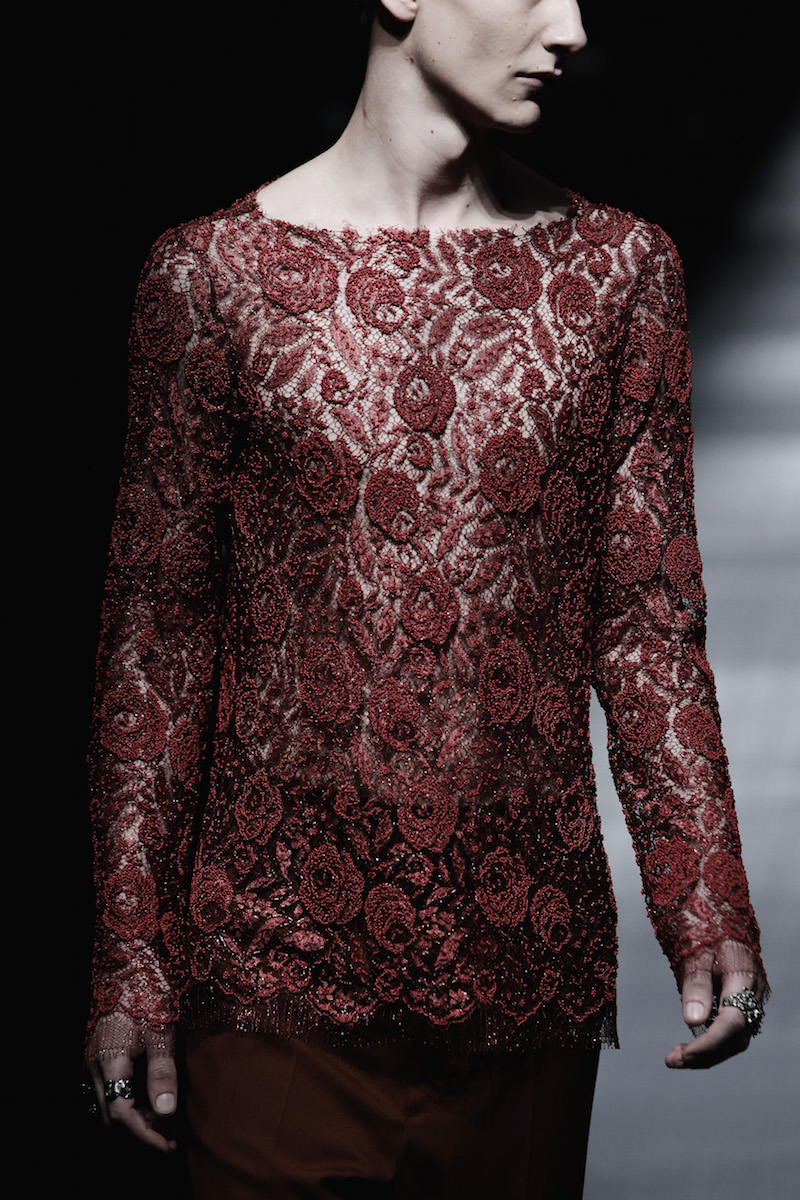 (Detail shot from the Gucci show) 
Androgynous languor was draped over the fall 2015 men's collections in Europe. The result – romantic and intellectual creations.
Androgyny is something we all have in common. Whether we are androgynous, try hard to be (or not,) attracted to it (or turned off by it,) it is an invisible gender that is the sex of the future.
We tend to first identify fashion with gender. It's read like a book. Which is quite limiting. However artfully calibrated ambiguity allows clothes to travel across time and space differently. Think Interstellar. It defies conclusions.
Fashion must assume a sexual identity in order to take a place in language. But of course that idea no longer exists. Unidentifiable identity is vulnerable and enchanting.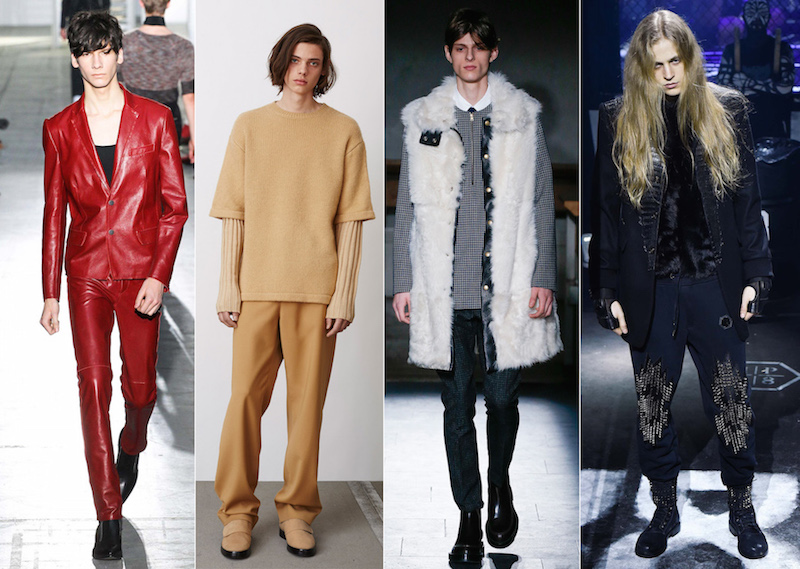 (In model order from left to right we have: Costume National, Opening Ceremony, MARNI and Philipp Plein.)
Androgyny has been a buzzword in men's fashion for years now. Andrej Pejic, who I recently chatted with about his role in Sofia Coppola's Little Mermaid adaptation, really marshaled this fixation. But never was it so prevalent and refreshed as on the runway as it was during the fall 2015 European men's collections.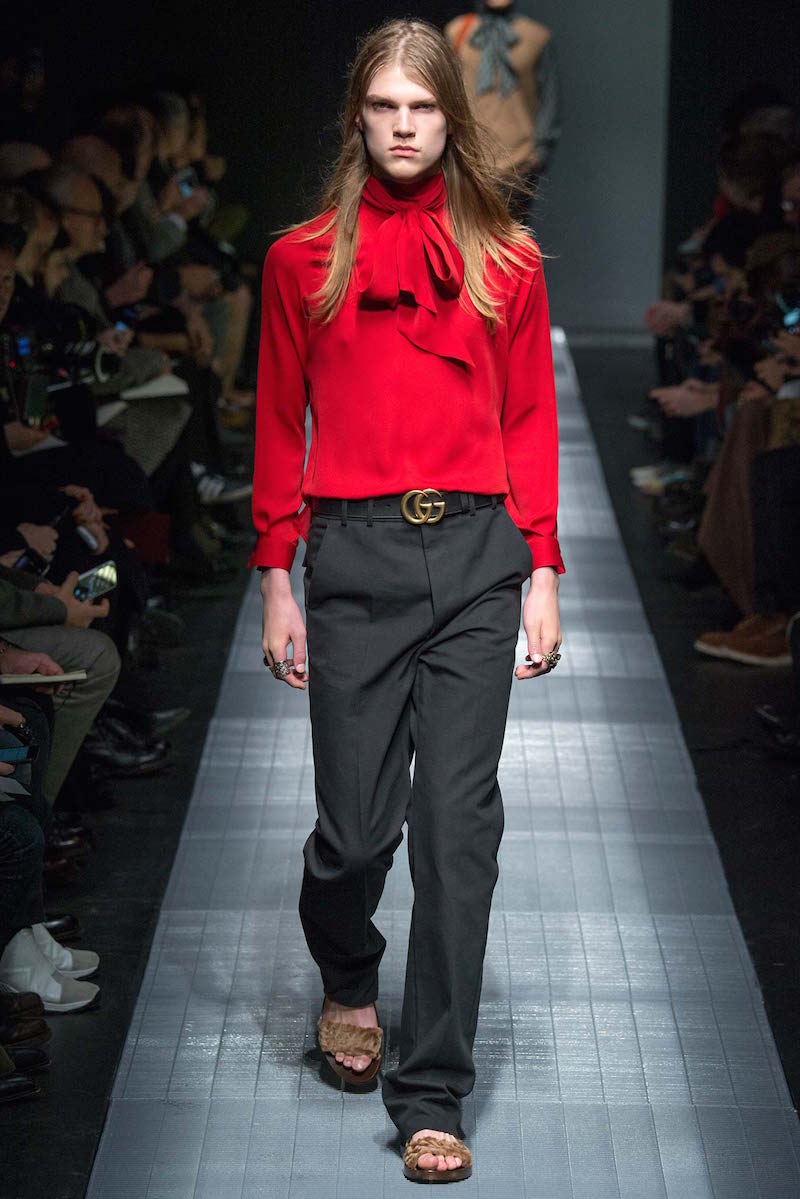 (Gucci) 
This season designers bridged the gap between the sexes rather than drive a wedge between them. Gucci lead the charge as long-haired models in mink-lined sandals took to the catwalk. From the stock-tied blouse in red chiffon to the slinky gilded top in red lace the gender divide was more blurred the visibility during winter storm Juno.
At Lemaire (the recently rebranded collection by Christophe Lemaire) a haze also settled. Much like Gucci the brand stitched a delicate silk twill shirt and wool stoles that models wore over their shoulders. Lanvin, Thom Browne and Comme des Garçons turned out a gender neutral silhouettes with sharply tailored suiting options. Browne's men also wore skirts with knee high stockings and black veils that was less of a gender bender and more ambiguous then Vivienne Westwood's boys who wore velvet pumps and blush.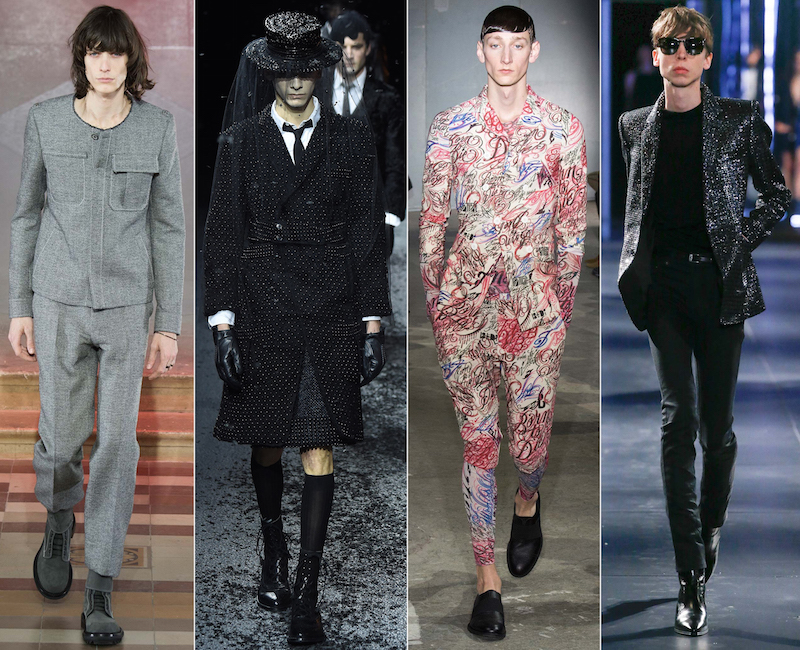 (Lanvin, Thom Browne, Comme des Garçons, Saint Laurent)
Prada explored the idea of gender and context. Miuccia Prada did something she'd never done before with her show. She showed both Fall menswear and Pre-Fall womenswear at the same time to highilight her manifesto, which was printed don every seat. "Gender is a context and context is often gendered," read the notes. The result was an overall uniform look – soft for men and strong for woman.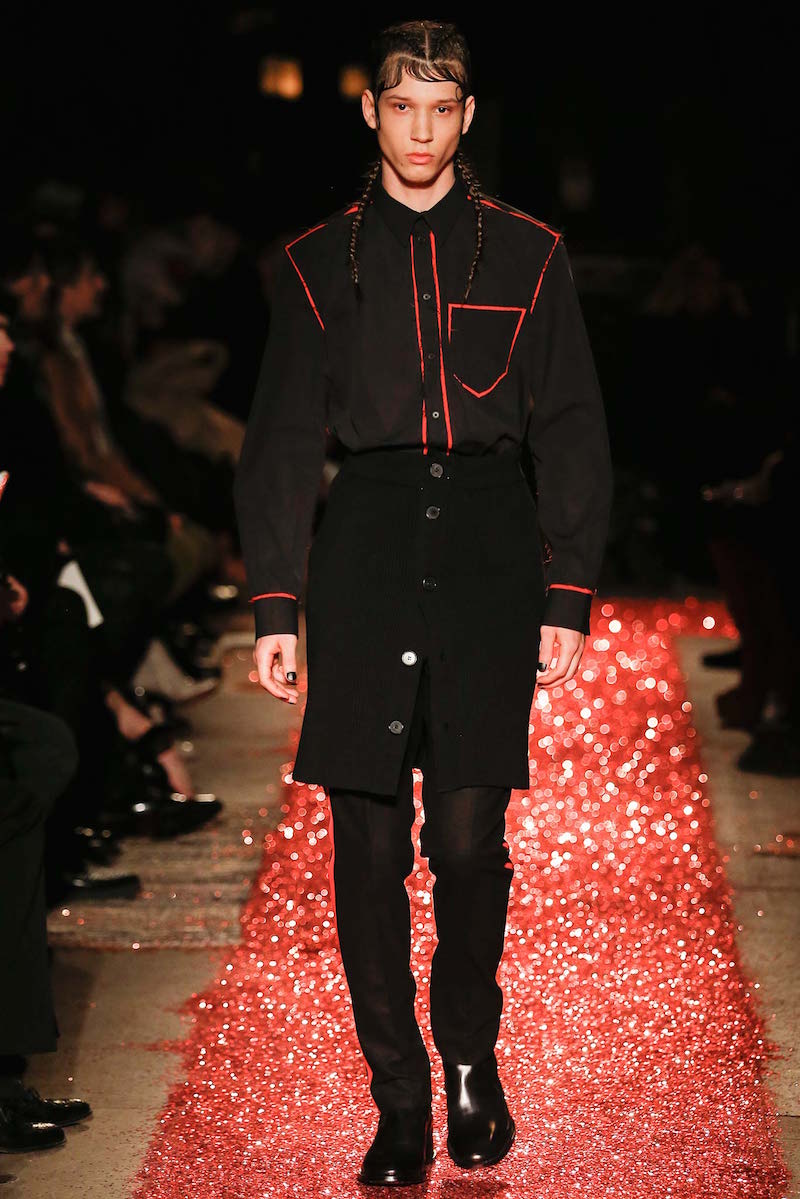 (Givenchy) 
Amongst the decorated assemblage of spooky numbers, Givenchy's Riccardo Tisci explored a dark side of androgyny paired button-up skirts over trousers.
But no matter sinister or sweet, the modern vision for androgyny is worn with insouciance as it reminds us of the past and provides a glimpse of the future.
With bold new debates about feminism and a heightened profile of LGBT activism, could there be a timelier idea to address?