- lifestyle -
Meet My New Dining Room
There comes a time in every boys life when $800 boots are not the only thing that tickles your fancy.
03 . 28 . 19
This post is in partnership with Bed Bath & Beyond
There comes a time in every boys life when $800 boots are not the only thing that tickles your fancy.
In addition to walking past store windows in NYC and admiring shoes and fashion, I also find my eyes wandering in the direction of tables, chairs and pillows. My deep and rooted love for fashion by no means is disappearing at all, but I may be starting to accept my love affair with furniture. I've flirted with the idea of exposing my romance but was nervous. I thought I couldn't love both fashion and furniture just as much. But now I'm fully confident in my ability to love both mediums equally. So I linked up with Bed Bath & Beyond to express my love and  give my dining room a refresh. The in-store and online shopping experience makes Bed Bath & Beyond an unexpected place to find elevated brands and unique products like stylish home décor and furniture.
Growing up in an Italian-American home where any excuse was good enough to have family and friends over for a meal, entertaining is very much rooted in my DNA. I love having intimate dinner parties with family and friends, opening up bottles of wine, sitting around the table and chatting all night. However, my old dining space was a bit dated and not giving me all the feels and inspiration to host. So enter Bed Bath & Beyond! Aside from basic housewares, BB&B offers a huge selection of stylish accessories, furniture and décor that will leave you hitting "add to cart" every 30 seconds. I literally was lost in the beyond for days making my selections.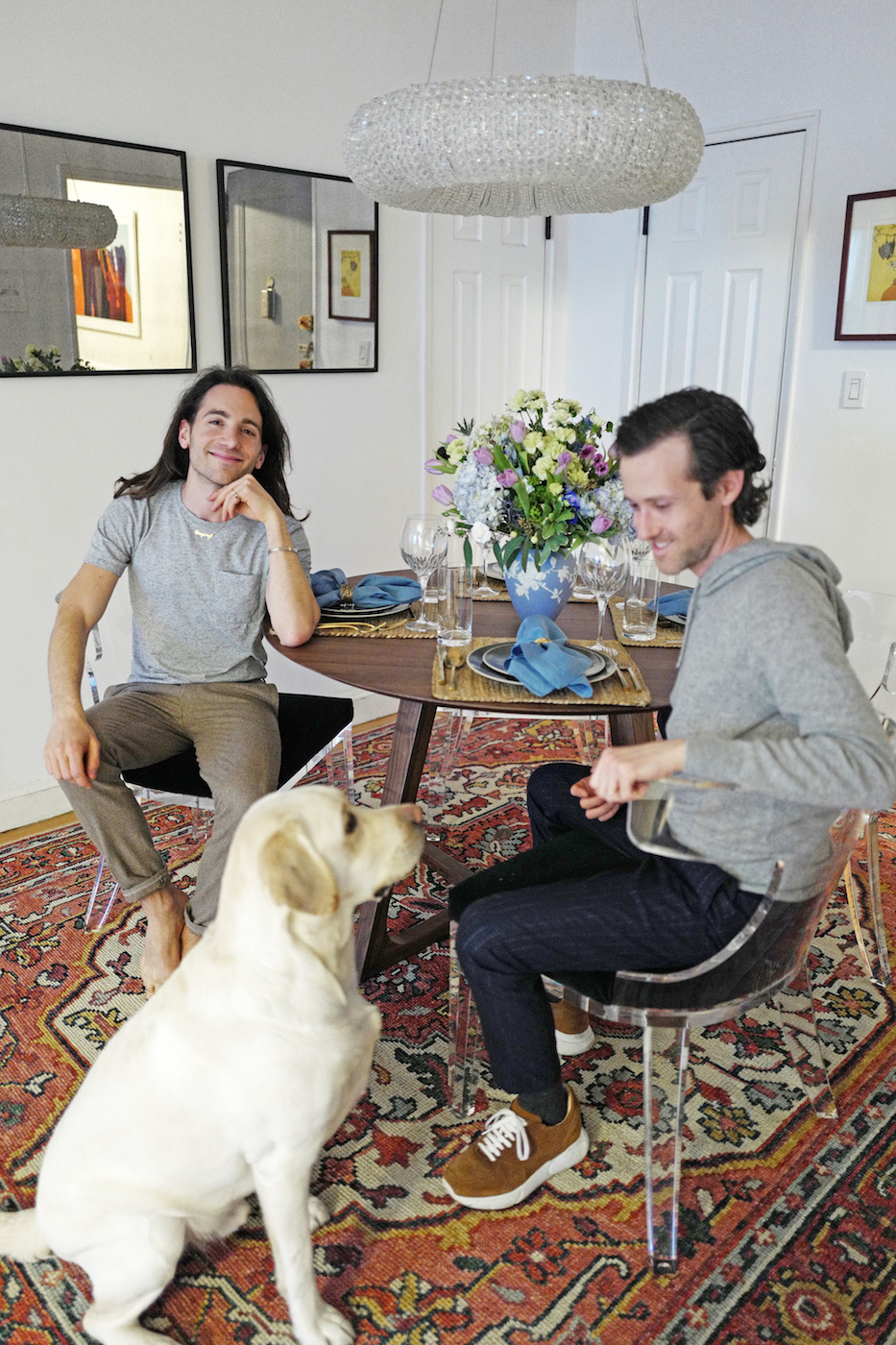 Like in fashion, Interior design has major trends, and one of those hot trends right now is clear acrylic. This brings me to my dining chairs. My first selection were these 4 Safavieh Rhys Acrylic Dining Chairs complete with black velvet cushions. This is where the redesign began. I fell head over heels for these babies. After selecting the chairs, I wanted to get a round table that contrasted the feminine look. I went for this Moe's Home Collection Godenza Walnut Round table in a rich oak color. I love the way the masculine wood adds a smooth contrast to the translucent and sculptural chairs.
I live for sparkle. So when it came to selecting lighting I knew it was going to be crystal. I went for this Elk Lighting Crystal Ring 10-Light Ceiling Mount Chandelier that sparkles in all the right ways – is there really any wrong way to sparkle? I punctuated the room with a Jaipur Travola Medallion rug in a warm oatmeal color and blue Wedgewood Magnolia blossom vases to decorate the table. Inside tip: don't forget to order a rug pad! I realized I made this mistake when my dog Louis was slipping and sliding everywhere. I finally got the Safavieh Pycelle rug pad. Game changer.
For decor I wanted to air on the side of subtle. Surprising I know! To echo the beautiful blue of the vases, I selected the Villeroy & Boch La Classica Napkins in Denim to help adorn the table setting. For wall decor I wanted to keep the look quite simple and let the furniture shine, so I selected the Uttermost Matty 23-1/2-Inch Antiqued Square Mirrors. This set of mirrors adds just the right modern touch while simultaneously highlighting the new chandelier. I also opted for a Sheepskin Accent Rug in Black by Babyletto to add a little extra lush vibe.
And since no dining room in complete without a bar cart, I opted for this Southern Enterprises Janiston Metal and Acrylic Bar Cart that perfectly matches my acrylic chairs. And of course you need something elegant to toast the new room with. I selected the Mikasa Laura Double Highball and matching Old Fashioned glasses to cheers the new space.
I'm super excited to break in the new space and am already planning my first dinner party. Bed Bath & Beyond makes refreshing your space super easy and fun!