- lifestyle -
What To Expect On 'Earth 2.0'
Something very similar to the Valley party Travis had in Clueless.
07 . 25 . 15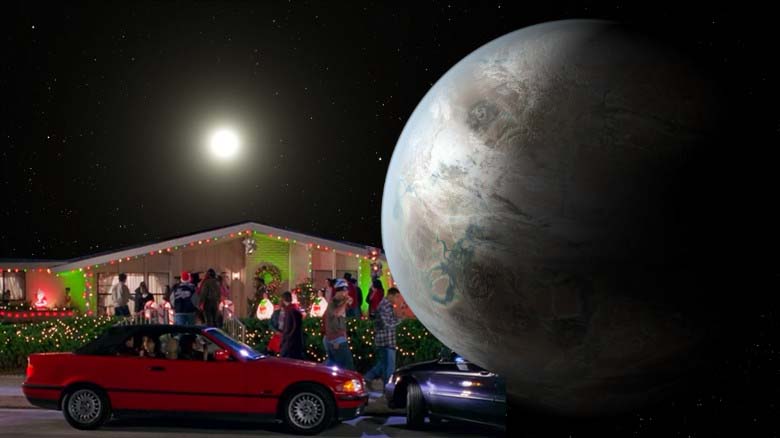 Have you heard of The Planet?" I heard a local ask her friend while sitting in a café on Melrose. "Is that a bar?" "Was it a bar?" "Should we go tonight?" " I have the best Vivienne Westwood dress to wear." No it's not a bar. But I bet it will be soon.
Kepler spacecraft has spotted "Earth's bigger, older cousin": the first nearly Earth-size planet to be found in the habitable zone of a star similar to our own.
Though NASA can't say for sure whether the planet is rocky like ours or has water and air, it's the closest match yet found.
Personally I think The Planet is a place where spiritually enlightened folks go to party. You know them. They're the individuals on the dance floor that have the enviable talent of disappearing into themselves.
The physical location of The Planet remains undetermined however should you find yourself somewhere below Sunset, you just may bump into some local inhabitants.
I think The Planet is loosely based on the scene in Clueless when Cher and the crew head to that party in the Valley. Murray's red BMW convertible was the spacecraft and Cher's tight Alaia dress was the spacesuit. It's like West Hollywood but more vast and although the inhabitants are a bit alien they share a love for partying and palm trees.
Like Travis' friends Planet dwellers will not care about much except finding happiness, getting buzzed and rolling with the homies. So what to Expect on 'Earth 2.0'? Basically expect Earth 2.0 to be cooler then Coolio.
– YOU MAY ALSO LIKE –
HOW TO WEAR A FLORAL VEST IF YOU ARE NOT JIMI HENDRIX
A RETRO LOOK AND LEOPARD PRINT SHOES AT #NYFWM