- style -
Trends on Trends: London Men's Fashion Week Fall/ Winter 2015
Check out what's on tap for next fall as served up by the London men's shows.
01 . 11 . 15
London Men's Fashion Week was chock full of butch and bling. Britain's cutting edge creatives established next Falls hottest trends in it's typical youthful and fantasy inducing style. Yet again this season, there was something so delightfully lively and playful about the London men shows, and not just because this season I spotted Legos and inflatable jackets on the runway.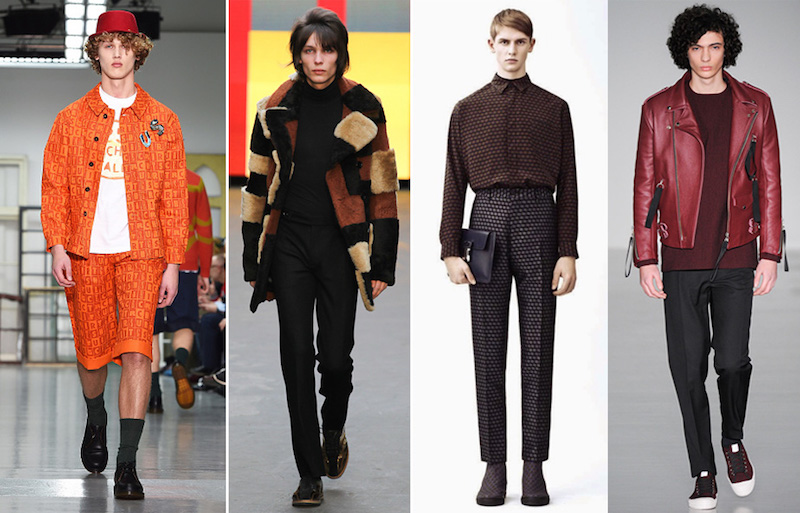 First out of the gate was Topman Design, which presented its quirky-cool men's collection steeped in '70s charm. Matthew Miller, Christopher Kane and Kit Neale followed suit churning out classic retro hi-tops, chalk striped suits, shearing parka and crazy knits.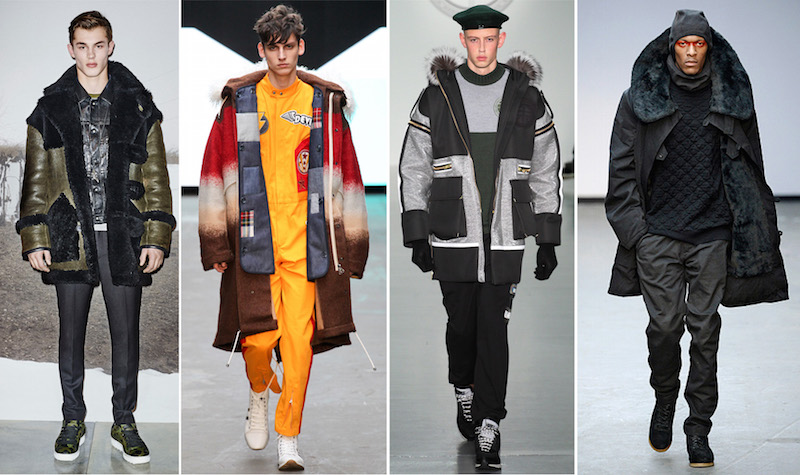 Parkas are happening again in a surprisingly outlandish and energetic manner. I know, I know, if you're investing in a parka you most likely want a subtle staple. But worry you may look fat in the attention grabbing ensemble. But cold weathered swag has never looked so good. In model order we have Coach, Topman Design, Astrid Anderson and MAN.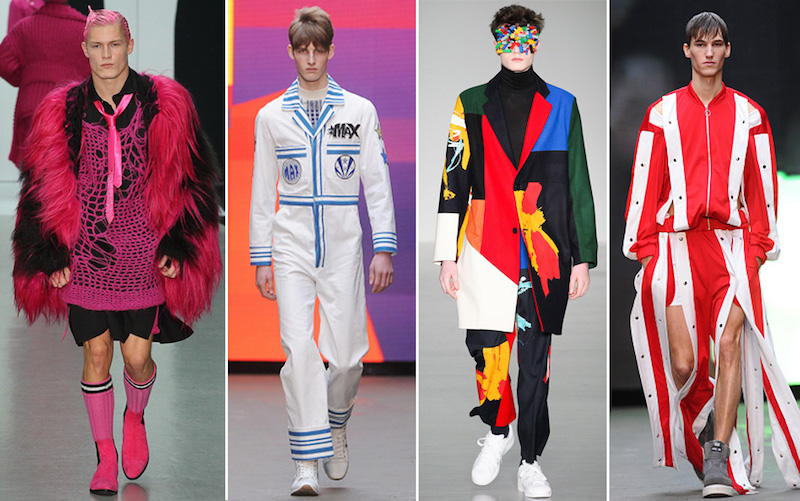 Half way through the London collections I started to think that boys in fall 2015 may all runaway and join the circus. I couldn't help but wonder if Jessica Lange's steely character on FX series, American Horror Story: Freak Show, influenced the London Men's Fall/ Winter 2015 collections drenched with bold red and white stripes, Lego face masks and giant pink fur jackets? From left to right we have Sibling, Topman Design, Agi & Sam and Christopher Shannon.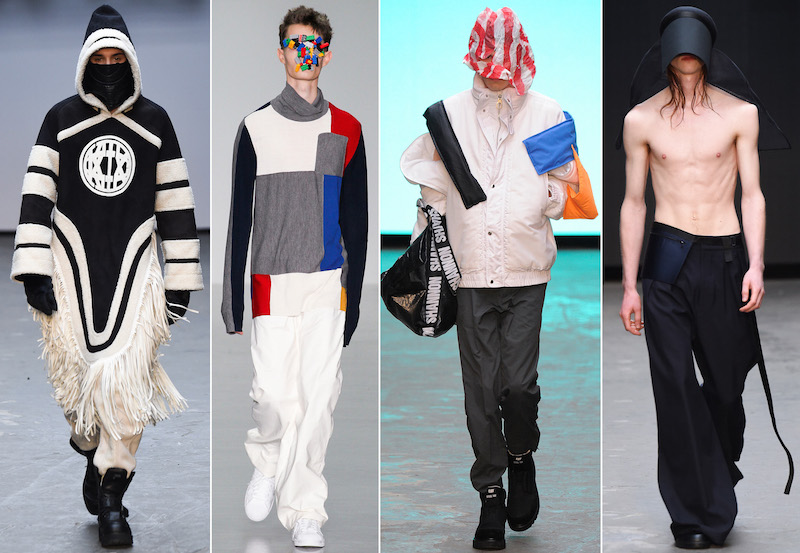 On the topic of Lego masks, shielding your face is trending for fall 2015. This is one of those wonderfully functional trends that is perfect for those hang over mornings when you don't want to associate with anyone including yourself. by Designers KTZ, Agi & Sam, Christopher Shannon and MAN all toyed with concealing identity.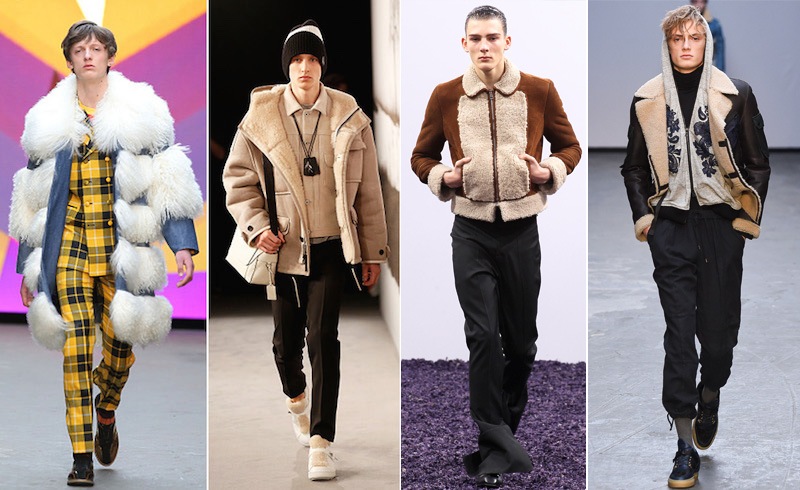 We already know that shrug-on shearlings and sheepskins have a laid-back cool that couldn't be more fitting for fall, but a handful of refreshing options for fall 2015 did show face at almost every show. Standouts included Topman Design, Coach, J.W. Anderson and James Long.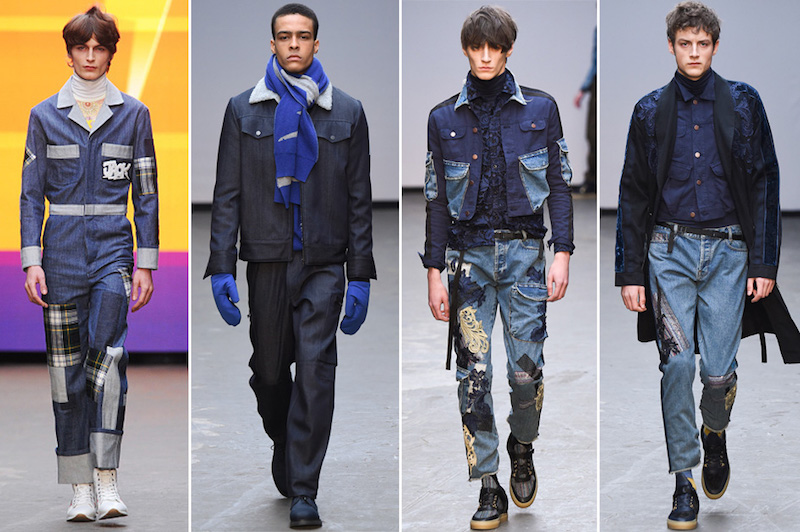 Whether you're hunting for a new pair of classic  jeans or want to inject a little color and patch work into your casual wardrobe for winter, look to Topman Design, Christopher Raeburn and James Long for denim inspiration. Long lead the charge building on the phrase  "Leather & Lace" to "Leather, Lace & Denim " creating 60s tinged looks inspired by underground filmmaker Jack Smith.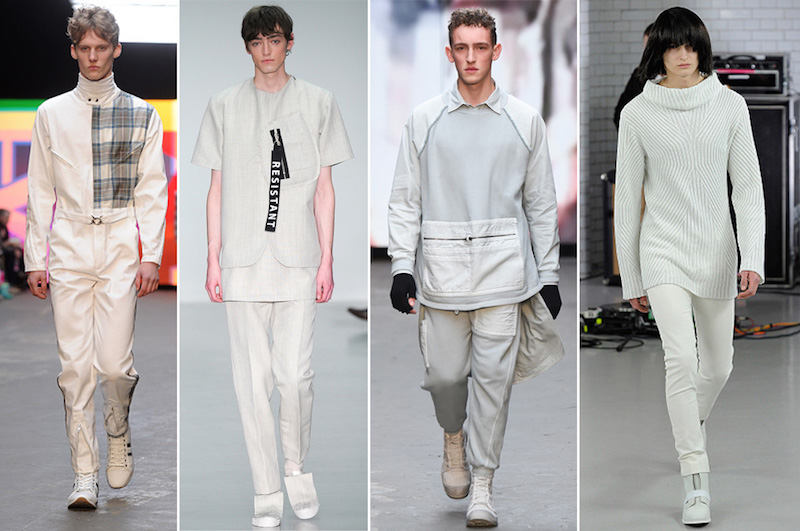 Winter white never goes out of style, monochromatic cool looks continued to prove its staying power for the 2015 fall/ winter season with Topman Design, Lee Roach, MAN and Todd Lynn.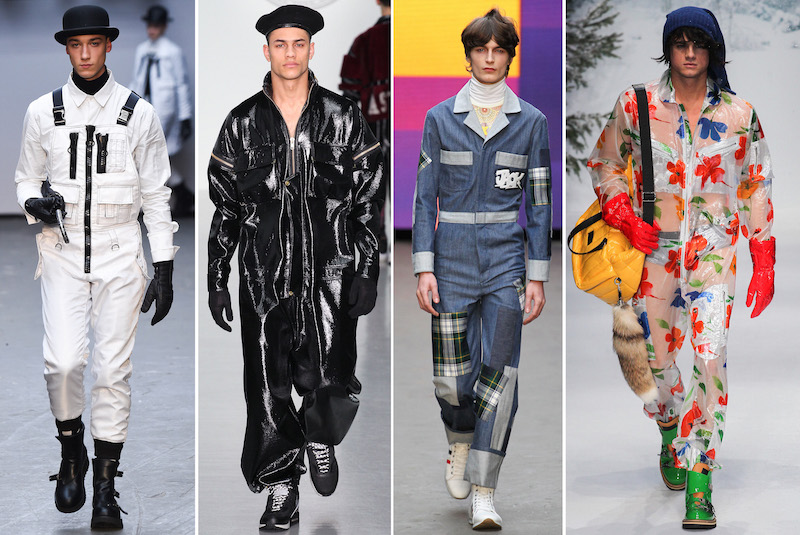 Ending with a trend that really got me excited, onsies are about to get a whole lot less snuggly-buggly and cosy-wosy and more grrr-friendly fashion taking style notes from military garb. Designers have stitched together collections featuring various takes on the jumpsuit. From left to right we have KTZ, Astrid Anderson, Topman Design and Moschino.
Now on to Milan.